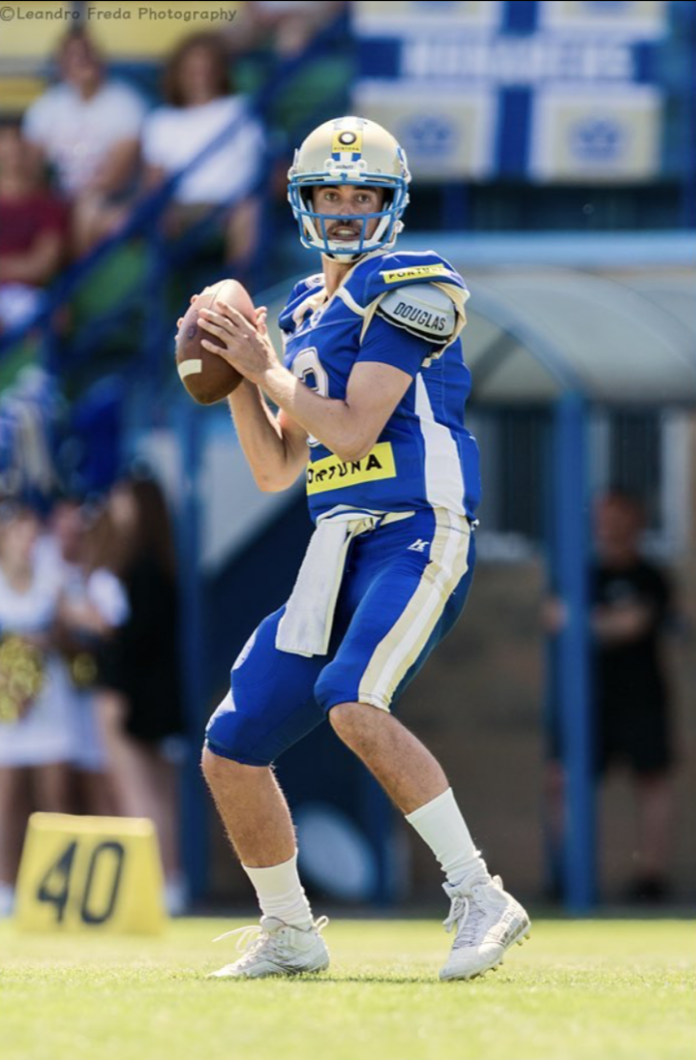 In 2011, Former Culver City quarterback Lukas O'Connor led the Centaurs to the CIF championship game which was the first time in over 30 years that the Cents were in the championship game. Unfortunately, Culver City lost a tough battle, but O' Connor carried on with his football career.
The  6'4" athletic QB, who had two D1 offers after his senior year, decided to turn them down and go to a prep school back east. Lucas was a smart, savvy QB and wanted to pursue the Ivy League or Georgetown. He knew it was risky, but he wanted to take it because he felt that his talent would take over and he would get that chance. However, it did not work out exactly how he envisioned. He did get a partial offer to one of the best D1 schools in the country in James Madison!
The James Madison gamble did not work out in his favor, so he left and came back and helped coach at Culver City and enrolled at West Los Angeles junior college but did not play football. The next semester he enrolled at Chapman, a D3 school,  to resurrect his career even though it was going to cost him a bundle of money.
The first year he played behind a senior quarterback. The second-year he felt he was not given a fair shot to have a chance to be the starting quarterback, and he decided to transfer to another program. Since he was a graduate student, he would be immediately eligible to transfer. After putting together a fairly good highlight tape, several major schools like Boise, USC, and a few others showed interest. He was also offered two full scholarships to D2 programs by Charleston and a Canadian school. But he didn't like the curriculum at the Canadian school,  and Charleston did not accept graduate students.
Finally, in the summertime, a late scholarship offer came in from West Liberty and looked like a great fit at the time. After the starting quarterback went down with an injury, Lukas came in and performed very well and the offense flourished. But the coaching staff brought in another quarterback who was a local hero and whose dad was a former coach at West Liberty. They started this quarterback and they only won two games, and Lukas didn't get much of a chance!
Lukas now had his masters degree and wanted to pursue coaching as a career. At this point, most people would "ride off into the sunset" and call it a career, but not Lukas! He was undeterred. Asked why he wanted to continue his career,  he simply stated, "I just wanted to keep playing. College didn't go the way I wanted, and I wanted to continue. I felt like it could be beneficial for me as a player and as a coach for my future."
O'Connor heard about the European portal which allowed for Americans to put their highlights in there so they could pursue a professional career in football overseas, especially in Europe. He thought this would give him an opportunity to travel and see a different part of the world. The idea of getting paid for something that he enjoyed doing was extremely appealing to him plus he felt it would help in his coaching career.
He finally accepted an offer to play for a Slovakian team that hailed from the city of Bratislava, which has a large population of over 500,000 people. Professional football in Europe is quite a bit different in terms of the coaching and playing level that we see here in the United States. Bratislava had just been dropped down from the top level to the Division 1 level, and they were in desperate need for a good quarterback. At this level, you can only have one foreigner on the field at any one time. Therefore, most of the foreigners are skill players, like quarterbacks.
The teams are professional because they do pay a few of the players, but most of them do it voluntarily! Most all the foreigners are paid though. The teams provide for housing, some meals, and Lukas made about $700 a month. There is public transportation and it's easy to get around Bratislava. He lived in a nice three-bedroom apartment in a good area with American safety and an American coach.
He knew going in that there was going to be frustrations and a large learning curve. He thought long and hard about how to improve the offense before he got there. He knew there was going to be somewhat of a language barrier and heard that many times the players did not show up to practice. There were only two scheduled practices per week, so to improve the timing of the quarterback, receivers, and running backs Lucas
was made a coach on the field and he got the offensive skill players to practice in their off days, usually, three times a week which dramatically helped their team.
The coaches and players do not have the same background and knowledge that American players have, and they are still on a big learning curve when it comes to making changes in a game that are necessary. It just so happens that the head coach is the Chief of Police in Bratislava. He had a sort of authoritarian way about him, but after Lukas showed him his work ethic and they began to win, the coach was able to allow him to call some of his own plays and change plays at the line of scrimmage to take advantage of the defensive sets. Besides getting to coach several different positions which would help his coaching future, Luke was very excited to have more input into the game as the season went along.
As the season went along,  they became more successful, and we're blowing teams out almost every single week! The only game that Lukas lost was the game that I attended. He had a great game but the defensive backs played very poorly in the second half, and they lost in the last six seconds of the game.
To get to the AFL Division I championship, Bratislava beat the Telfs Patriots 54-20 at home. Lucas threw 6 TD passes and was 22 of 29 for 384 yards. That performance got them into the Silver Bowl which was the final game of the year! The season started in February for him and finally ended in late July. He was really happy that the receivers all worked  hard and practiced more than the usual two days,  and he had a phrase for that: "teamwork makes the dream work."
During several weeks throughout the season, they only would have one game every two weeks. When asked if he liked this, he said, "for the league yes, because we didn't have athletic treatment."
They had to reschedule several games during the season because of problems but also gave him a chance to do some traveling which he did and took advantage of. He took a vacation in Greece, visited Budapest, Vienna, Austria, and Italy with his father and got to see Rome, Naples, Venice, and the Amalfi coast!