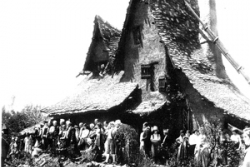 Since this was Oscar week, it seems fitting to offer a little movie-related quiz! See how many of the following you can answer (without looking at the answers).
One: Who is credited as the one person who established Culver City's first two major movie studios (1915 & 1918)? There is a street named in his honor at the edge the studio that bore his name.
Two: Name Culver City's third major movie studio.  It was known as "The Laugh Factory to the World and made movies from 1919-1963.
Three: Former president ______ _______ served at "Fort_______" during World War II, making training films with other actors like Alan Ladd.
Four: For the opening of Culver City's Meralta Theater, ________ ________served as Master of Ceremonies and Thomas Ince provided the film, "The Galloping Fish."
Five: The founding owners of the Meralta Theatre were _____ ______and _____ _____.
Six: The Wizard of Oz was filmed in Culver City at which local studio?
Seven: At M.G.M, two famous dancers considered Stages #25 and #27 as their "lucky stages.  Name them!
Eight: Andy Hardy Street was located on Lot #__ of M.G.M. Studios.
Nine: Spencer Tracy and Katharine Hepburn are said to have met at the side entrance to M.G.M.'s landmark _________Building
Ten: The movie sets for _____  _____ were burned in the 1930s to simulate the "Burning of Altanta" scene in Gone With the Wind.
Eleven: When Michael Douglas starred as  "An American President, " the Oval Office was reproduced on a sound stage on the ______ ________Studio lot.
Twelve: Who rented the Culver Theatre (now Kirk Douglas Theatre) to enjoy a private screening of Viva Las Vegas?
Thirteen: Who designed the "Oscar" statuette? He served as chief art director at Metro-Goldwyn-Mayer Studios.
Answers (to be printed below)
Thomas Ince
Hal Roach
Ronald Reagan/ Fort Roach
Will Rogers
Pearl Merrill and Laura Peralta
Metro-Goldwyn-Mayer
Gene Kelly and Fred Astaire
Lot #2, where our Senior Citizens Center, Studio Royale and Palm Court stand today!
Thalberg, which was named for Louis B. Mayer's genius head of production, Irving Thalberg.
 King Kong
  Sony Pictures
 Elvis Presley, who co-starred with Ann-Margret.
Cedric Gibbons