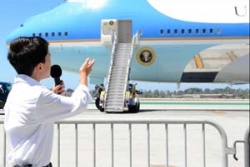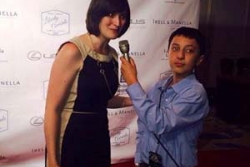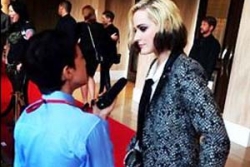 Sam Parekh was one of just five kids invited to report from the White House during a ConnectED conference involving superintendents from schools across the nation.
The Culver City Middle School student was reporting for KidScoop Media, a news outlet that has been providing children the unique opportunity of meeting high-profile individuals from the world of politics, music, film, sports and culture since 2008, when he received the opportunity to meet President Barack Obama.
"My mom is friends with Michelle Mayan (KidScoop Media Executive Director and Founder) and she often visits the house," Sam Parekh said. "She got to know my personality and know what I like and asked me if I wanted to do it and I said yes."
At his young age, Sam Parekh has demonstrated a high interest in the world of politics and keeps knowledgeable on current events.
"He wanted to meet and interview politicians and government officials and KSM seemed like a way for that to happen," Sam's mother Rose Parekh said. "I also thought that the process of researching a topic, coming up with questions, being in a press pool with adults, and engaging with adults in a professional setting would give him skills he wouldn't have the chance to learn in everyday life."
At KidScoop media kids are put alongside major media reporters during big events such as red-carpet ceremonies, one-on-one interviews with iconic figures in music, government, and sports where these young reporters are given the opportunity to ask their own questions, while getting the chance to share their point of view with the individuals that they interview.
"The main reason I did red carpet events was because there was a possibility to meet a political figure," Sam Parekh said. "The first person I cared about interviewing was the L.A. City Controller. So I was able to spend about twenty minutes with him since nobody was talking to him."
Sam's mother shares that he should much enthusiasm at the opportunity of interviewing individuals that he wouldn't normally even have a chance to meet. However, Rose did share that her son had to also take on tasks that he was not as enthusiastic about before being able to question politicians.
"He did quite a few red carpet events in the beginning, where he would interview celebrities as they entered galas and such," Rose Parekh said. "Because he's not really into popular culture he often didn't know who the people were, but to stand alongside news networks and ask questions of accomplished people on camera, in a very short time frame, helped build a confidence in him that's very deep."
The hard work paid off for Sam and when the need to find a young reporter to attend the White House Summit on Education arrived, he was ready for the challenge.
"I found out when Michelle came to the house and my mom tells me that Michelle has something to tell me," Sam Parekh said. "So I go outside and Michelle tells me that I might get to go to the White House and meet the President. So I thought 'That's cool.' Nothing really happened for about a week and then I got an email saying that I was in and it explained what I was supposed to be doing. Then I thought to myself, 'Hm…I get to go to the White House.'"
For more information of KidScoop Media, persons interested can visit: http://www.kidscoopmedia. org.