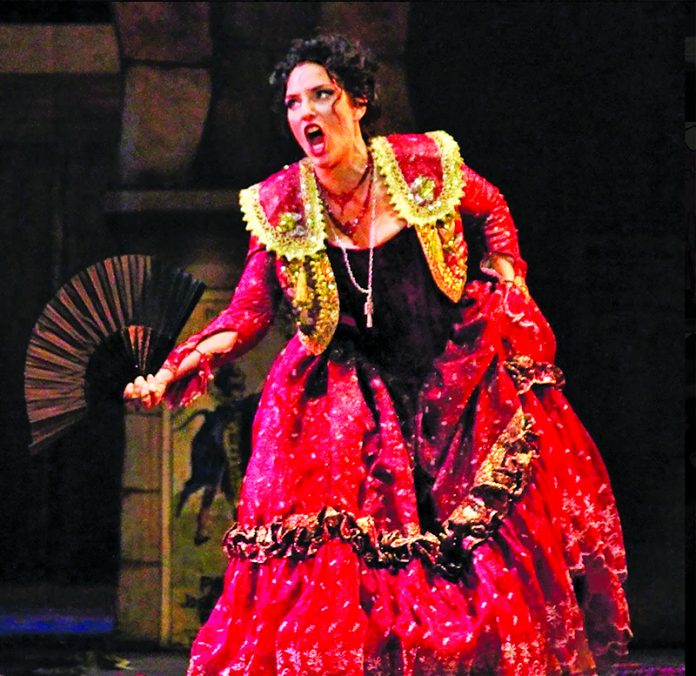 Pop stars are often lavished with adoration, fame and wealth for their musical endeavors. But sophisticated musicians generally sing a different tune. Too many classically-trained, professional artists go underappreciated by the masses.
Audrey Babcock is such a case study. Her name lacks instant household recognition. Yet, she is a revered classical singer who has performed in many opera houses around the world. 
Live performances are her bread and butter; her first love, she said. 
But last March, COVID-19 changed the landscape. Social distancing instantly separated Babcock from a big portion of her operatic fan base.
"There is a relationship we create with an audience that is never the same and (is) always energizing, inspiring. That missing piece to the product (is what) we craft so hard in a room," Babcock, a Culver City resident, said about live performances.
Thanks to social media platforms such as YouTube, however, her talent can be shared through online videos.
Babcock will be the featured artist in the MidDay at Grace concert today, Jan. 21, in virtual performances.
Mary Lou Basaraba, MidDay at Grace founder, has chosen Babcock to kick off her 2021 monthly music series, which is entering its third year.
"Audrey is a fabulous international operatic mezzo soprano and I am thrilled to present her as the featured artist in the first MidDAY at Grace online community concert in 2021," said Basaraba, who is also the director of music ministry at Grace Church. "Carmen is really her 'signature role' and (her MidDay-linked performances) are primarily Carmen or Carmen-esque interpretations of various sorts."
(Visit Facebook page, mary.l.basaraba for Babcock's YouTube links.)
While her pop counterparts stay in the spotlight through entertainment TV, promotional videos and endorsements, Babcock and other remarkable musicians are working hard to thrive-survive in a world fraught with pandemic mandates and health guidelines.
"I lost half my income over night, maybe for life, we have yet to see," Babcock told the News in an email interview. "Thankfully, as a veteran in the Arts, this is not as conceptually shocking to me, but it is devastating on many other levels."
She said that artists tend to be in permanent financial flux, but the coronavirus has brought a new challenge to the entertainment industry. The inability to socialize at close quarters has put audiences in a precarious position, as well as the theaters that stage huge gatherings.
"(Theaters and their operators) can't afford to keep the lights on let alone maintenance.," she said. "We have a lot to rebuild as we come back to life."
Babcock noted that her 2020-2021 cancelations due to theatre closures included concert engagements to perform as the Mezzo Soloist in Verdi's Requiem, her first Fidelio as well as a few performances of Beethoven's 9th Symphony ("the one with the ode to joy," she said), as it was Beethoven's 250th birthday in 2020, a Cavalleria Rusticana, a Carmen and others.
A Fresh Start
It's January and she is optimistic that the new year will bring a return to live performances.
"I was honored to be involved in a major push to get California performing again, and just closed a production of Carmen for Opera Santa Barbara with Ventura County 'Concerts in your Car,' which was an incredible COVID safe experience," Babcock said. 
As a veteran artist who remains true to her faith, she uses the COVID-19 slow-time to rebuild (literally) and plan her future.
"(There has been) more time investment in learning and building a studio space in my home, where I teach virtually and have expanded my recording capability," Babcock said. "I am extremely fortunate to be an artist who has always created work outside the scope of a large theatre, and I have experience self-producing and writing and I am passionate about teaching."
Teaching music is a wonderful side endeavor for Babcock. She said she has been educating others since her student days. 
"In high school I started teaching piano lessons to children and the elderly," she said. "In college, as a student of Gurmukh Kaur Khalsa, I taught Yoga, and I began teaching and giving masterclasses and workshops at the college and post college young artist level about 10 years ago. I teach mostly voice, and my focus is breath and movement.
"Art and music may not be what saves lives, but we are the first responders when people start to think about putting their lives back together," she said. 
"Music makes people feel again."
The pandemic closures have placed more emphasis on virtual learning, she said. But there is a silver lining to the restrictions.
"Interestingly, teaching voice and coaching young singing actors is extremely effective in the online environment," she said. "It's been this hidden blessing in all this. I have taught online for years while I would travel for engagements my students are always a video chat away, but everyone is doing it now and the results are in — online voice lessons are extremely effective and I feel like my studio has grown stronger in this extremely stressful time."
As with most musicians, performing before an audience is still the highest priority. She has a couple of projects slated for February and March. 
"I am currently in the planning phase of a broadcast production called 'Beyond Carmen' to debut for Women's Month in March, as well as an online recital in February," Babcock said. "Past that everything else is up in the air as companies feel their way back to life… or don't."
School Days
Babcock grew up near the Westside and as a kid, spent a lot of time in Culver City. The flute was her entry into the musical arts.
"I selected this instrument when my late mother, Sandra Babcock and — Barbara Yaroslavsky (the late wife of former L.A. County Supervisor Zev Yaroslavsky) got our elementary school to start an orchestra," Babcock said. "My mother had played the flute, so she handed it to me and it stuck like glue. I also played piano and eventually guitar and ukulele and whatever I felt like picking up, I figured it out."
She attended Hamilton High School in Los Angeles, noted for its music academy. One day Babcock caught a performance by American singer-song writer Ani DiFranco in a little West Hollywood club. The experience was life changing, she said. 
"(DiFranco) played guitar in a way I had never seen or heard and she expressed her version of what being a woman meant and it was revolutionary for my young musical soul," Babcock said.
In 1996 at age 16, she dropped out of Hamilton and headed east to The Peabody Conservatory of Music in Baltimore. 
As a music hopeful, Babcock admits to "never quite fitting in." So, she found inspiration in artists, including poets and writers (her father was a writer) — whose thinking was outside the box. Among these free-thinking poets were Sharon Olds and Alan Ginsberg.
"I was extremely influenced by their mark on art, literature, culture, and the social experiments they came to inhabit," she said. 
Sopranos such as Maria Callas and Jessy Norman also had profound impacts on Babcock. She said, "Norman was magic," and that Callas "was a woman who marched to the beat of her own drum and lived out loud in a way that women of her time would never consider.
"But when (Callas) took the stage, people were quiet," Babcock said. "Even as her voice started to show signs of fatigue, misuse/overuse and trouble, her commitment to character was and continued to be awe inspiring."
Babcock said she met Grace Church's Basaraba through the Jewish Temple Akiba of Culver City, where her daughter was enrolled in nursery school.
"I sang as a guest a few times there and then (Basaraba) introduced me to the California Philharmonic and I began singing at Disney Hall with the orchestra there, where she is chorus master," Babcock said. 
A Significant Talent
Today, Babcock has carved out a significant resume of work. She is recognized as "a choice singer for new works," and has premiered in several new operas, including Tobias Picker's "Thérèse Raquin" (N.Y. Premiere – Dicapo Opera), "With Blood, With Ink" (World Premiere – Fort Worth Opera), "La Reina" (American Lyric Theater, NY and Prototype Festival) and "The Poe Project" (American Lyric Theater).
James Marvel, a musical director and collaborator said that he has fond memories of Babcock when they met circa 2002. Both were young musical talents on the rise.
"Audrey had an almost divine and mystical presence, captivating not only the audience but every individual she encountered," Marvel said by email. "She connects to music from her soul. She is fierce, loyal, and dedicated to her craft."
Marvel said that on a professional level, he has witnessed dozens of instances in which Babcock's "discipline has elevated and awed younger artists who are working with her. Audrey inspires the artists around her to become better artists." 
As a musician, recording albums is generally part of the joys, challenges and requirements of the music business.
In the past, when 'time is money,' Babcock said the pressure of rushing to finish an album in the studio was stressful. But because of the pandemic and now having her home studio up and running, the recording process is more relaxing and enjoyable.
"In my desert island recording studio, my band and I get to take as long as we want," she said.
Her future might be unsettled, but the soprano said she hopes to leave a positive mark to encourage others.
"I'd like to be someone who left a body of work that made people feel, made people think, and crossed disciplines with wild abandon," Babcock said. "I'd like to be in the company of many others who leave behind a trail of new roles for women in theatre, female forward stories that are body positive, unapologetically strong, and curiously versatile.
"For my students that grow into their artistic voice, I hope they would say that I pushed them just passed where they thought they could go, and though I was tough, I was someone they always felt they could come to," she said.
As with all MidDAY online concerts since the COVID crisis, all donations received will be designated to the Grace Diner, a food ministry serving about 1,200 meals each week to the homeless and underserved.
MidDAY concert followers are encouraged to make a donation at https://gracediner.org/