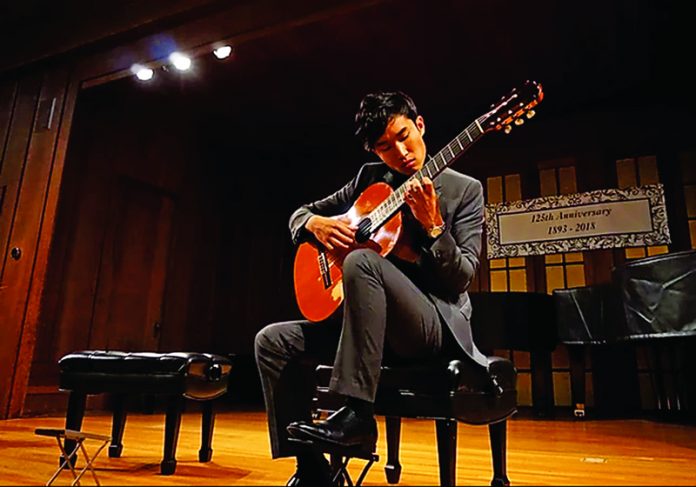 Alex Park is a classical guitarist of serious talent and hopefully in time, of serious appreciation. The Culver City resident says he is gaining command of his music career with each passing day, but the current climate of COVID-19, pandemic restrictions and social distancing has put his concert season on the backburner.
"I was scheduled to go to North Carolina and Philadelphia just about a week before we were on lockdown and had to cancel all of the concerts throughout the spring and summer," Park says. 
His fall concert season is still in limbo, he adds.
A native Angelino who is in his late 20s, Park traces the steps of his short musical life and appreciates the journey that has been privileged, if not yet accomplished.
Born into a family of "music lovers," Park says he started with the piano at age 7, then found his way to the guitar at 13. The classical guitar came later, while attending USC.
The foundation to his musical aspirations, he says, was laid down while a student at Culver City High School and a member of the school's AVPA (Academy of Visual and Performing Arts).
"What I got most out of it was being exposed to different styles of music that I probably wouldn't have otherwise," Park says. "I remember one of the first courses I took was Jazz Ensemble. I knew nothing about jazz music or how to play before that. Another course that stood out was the film music class taught by Chris Thomas."
The latter class has had a profound effect on Park's music and the importance of industry connections. 
"I learned the process of how film composers write music for film and we also learned how to record music properly, which turned out to be very useful for me," he says.
"A few years after taking his course, Chris and I came in contact again and I had the opportunity to record the guitar in some of his films that he composed," Park says. "He's a great cello player as well and we performed a benefit concert together along with other great musicians to raise funds and awareness for cancer research. We played that concert at UCLA and it was a very successful event."
His resume has included local performances at Grace Lutheran Church in Culver City as a teenager, which have drawn praise from Mary Lou Basaraba, the church's director of music ministry.
"(He) has captivated audiences with his colorful musicianship and stunning technique," Basaraba noted in an email message. "Alex was introduced to us at Grace Church by our MidDAY At Grace Concerts oo founder, Grace Elliott, and subsequently, he performed as a regular service guest artist and presented several concerts for us."
Park was the virtual guest performer at last months MidDAY At Grace Concerts, where two of his performances were highlighted.
After graduating from CCHS in 2011, Park headed to Pepperdine University where he studied with the world-renowned virtuoso, Christopher Parkening, and received his Bachelor of Arts. From Pepperdine, he went on to Cal State University, Fullerton for his Masters of Music with mentor, Andrew York, and finally to USC with Scott Tenant for his DMA.
A professional career as a musician sank in while in college. 
"Around my third or fourth year of college, I had a feeling that I had a chance to be a musician," Park recalls. "At that point, I started performing a lot and getting good feedback from the audience and placed fairly well in competitions."
Part of the enriching experience has been studying with Parkening, who was not only a mentor but Park's idol while at CCHS.
"What I admire about him is his work ethic, his successful performance career, his teaching, and most of all his music," Park says. "The reason I chose to go to Pepperdine was because he was teaching there and I wanted to learn how to play like him."
From the moment he picked up the guitar as a teenager, Park says he knew music would be a big part of his life — whether an amateur or professional. The rewards would be infinite as a pro, but a career devoted to the arts could be full of pitfalls.
"When I was a college student, I tried to look for as many performance opportunities I could and to meet as many people since making connections is very important," he says. "Some music students graduate college and end up going back to school in a completely different field, and that was the last thing I wanted to do. Since I started playing the classical guitar late compared to most guitarists, I knew I had to work extra hard to catch up.
"Each year I strive to be a better performer, teacher, and musician, and I always hope that I have new and unique opportunities each year," he says. "So far, I feel each year has been better than the last."
While the novel coronavirus has stunted his concert schedule, Park says there have been some important realizations along the way.
"On a positive note, I am glad this (pandemic) happened today instead of 20 years ago because of the technology we have," he says. "I am teaching my students online through Zoom, and last month I did give a livestream recital through YouTube. I saw that some people tuned in from out of state so it was nice to give people who do not live nearby an opportunity to see me perform."
While performing "live" has been on hold, Park has been able to tend to other priorities in his life.
"The quarantine has also allowed me to spend more time at home with my wife and given me a moment to relax and take some time off," he says. "Right now, I'm just practicing at home to prepare for whatever the next performance may be and I'm very anxious to get back on stage."
His philosophy is sound and seems to be hitting the right notes as he moves forward, Park says.
"One of my favorite quotes is, 'If you can't explain it simply, you don't understand it well enough,' said by Albert Einstein. Having to explain and teach music helped me understand music on a deeper level.'
To learn more about Alex Park, visit him at www.alexparkguitar.com.