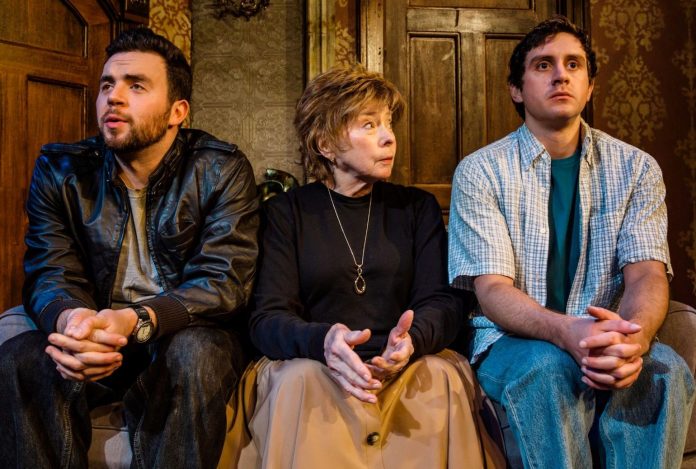 Those who have worked in any capacity presenting live theatre will certainly appreciate playwright Justin Tanner's world premiere comedy LITTLE THEATRE during which he spills backstage secrets and shenanigans going on both in and out of the spotlight in the 90's Los Angeles intimate theatre scene. As exemplified in Tanner's play, it takes an incredible amount of passion as well as pure unbridled determination to just survive keeping the doors open, even in the best of times when houses were full and bank accounts never dipped into the red.
At the performance I attended, most of the audience must have been local theatre folk given the intensity and frequently of the laughter, as well as the knowing nods that took place during the entire performance. After all, the backstage world of intimate theatre, from not only raising the funds but selecting and bringing new plays to the stage, is a world unto its own with enough characters attempting to pull the strings to put even the best marionette show to shame!
Rogue Machine, known for bringing some of the best world premiere productions to the intimate theatre stage, again hits the mark presenting LITTLE THEATRE. "This is a roman á clef," playwright and local legend Justin Tanner shares, "about my decade at the Cast Theatre, sharing a cluttered office with the brilliant and terrifying artistic director, Diana Gibson, and my best friend, the actor, writer, set designer and jack-of-all-trades, Andy Daley."
Brilliantly directed with several insider winks by Lisa James, producer Guillermo Cienfuegos, who first got involved in L.A.'s intimate theatre scene in 1993, shares, "Tanner's play has captured the joy and sorrow and the madness of what it is to create art in a little theatre in Los Angeles." No doubt my own personal belief that an even more interesting backstage play, closer to a "ballet" of balance, is going on backstage while the audience is sitting out front, is exemplified in Tanner's hilarious theatrical exposé.
Blessed with a cast of three incredible actors, whose stage presence light up every scene in which they appear, are Ryan Brophy as Danny, the new graduate who decides to seek out his first theatrical job and gets sucked into staying much longer than he should after his writing career takes off; Zachary Grant as James, the little theatre's jack-of-all-trades who not only builds and lights sets but also does whatever else needs to be handled to keep the doors open; and the incandescent Jenny O'Hara as Monica Menlo, the theatre's obsessive, tyrannical owner and artistic muse who somehow keeps audiences and critics in the seats while creditors keep knocking at the door.
There are so many scenes noteworthy of mentioning in this review, but the one sticking in my mind involves O'Hara, as a drunken Monica, bursting onstage into the spotlight to introduce the evening's play, even though barely able to stand or speak given her overwhelming anger at what has been going on behind-the-scenes between James and Danny. O'Hara's off-kilter physicality and Grant's strength to control her through James' own embarrassment, had the audience roaring with laughter, perhaps because we have all been there – or at least heard stories about such things taking place. How Monica did not alienate her audience and the press with her antics is one of the miracles that keeps live theatre in business, especially now during these trying times when we all need the arts more than ever.
"When Justin Tanner writes a play you know it will be hilarious, but beneath the sidesplittingly funny dialogue and situations there is always an underbelly that is so moving you find yourself crying and never actually feel it happen. It's what inspires me and delights me," says director Lisa James. "LITTLE THEATRE is all of that."
Kudos to the entire Rogue Machine creative team for their outstanding artistic endeavors: John Iacovelli (Set Design), Vicki J. Scott (Lighting Design), Chris Moscatiello (Sound Design), Halei Parker (Costume Design) and Shen Heckle (Prop Design). Thanks to their contributions, I guarantee you will feel immersed into the hidden backstage theatre world from the moment you enter the Matrix Theatre!
LITTLE THEATRE runs at 8 p.m. Wednesdays – Saturdays, and 3 p.m. Sundays through Jan. 8, 2023, except dark on 12/31 and 1/1. Last Pay-What-You-Can Wednesday on Jan. 4 ($20+). Presented by Rogue Machine at the Matrix Theatre, located at 7657 Melrose Ave., Los Angeles 90046. Street parking only so please read all parking signs carefully. Tickets are $45 general admission ($35 seniors, $25 students with proof). Reservations and more information by calling (855) 585-5185 or online at https://www.roguemachinetheatre.org Runs 2 hours including one intermission. Face masks required inside the theater.
Be sure to look at all the past performance photos on the Matrix walls which reveal the historical importance of this great little theater. You will be amazed by those who have performed there, adding to the adage that theatre is not a luxury but a true necessity for our emotional well-being. And to all my readers who love and support live theatre, may the New Year bring you good health, lots of joy and happiness – onstage, backstage, in the audience, and everywhere else!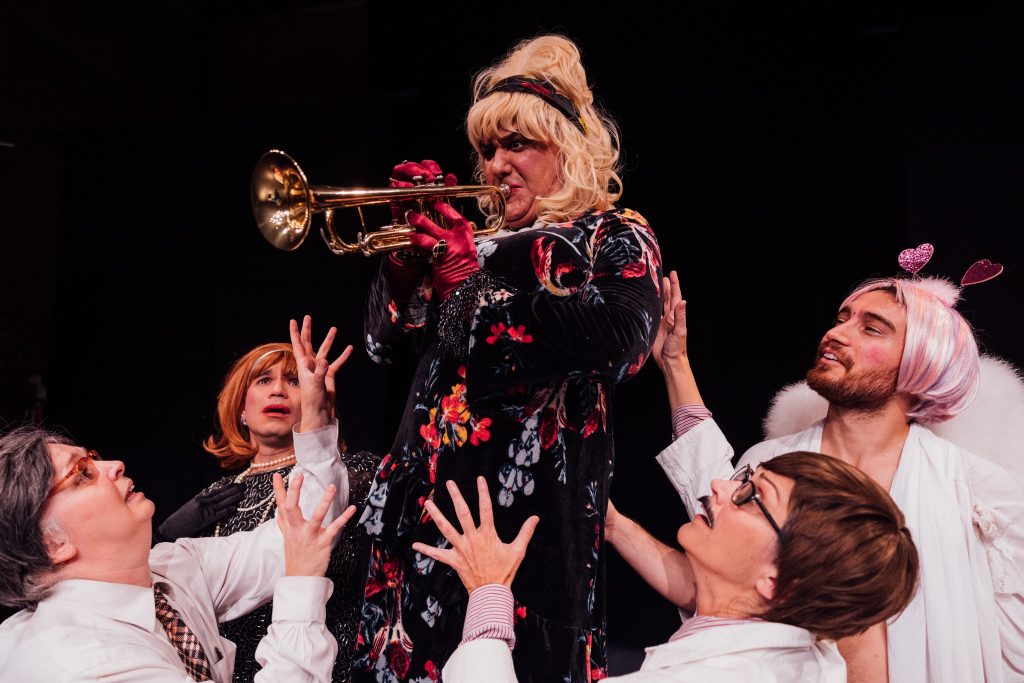 Thanks to sold-out houses, our local theatre group The Actors' Gang has announced an extension of their hit family-friendly holiday show SHAMBLES, an unbridled concoction of seasonal charm and sassy cunning all rolled up in a cirque-infused variety show. I had such a fun time at this immersive experience meandering through curated rooms of wonder until finally arriving at a 60's NASA-inspired holiday party complete with silver-suited aliens and rotating specialty acts. Created and directed by Cirque du Soleil's Stefan Haves, with musical direction by Philip Griffin, performances continue Thursdays to Saturdays at 8pm through Jan. 7, 2023 at The Actors' Gang at The Ivy Substation, 9070 Venice Blvd., Culver City 90232. Tickets are $35, available at https://ci.ovationtix.com/35132/production/1141592 or by phone at (310) 838-4264. Recommended for ages 7+. More information, including updates on the special New Year's Eve show, at www.theactorsgang.com