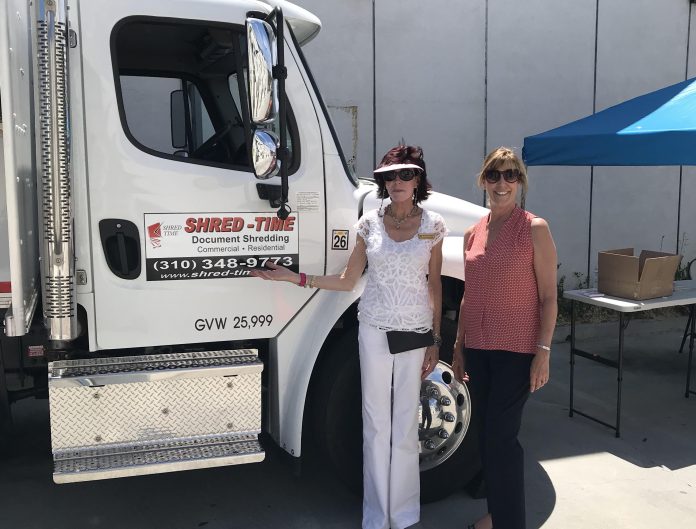 Realtors Michele Walman and Stacy Blair Young will once again host their twice-yearly Shred Day event at 10 a.m. Saturday on the Cash & Carry parking lot Satawtelle Boulevard.
The event is free, and the public can bring up to ten boxes of paperwork to be shredded in front of them. Shred Day is expected to be wildly popular, as it has been in previous years.
"We do this usually twice a year, and we've been doing it for about five or six years," Walman told the News. "It's a service that we provide to the community, and we've had an outstanding turnout. Typically, there's a line around the block just waiting to empty their boxes. They can watch – actually see their items being shredded. So they just don't leave them, they can see them being destroyed."
Walman says that the post-tax season Shred Day is particularly anticipated by a community that has accumulated mountains of files.
"We had to put a limit on it, ten boxes, because we've had people come with literally a truck," she said. "So we put a limit on it but people are wonderful and a free thing that we've been doing for the community. A reach-out to the community, and people expect it now. They contact us in advance. They want to know when we're going to have our shredding event. We do it usually in October and right after tax season."
For Walman and Blair Young, this is a selfless event. It's about serving the community and not expecting anything in return.
"We want people to know that we do things outside of real estate," Walman said. "But when somebody thinks about selling their house, they want to call on people that they know and trust. I've been doing real estate for 38 years in the same community, and of course I've expanded and I'm all over Los Angeles and outside of the L.A. area, so people actually know who I am. But building that trust, and giving back in a way that you don't have an expectation of getting something – I think that adds credibility to somebody."
Shred Day takes place between 10 a.m. and 1 p.m. on Saturday, April 22 on the Cash & Carry parking Lot located at 5680 Sawtelle Blvd., Culver City. For more information, contact Michele Walman at michele@thewalmans.com, or Stacy Blair Young at stacy.young@elliman.com.
It's from 10-1 at Cash & Carry. We'll be more than happy to take the items out of the car if you don't want to get out. During COVID there were so many restrictions – now people are very friendly and they get out of the car themselves.