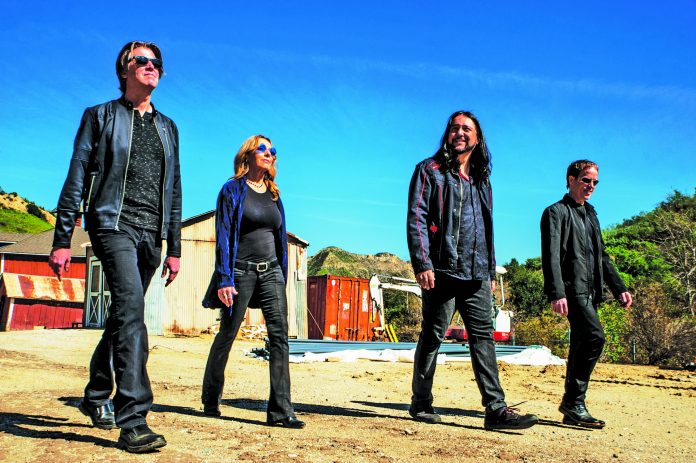 Incendio, a Latin guitar, and world-fusion band will make a return appearance at Boulevard Music starting at 8 p.m. Saturday, June 22. Tickets are $17.50 and can be purchased at Boulevard Music, 4316 Sepulveda Blvd., Culver City. Call 310-398-2583.
https://www.boulevardmusic.com/event/incendio/
The NEWS met with band member JP Durand and gained an insight into the group's musical world.
When did you start playing and writing music, and when did you start taking it seriously (playing live, recording, etc)?
I started playing the piano when I was around 7 years old, with lessons. Then I starting playing guitar self-taught at about 12. I played constantly, though I studied economics at UC Berkeley – I didn't plan a career in it. That changed when I met (wife and Incendio bandmate) Liza Carbe when she was performing with Lindsay Buckingham on his first solo tour. With Liza, I began playing around town and recording music for film and TV. Around 1998, she started playing bass for Jim Stubblefield  (our other eventual bandmate), and I tagged along – that's how we all started together.
Who are your main influences?
As far as guitar, definitely Jimi Hendrix, then Eric Johnson, Stevie Ray Vaughan and Neal Schon.  Led Zeppelin and the Who were also important to me. As far as songwriting and arranging, I listened to a LOT of Elvis Costello, XTC, and Steely Dan. I feel like I bring those influences to bear quite a bit in Incendio in terms of how we collectively consider the structure of the music, and the arrangement of a lot of small melodic parts to make a whole.
Describe your particular style…
We call our style "world fusion" or "instrumental pop."
Where are you based? What do you think of the local scene?
Incendio is based in Los Angeles, but we don't do a lot of club shows in the area, with the exception of maybe shows at Spaghettini in Orange County and the wonderful Coffee Gallery in Altadena where we try out new stuff before we tour. So I wouldn't say we necessarily have our finger on the pulse of new bands here in LA. From our circle of friends like the Lao Tizer Group, we will tend to hear about new jazz artists, Latin jazz groups, maybe a few progressive bands, folks who might perform at the Blue Whale, Baked Potato, or more recently, the Write Off Room.  There are always so many inspiring performers who live in the city and/or come through on tour, so we do try to go see them when we can. I can tell you that from touring, LA has a really vibrant music scene, comparatively speaking.
Do you have any albums/singles available?
We have 11 CD's out internationally. All are available on streaming services as well as Amazon, iTunes and CD Baby. Our most recent CD, SUMMONING THE MUSC, came out last week. It's our first CD of new original music in six years – we released THE SHAPE OF DREAMS in 2013, then had a Christmas CD and an EP in the interim. There's quite a bit of music for folks to listen to, as well as a bunch of live videos on youtube, many for which we have been able to create a really great sound mix and aren't on any CD, so that's cool.
Have you played Boulevard Music before? How did that connection happen? How did it go?
We met Gary Mandell a few years ago and have performed at Boulevard since then, often as a trio or even a quartet with percussion (since drums don't really work well in the space). It's really intimate – it's the only place where we perform regularly as a guitar trio, so we have had some unique shows there. Gary and the staff really care about the presentation. And, let's face it, what guitarist DOESN'T want to perform to an enthusiastic audience in a room full of beautiful guitars. That's another unique bonus of playing there – we love it!
What can we expect from your upcoming performance?
Since it is a trio, we delve into songs that we do not usually play in the band context, so that's unique. And since the audience is right up front, we end up talking to folks a lot, making jokes. It's exciting in the sense that it's very intimate but that also allows for some nice verbal and energetic exchanges with the audience that can't always occur in a larger venue.
What do you have planned going forward, after this show, for 2019?
We are really starting our support of our SUMMONING THE MUSE CD. We have full band shows at summer concert series in North Hollywood on Saturday, July 6 and Glendale Wednesday, July 17. Then we travel to shows in Washington DC, Pennsylvania, Chicago, Wisconsin, and Colorado before coming back to in September, so it's pretty action-packed right now. When not performing, we are working on promoting the CD in streaming services, radio, and social media, so it's a busy time. Folks can check out the whole schedule at incendioband.com as well as
facebook.com/incendioband; twitter.com/incendioband; instagram.com/incendioband; and youtube.com/incendioband