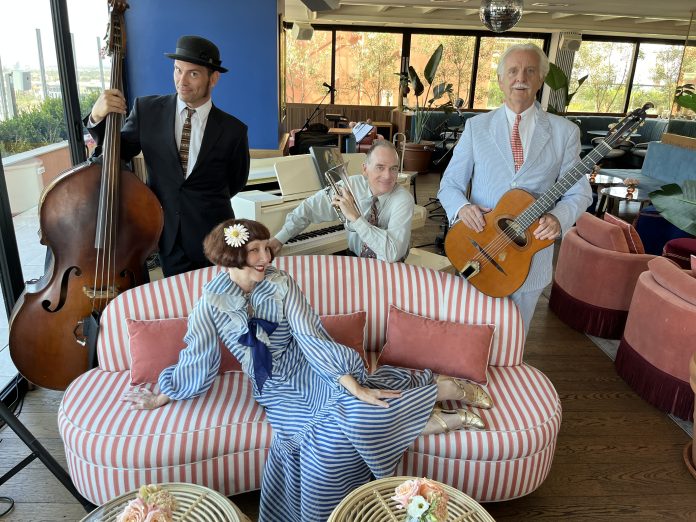 Jaunty vintage troupe Janet Klein and her Parlor Boys perform at Boulevard Music this Saturday. Their celebration of the early jazz age, equipped with "naughty ditties," is a joy so don't miss out. Klein chatted with the CCN about what we can expect, and more.
When did you start playing and performing, and when did the Parlor Boys form?
I began collecting vintage recordings and sheet music in the 1980s and started to sing and accompany myself solo on the ukulele and to share tunes in public in the mid 1990s. From there I felt like Dorothy on the yellow brick road, suddenly meeting musicians and interesting characters who have helped me grow my very niche passion into a beautiful musical configuration . We started to play and record as a band around 1998.
Describe your sound/style?
We perform music that is sometimes called Jazz Age /Depression Era early Jazz. I love unearthing obscure tunes, it puts me over the moon to dig up incredible material that seems to have fallen off the map. Music written during the Depression was literally made to pick folks up during hard times, and it still truly works. Rythmic, infectious, sweet , hot and surprising, all at the same time.
Having the advantages of 21st century perspective, we time travel via music of the early 20th century which nudges our sound into diverse textural zones. Some of our chosen material leads us to play a raggy, vertical, bouncy banjo forward sound and others especially songs from the mid to late 30s lean towards early swing.
We are playing a style of music where you really want to lean in and listen to every word… sublimely clever lyrics abound. I relish getting to share every word. It all continues to be a passion project and the joy comes through.
What are your career highlights so far…
We've toured Japan numerous times over the years which has been magical…
meeting & teaming up with wonderful musicians there , our last tour to
Asia, also included several cities in China and Taiwan..
Just before the world stopped at the end of February 2020 we did a concert at the extraordinary Amargosa Opera House in Death Valley, a very rare venue.. an adobe dream bubble materialized in the desert by ballerina/ painter Marta Beckett. We've gotten to play in historic "movie palaces" around Los Angeles & other great US cities (the Alex, Glendale, the Palace & Los Angeles Theater, & the Orpheum DTLA etc), and have shared the bill with silent films by Harold Lloyd, Buster Keaton & Charlie Chaplin. Playing in places that create a time warp for us and our fans.,. that's heaven!
What recorded music is available?
We have put out 10 CDs in all since 1998 (most are available as cd and digital download at janetklein.bandcamp.com). Our latest physical CD release (which we managed to release during the height of the pandemic) is "Yiddisha Follies" including our recordings of "Hebrew Vaudeville" numbers written in the late 1910's, 1920s as well as hot Klezmer tunes. We are just getting back to making plans for more band recordings. We've worked up a lot of new material!
Have you performed at Boulevard before? Any memories?
Yes yes, it's getting to be a long-standing tradition. As I mentioned our experiences in Japan, we played a couple of very memorable shows at Boulevard music with the Sweet Hollywaiians .. a great string band composed of Japanese musicians who we met on tour in 2006, who share a serious affinity for early jazz. We also have played many shows at Boulevard Music over the years with legendary performer, composer, author, historian,
ukulele master (and bandmate) Ian Whitcomb.. who is now dearly missed. He passed away in April 2020. Folks who came out to our shows there I am sure will never forget how he could dish out British Music Hall comic tunes. An all time one-of-a-kind performer!
What can we expect from the set this time?
I am excited to share some wonderful rarities that I discovered during the pandemic.
The silver lining of the shutdown days of quarantine allowed me to carry on correspondences with historian pals and I got very focused on the subject of discarded songs written for early sound feature films.
What else do you have coming up?
Gladly we are back to filling in our live performance schedule for more shows at the Old Town Music Hall in El Segundo ( a vintage jewel of a theater built in 1921 and home to a Might Wurlitzer Organ and two gorgeous grand pianos. http://www.oldtownmusichall.org/)
We just put on a concert in tandem with British orchestra leader Alex Mendham at the Castle Green in Pasadena, ( originally built as a hotel in the 1890s , now private residences with elaborate parlors and ballroom. It turned out to be such an amazing evening that we are making plans to make it an annual "Fall Frolic" event. Also working up studio dates for making new recordings! Jazzed!
Janet Klein & her Parlor Boys perform 8 p.m. on Saturday, Dec. 10 at Boulevard Music. Go to boulevardmusic.com for more information about the venue, and janetklein.com for more from the artist.
Elsewhere this week
Culver City's music venues have a full calendar of entertainment over the next four weeks. For the Cinema Bar, that includes the Hot Club of Los Angeles (every Monday), Open Mic Night every Wednesday, Tom Gramlich, Jetpack, Jeremiah & the Red Eyes, the Groovy Rednecks, the Mighty Vornados, and more. For more information, go to thecinemabar.com. 
The Culver Hotel will be hosting the likes of Sylvia & the Rhythm Boys and and Scotty Bramer. Go to culverhotel.com for more info.