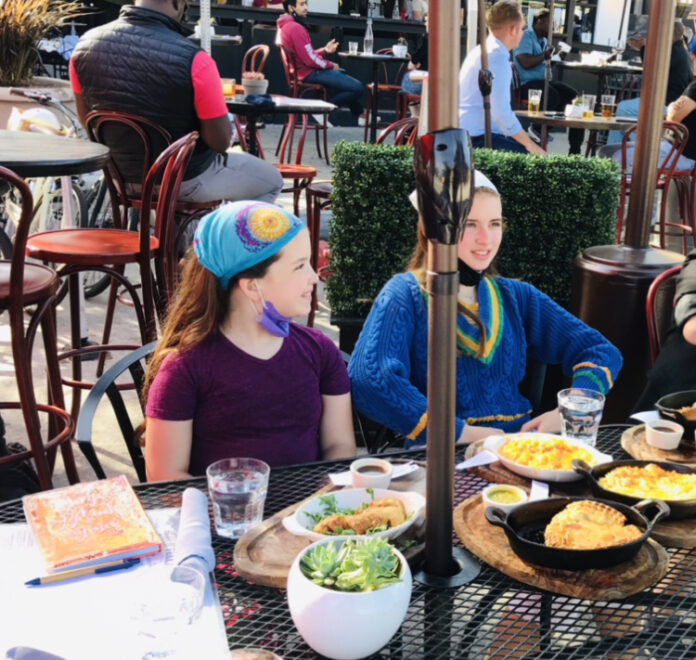 By Roxy Mand, 9, KidScoop Media
I was so excited to be given my very first assignment ever with Kid Scoop Media. I got to do a food review at The Auld Fella, a magnificent Irish Restaurant right in the middle of Downtown Culver City. 
When we walked up to ask for a table, I saw beautiful landscaping, pretty lights and a lot of people having fun. It was a perfect day!  And I also heard wonderful music playing. They have a lot of outside seating with amazing sunset views during the golden hour, which we got to experience. They set up heat lamps for chilly nights and I never got cold.  Auld Fella serves Irish food, something new for some and something normal for others.  Normal meaning it is a good place to remind Irish people of their home that is very far away.
The menu has a ton of great options and it is organized in sections that make sense.  We ordered many different things including: Irish Sausage Roll, Truffle Mac & Cheese, Buffalo Cauliflower,  Irish Lamb Stew Pie, The Beef & Mushroom Pie, The Irish Breakfast, Shepherds Pie & Chicken Curry. Other times I've gone there I got Fish & Chips or the Burger, which are both rich and flavorful.
All of the dishes were delicious and were each unique in their own way.  The Irish Sausage Roll had a wonderful flakey crust. The Truffle Mac & Cheese was amazing because of the truffle oil mixed with the ooey gooey mac and cheese with the perfectly cooked pasta at just the right temperature. The Irish Breakfast was a mixture of different foods that go well together on one plate.   It had baked beans combined with Kerrygold butter on artisan bread and it was a mixture of sweet and savory and I loved it!  It even includes delicious black pudding!  Guess what that is???
Auld Fella is one of my favorite restaurants because all of the food is wonderful and it is always a fun experience. You should try it and see if it becomes one of yours!
By Sierra Mand, 11, KidScoop Media
Earlier in the month, Kid Scoop Media visited The Auld Fella for a food review. It is an Irish Pub located in Downtown Culver City. When we biked up, we were welcomed by a big beautiful, outdoor seating area. The street was opened up and all their chairs and tables were out with umbrellas on top. 
We arrived just as the sun was setting on a Thursday evening and sat outside, across the street from the Culver Hotel. The outdoor seating was really nice. The plants and decorations made it very welcoming and the hostess and waitress were very friendly.
Everything was delicious! Here are a couple of dishes that stood out to me the most: Shepherd's Pie, The Irish Breakfast, Buffalo Cauliflower, Truffle Mac and Cheese, and Chicken Curry. The dishes have a lot of different flavors and each one is unique.
All the dishes were prepared with love. The serving plates were made of wood and they were served with a lot of different condiments. Some were spicy and others were smooth, like the Shepherd's Pie, which was easy to eat. It felt like a cloud when I bit into it because the mashed potatoes were whipped and the ground beef was juicy and cooked perfectly. 
The Irish Breakfast came with a bunch of different sides that made it a big feast on top of a plate.  The egg, ham and sausage were so good and I even tried the black pudding! For people who don't really like spicy or rich food, I would highly recommend the fish and chips as the batter is mouthwatering. You will have to go there yourself to try them! 
The Auld Fella is a delicious and friendly restaurant/pub in the heart of Culver City.