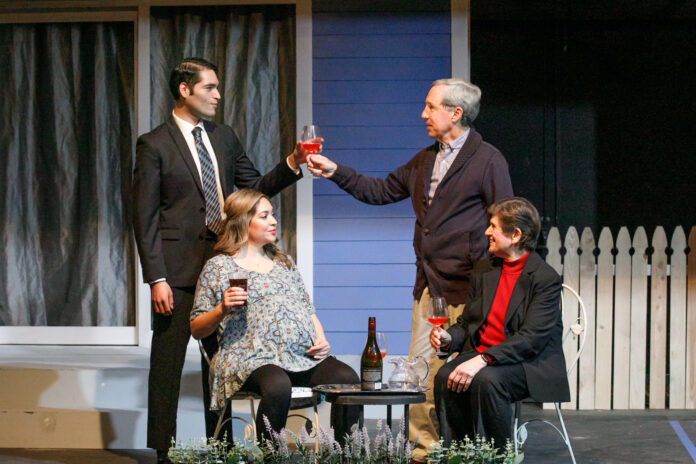 'Native Gardens', a brilliant new comedy by Karen Zacarias, one of the most prolific and successful Latina playwrights in the country, opens Friday, January 21 through Saturday, February 12 on Fri/Sat at 8pm, Sat/Sun at 2pm at the Westchester Playhouse, located at 8301 Hindry Avenue in Los Angeles, CA 90045. Presented by Kentwood Players, directed by George Kondreck and produced by Kathy Dershimer with rights secured from Samuel French, Inc., the cast features Marina Portillo as Tania Del Valle; Robert Anaya as Pablo Del Valle; Phyllis M. Nofts as Virginia Butley; and Steve Izant as Frank Butley.  Playwright Karen Zacarias was born in Mexico in 1969, graduated from Stanford University, and has won dozens of prestigious awards including the 2018 Helen Hayes Award for Outstanding Original Play or Musical Adaptation (Ella Enchanted). The multi-talented Ms. Zacarias has also written musicals including Chasing George Washington which premiered at the Kennedy Center. When it was adapted into a book, Michele Obama wrote the forward. Zacarias is the first playwright in residence at Arena Stage in Washington, D.C. where she currently lives with her family while working on the adaptation of Edith Wharton's The Age of Innocence, a drama for Oregon Shakespeare Festival, and a Brazilian themed Oliver Twist musical: Oliverio: A Brazilian Twist on Dickens for the Kennedy Center. Kentwood Players is honored to have Ms. Zacarias' play on their stage to introduce local audiences to her witty dialogue. Cultures and gardens clash in 'Native Gardens', turning well-intentioned neighbors from opposite sides of the fence into feuding enemies. Pablo, a rising attorney, and doctoral candidate Tania, his very pregnant wife, have just purchased a home in the suburbs of Washington D.C. which is a bit of a fixer-upper; and Tania, a botanist, plans to transform the yard with native plants. However, their new neighbors Frank and Virginia are a well-established D.C. couple with a prize-worthy English garden. An impending barbeque for Pablo's colleagues and a delicate disagreement over a long-standing fence line soon spirals into an all-out border dispute, exposing both couples' notions of race, taste, class and privilege.
Reserved seat tickets are $22 with a $2 discount for seniors and students, available by either visiting www.kentwoodplayers.org to purchase online and book your reserved seats, emailing the box office at boxoffice@kentwoodplayers.org, or calling (310) 645-5156. All emails and messages will be answered in the order received to confirm your ticket order, with available tickets sold at the box office beginning a half hour prior to each performance.
For your safety, everyone ages 12 and over must show proof of vaccination for admittance and is required to properly wear a face mask while at the Westchester Playhouse (unless performing onstage). Free street parking is available on 83rd Street and in the adjoining neighborhood, but not on Hindry Avenue, with left turns restricted on the corner of Hindry and Florence due to the new Metro train station crossing. Please read all traffic and parking signs carefully, including standing placards directing patrons to a free parking lot available nearby on Hindry during performances.
For more information about Kentwood Players, including upcoming auditions on January 22 and 23 for 'Clue', a murder mystery comedy directed by Daniel Kruger set to open March 18, please visit www.kentwoodplayers.org, Facebook, Twitter, Instagram and YouTube. As a 501C3 non-profit organization, donations in any amount given to Kentwood Players are always greatly appreciated and tax-deductible to the extent allowed by law.