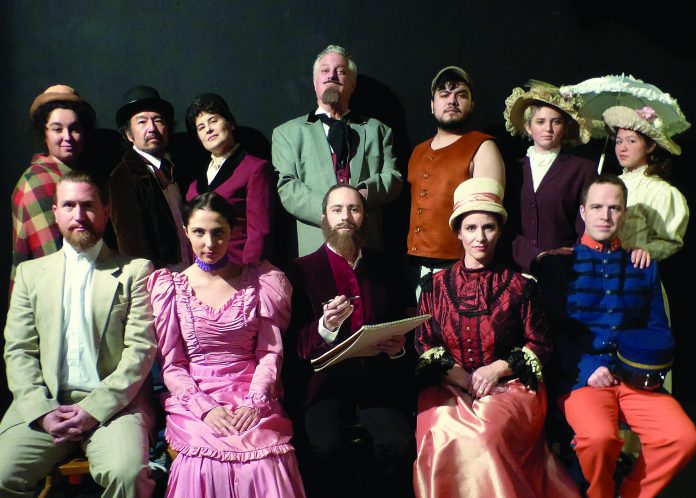 Kentwood Players proudly presents the musical "Sunday in the Park with George," with music and lyrics by Stephen Sondheim and book by James Lapine at the Westchester Playhouse, located at 8301 Hindry Ave., Westchester. The musical will be opening this Friday, March 15 and playing through Saturday, April 20 on Fridays and Saturdays at 8 p.m. and Sundays at 2 p.m.
The production is directed by Susan Goldman Weisbarth with music direction by Mike Walker and produced b Margie Bates and Gail Bernardi for Kentwood Players under special arrangement with Music Theatre International.
Featured in the cast in alphabetical order are Rachel Berman, Kate Eberle, Martin Feldman, Bouket Fingerhut, Savannah Fischer, Janet Krajeski, Vincent Paz Macareno, Genevieve Marino, Alex Norwick, Fiona Okida, Roy Okida, Brian Pirnat, Shawn Plunkett, Don Schlossman, Michele Selin, Jennifer Sperry, Rikki Walker, Dana Weisman
Winner of the Pulitzer Prize for Drama, the Drama Desk Award for Outstanding Musical, the Laurence Olivier Award for Best New Musical, and multiple Tony Awards, "Sunday in the Park with George" was inspired by the life of French pointillist George Seurat.
The plot revolves around the creation of his masterpiece, "A Sunday Afternoon on the Island of La Grande Jatte" as George, an intense and passionate artist, struggles to not only create his paintings but also to maintain a relationship with his long-time mistress, Dot.
The second act connects to the first while focusing on another George, Seurat and Dot's great grandson, also struggling to find meaning in art and the need to connect to the past, present and future. "A white canvas, so many possibilities."
Reserved seat tickets are $27 with a $2 discount for seniors and students. To purchase tickets, please email the box office at boxoffice@kentwoodplayers.org or call (310) 645-5156 to leave a message with calls returned in the order received to book seats. You may also purchase tickets online at www.kentwoodplayers.org where you can find more information about Kentwood Players and all upcoming shows, or on Facebook, Twitter and Instagram.
Also this weekend, Kentwood Players will hold open auditions for "Pippen", the award-winning musical with music and lyrics by Stephen Schwartz and book by Roger O. Hirson, on Saturday, March 16 from noon to 3 p.m. and Sunday, March 17 from 6 to 9 p.m. "Pippin" tells the story of a young prince who longs to find passion and adventure in his life. Callbacks by appointment only on Monday, March 18.
This is a non-equity, non-paid production directed by Alison Boole with music direction by Catherine Rahm, and produced by Lyndsay and Jeremy Palmer for Kentwood Players under special arrangement with Music Theatre International.
Performance dates are May 17 through June 22 on Fridays and Saturdays at 8 p.m. and Sundays at 2 p.m. Auditions and performances take place at the Westchester Playhouse. Please visit www.kentwoodplayers.org for character breakdowns and further audition information.
On Saturday, March 23, open auditions are being held from 11 a.m. to 4 p.m. for "Twelve Angry Women," directed by Melodie S. Rivers and produced by Lynn Gutstadt for Kentwood Players' participation in the national play reading of Reginald Rose's drama "12 Angry Men performed by 12 Impassioned Women" over the weekend of April 5-8.
Readings are being presented by 12,000 women across the country at community colleges, law schools, universities, high schools, community and regional theaters, and community centers who support the need for continuing towards gender equality and parity by using their voices to tell a story, make others think, and motivate others to action after hearing a play that speaks to the power one person can have when they speak with conviction in our judicial system.
After the "Twelve Angry Women" play reading at 2 p.m. on Saturday, April 6 at the Westchester Playhouse, the League of Women Voters will host voter registration, encouraging cast and audience members to engage in their own communities to increase voter registration and turnout. There is no admission charge for the play reading; donations gratefully accepted. Interested volunteers, please email boxoffice@kentwoodplayers.org.
To meet the Kentwood Players production teams for all upcoming shows and learn more about the group and what goes on at the Westchester Playhouse, the public is invited to attend their membership meetings, which are free and held on the third Wednesday of each month at 7:30 p.m. at the Westchester Playhouse. The next meeting will be held on Wednesday, March 20, so please join in to meet the members and find out how you can get involved with this almost 70-years-old and going strong community theater group!