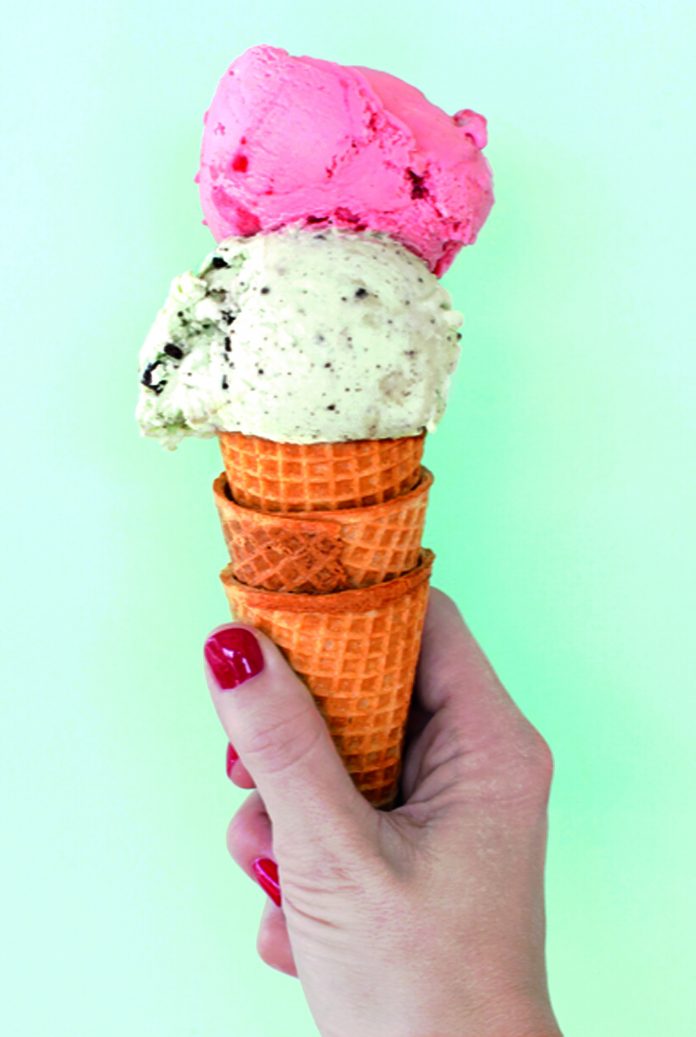 With the arrival of summer, what could be better than to cool off with a gelato-filled cone? Temperatures are steadily rising and this cold and smooth delight awaits you at Joy and Sweets in nearly a dozen flavors. Macarons and cupcakes can be found here as well.
"The origins of gelato go back 12,000 years when, in Mesopotamia, slave runners traveled up to 100 kilometers to collect ice and snow used to cool drinks served during royal banquets and religious ceremonies" to quote Italy Magazine.
Not feeling up for a chilly treat? How about a salted caramel or pistachio French macaron instead? Macarons are sweet with a delicate, light, and crispy texture due in part to the finely ground almond flour. Eggs, sugar and a range of flavors are included in the ingredients.
In Culver City since 2015, Joy and Sweets is owned and operated by sisters Amanda and Emily Campbell. Amanda made a point to share with me the importance of using only natural flavors and ingredients in their desserts. 
A neat red heart is used to decorate the red velvet cupcakes in the display case. Raspberry and double chocolate cupcakes look mouthwatering as well. Decadent lavender and swirly frosting-covered cupcakes beckon from behind the counter.
Joy and Sweets has a little known secret. All of its homemade treats are gluten-free. They do outsource their gelato though and a few of those flavors do contain gluten.
The sisters developed an interest in making baked goods many years ago when they began baking with their great-grandmother at a young age. Emily also worked at the Disneyland kitchen and Amanda managed a bakery in Hollywood for five years. Passion is the word that Amanda would use to describe both she and Emily's commitment to running Joy and Sweets.
When asked how they got started, Amanda said: "we both got to a point in our jobs where we hit the ceiling of how far we could go." Around the same time, Amanda developed a recipe for French macarons when she stopped eating gluten to feel better. They began selling macarons to farmer's markets, eventually reaching seven different locations, allowing them to quit their jobs.
Two years later, Joy and Sweets began. They worked every day for a year in order to hire their first employee.
The shop has since expanded because they are renting out the coffee shop next door that closed. Groundworks organic coffee, espresso, and coffee drinks are now being served at quaint round tables with shiny copper chairs.
The Campbell sisters sum it up this way: "We LOVE Culver City. We talk about it every day that we are so happy to be in Culver City."
Bring your cravings to Joy and Sweets, 10818A Jefferson Blvd. (in the Target shopping center), Culver City; open daily 11 a.m. to 7 p.m. Call 310-730-5362, email Amanda@joyandsweets.com or visit the shop online at joyandsweets.com.