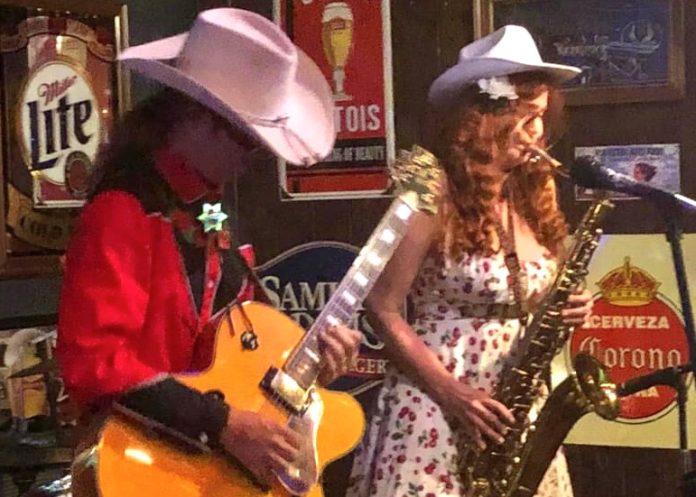 Local band Jetpack play classic rock & roll with a country twang, and they're regulars at Culver City's Cinema Bar. They're there this Friday, Aug. 5, and again on Thursday, Aug. 18, (their regular monthly slots) so Jetpack's Dan Standiford chatted with the News about what we can expect…
When did you start writing and performing music, and when did it get serious?
I bought a four track tape recorder in the mid-nineties on which I made all different styles of songs. I had played trumpet throughout school, bass in the high school and college jazz bands, had picked up guitar somewhere in there as well, other instruments sprinkled about. I played in the pit in musical theater on different instruments. It was nice to be able to do all that, but I never gave it a thought that I would be an act of my own. When I moved to Los Angeles a tape of mine that I gave out to friends wound up with someone who ran a small label of some better known surf style acts in SoCal. Then, it was right to the studio to make an album. I was told to just play everything but the drums, just like my amateur recordings, and worry about forming a band later! 
Describe your sound…
Mid Century instrumental rock & roll, classic country n' western… and not limited to surf guitar. I say it that way as an instrumental '50s or '60s style band gets pegged as surf music almost automatically. Playing lots of Fender brand gear causes that to happen too. Jetpack is an era band instead of a single genre band. Frat rock, saxophone rock & roll surf music, exotica…Rancho Del Rey is similar: of the same era, but leans into different genres as well- honky tonk, rockabilly, and western swing.
What are your career highlights so far…
Well, having an album paid for by someone else was a good one! That was just before anyone could do it on a computer at home and make their own cds, so it still felt more…real? Official? Seeing it in a record store with a UPC code…very real! The Sharper Image produced and sold a compilation album of surf music a few years later and I have a song side-by-side with Dick Dale. Actually, opening for him was my first show years earlier! Based on my record, I was hired by another label to produce and perform a cd in their series of tribute albums that has gotten me fan mail from people who have bought it in record stores not knowing my own album also existed. As for Rancho Del Rey, we've graduated from being viewed only as Jetpack's opener and our debut without "them" was at Knott's Berry Farm for a few days this spring. I also like to wear a cowboy hat in real life for whatever the reason!
Do you have any recorded music available?
My original cd, Planet Reverb, is still around out there. We have it at the website too. I keep threatening to release the originals I have written for Rancho Del Rey on a cd as well, so that's probably in the future.
Have you performed at Cinema Bar before?
A gazillion times. It's our home base. Most of us are less than two miles away! We know the staff and the regulars so well now. We've been there every month for years and years and now twice a month. First Friday and Third Thursday of the month is the usual routine. The alliteration is supposed to help remind you! We don't do one band one night and one on the other though. Rancho Del Rey opens for Jetpack almost every time, so it's usually a double bill. Nothing too crazy has happened while we've been playing, but recently one of our regulars brought a whip and put it to use during Rancho Del Rey.
What can we expect from the set this time?
Well, this time our Friday is hectic as we'll be performing at Campus JAX in Newport Beach first as Rancho Del Rey. Then, we run out the door and hit the 405 and head straight to Cinema Bar. I'd say expect us to call and say we're running ten minutes late? Seriously, we'll make it, we'll already have our western outfits on- they may just be a bit wrinkled when we arrive…should be business as usual. Rancho Del Rey and Jetpack 9:30 to 12:30!
What else do you have coming up?
We have some travel ahead. We hire ourselves out to weddings, cooperate events, etc. Then, the usual round of venues we play such as car shows, like The Port of L.A. where we just made our annual appearance, or community events like the Huntington Beach Marathon which we played this spring. We'll return to the 20th annual South Bay Surf Stomp in El Segundo August 28th. We love Culver City, so remember we're right here, whomever plans those things in this town!
For more information, visit jetpackband.com and thecinemabar.com.