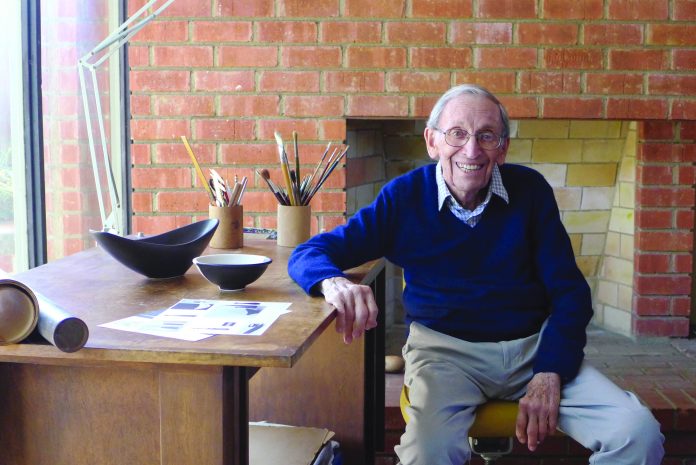 Jerome "Jerry" Ackerman was born on Jan. 29, 1920, less than 2 ½ years after the incorporation of Culver City. The city celebrated its centennial in 2017. Ackerman, however, missed his own centennial — passing on March 30, 2019.
The parallel growth to prominence of city and man are uncanny.
Artistically, Jerry Ackerman gave as much to Culver City's history as anybody. Together with wife Evelyn (Evy), the Ackerman legacy is rooted in mid-century modern design; home décor that reflected their passion for fine art, while being affordable to working-class families.
"(Dad) has pieces in the collection of the L.A. County Museum of Art and the Smithsonian, among others, and their work is highly collectible," daughter Laura Ackerman-Shaw said.
The most recent exhibition to include the Ackerman work was "Found in Translation: Design in California and Mexico, 1915-1985. A collection of his ceramics designed in 1953 were reissued by Design Within Reach, proving the timeless appeal of his work. The Wall Street Journal featured limited edition candleholders in their 2017 Gift Guide.
"They embodied the can-do spirit of California, functioning simultaneously as craftspeople, commercial designers and producers," said Bill Stern, director of the Museum of California Design. "Their modern work brought affordable midcentury design into homes across the country."
Jerry Ackerman and Evelyn Lipton grew up in middle-class families in Detroit, Mich. Although four years difference in age (Jerry being older), they attended the same schools and crossed paths only once. They also attended the same college, Wayne University (now Wayne State, where Jerry received his bachelors. He got his masters in ceramics at Alfred University).
Their second meeting was more eventful, and lasting.
As the story goes, in 1948, Jerry was home from Air Corp service, when he walked into an interior design story. He noticed "an extremely lovely young lady sitting and folding fabrics." Ackerman introduced himself, they struck up a conversation and fell in love over a candy bar.
"Evelyn happened to like Milky Ways," Jerry once told a writer.
They were opposites in personality — Jerry being gregarious and outgoing, and Evelyn shy and scholarly. Yet, they were a natural fit, sharing a deep love of art among other interests. The couple wed soon after.
Evelyn confessed that she would have married Jerry the first time they met," daughter Laura said. "Mom professed that love every day until her passing in 2012."
Jerry and Evelyn moved from their native Michigan to California in the early 1950s. The "booming post-war economy and sunny climate" were irresistible. The environment likewise inspired "their warm, textural, organic mid-century modern style."
By 1953, they launched the company Jenev — a combination of their names — from a $66-a-month studio. And in 1956, the couple purchased a home in Culver City.
The Ackerman household was filled with color and liveliness, according to daughter Laura.
"Dad smoked a pipe, mom wore Marimekko—I thought they were very sophisticated," Ackerman-Shaw recalled. "Creativity and self-expression were encouraged, rather than imposed. I attended art classes and even learned cloisonné from mom. Instead of crayons, I used pastels, colored pencils, and x-acto knives. For my fifth birthday, my parents wrote and performed a play with handmade puppets and stage."
Laura said her parents' love for each other was part of what made their creations so unique and important.
"Their personal and professional lives intertwined, and their six-decade love affair resulted in a partnership that produced a prolific body of work across a wide variety of media, including ceramics, mosaics, tapestries, woodcarvings, and hardware," Ackerman-Shaw said. "In 1963 West Coast Sourcebook noted, 'In the case of ERA's designer-owners, who work so closely together, it is proper to speak of a single career.' While their personalities were completely different, they shared a singular vision and a commitment to each other and their work. They laughed that few people could work together for so many years and survive, let alone thrive."
Jerry and Evelyn lived in the same Culver City house that they bought in  1956. They had been involved with the CC Arts Committee at its founding, La Ballona Committee, and the Downtown Redevelopment in the '90s.
"They had showrooms on Melrose, then Beverly Blvd, and finally Pacific Design Center," Ackerman-Shaw said. "My parents' life and work is the subject of an acclaimed book, Hand-in-Hand (Pointed Leaf Press, Dan Chavkin and Lisa Thackaberry) and a short movie, In Tandem (Margaret Halkin and Katie Nartonis). They've been included in many other books and magazines."
Jenev morphed into ERA Industries—in which Jerry ran the growing business, while Evy became the primary designer. Their legacy says they were the Fred Astaire and Ginger Rogers of the design world.
Jerry and Evelyn Ackerman were married for 64 years, until her death on Nov. 28, 2012. They are survived by daughter Laura Ackerman-Shaw, son-in-law Marc Shaw, grandson, Aaron Shaw, and his wife, Kristen Meister.
In lieu of flowers, the family asks that donations by made to Wayne State University College of Fine, Performing and Communication Art.