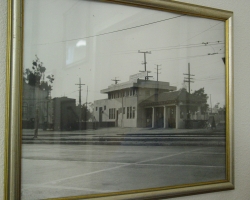 When Harry Culver was scouting for a location to establish his city, one of the factors that drew him to this area had to do with transportation. In fact, his early ads read "All Roads Lead to Culver City." But it was more than roads, it was also the Los Angeles Pacific Electric Railway. The Ivy Substation, Media Park and a depot were located along Venice Boulevard at what became Culver Boulevard. This was part of the inter-urban system known as the Balloon Route, so called due to its shape.
This location was just beyond what became Culver City, but it had special significance to the Culvers. Culver first spotted the lovely young woman who was destined to become his wife, as she was waiting for the Red Car at that depot. Culver family legend says that she was wearing a yellow suit with a brown straw hat. Culver soon learned that she was Lillian Roberts, a young actress under contract to Thomas Ince, the filmmaker who built the first two major studios in Culver City.
Culver threw a party for the new people and made sure that she was invited – and that his doctor and his wife would bring Roberts. Of course, Culver drove. Pat Culver Battle, their only child, loved to tell the story and always added the part about her father driving, and since the doctor and his wife were already occupying the back seat, Roberts took her place next to Culver, and "the die was cast!" They were married in 1916, and Pat was born in 1917, the month before the city was formally incorporated.
Culver saw the movie industry as a vital part of the city's planned economic base. Irving Thalberg, the brilliant head of production at Metro-Goldwyn-Mayer Studios, is cited as chartering a Red Car to transport people to San Bernardino, to one of the few theatres well-equipped for sound. In Hollywood Rajah, Bosley Crowther's biography of Thalberg, food and drinks were loaded onto the railroad car to transport dignitaries to special screenings. The railroad cars also carried equipment to the studios.
Today, the depot is gone, but the 1907 Mission-style Ivy Substation is on a 50-year lease from the city of Los Angeles. It was placed on the National Register of Historic Places by railroad historian David Cameron in 1981 to save it from demolition. The structure is recognized as Los Angeles Historic-Cultural Monument #182.
The Culver City Redevelopment Agency funded the Ivy Substation's renovation in the 1980s.  Today it is a performing arts space, with the Actor's Gang as its resident theatre company.