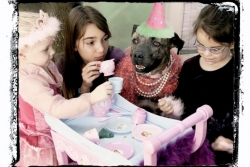 Life is too important to be taken seriously. -Oscar Wilde
I just concluded the summer school session for Culver City Unified School District and it is time to relax and reflect.  This year was my most satisfying and successful teaching experience to date.
While chatting with my friend, Darrell, I recognized something very valuable to me as a parent and an educator.  Having fun is the easiest and most effective way to connect with people.
In my last article I described how I have been using music in my classroom to inspire learning.  Here I am talking about using fun to create connections with people.
Whether it is laughing at a student who has funny one-liners, or coming up with funny nicknames for everyone, having fun builds the type of connections that are real and lasting.
When things get challenging it is these connections that support us in moving through to greater horizons.
In fact, one of my former students, whom I dubbed A Pizzle, has become a trusted friend. Now attending college, A Pizzle has grown into a great asset to my students when she comes in and volunteers in my classroom and lunch groups.
By having fun during our time together, laughing at each other, and ourselves we developed a lasting bond.
I have worked with tough kids, even traveling to Twin Towers Jail, in downtown Los Angeles, to deliver lessons and help a student earn his diploma.
Even in the jail, the laughter that we shared, about our silly mistakes, and our misunderstandings about life, translated into a very successful partnership.
During his stay, my student was able to earn most of the units he required for his diploma and I gained a new appreciation for my own freedom.
I am a much better person for learning to laugh at my own insecurities and the silliness of being me. When I taught middle school, one of my students took to calling me Greasehead.
The name was a tribute to the greased back hairstyle I wore at the time. I could not help but laugh at the name. My ability to laugh at that name was an instant connection with that student, who historically had difficulty connecting with his teachers in meaningful ways.
Without fun, connecting with people can take a tremendous amount of will power and effort.  The type of effort that leads to burnout rather than inspiration.
Even when teaching a difficult subject matter, we can choose to make it fun, and to laugh at the struggles we experience along the way.
This choice has an empowering affect on people and can bring out a willingness to give our best to something that does not come easy.
During my summer school session I experienced days that were mostly fun, and a couple of days that were not so fun. On the fun days I was full of energy, even when I was lacking in the sleep department.
I enjoyed getting to know my students and seeing each student's unique approach to learning. Rather than obstacles in the learning process, I found these differences enriched the learning experience for everyone.
On the days that were not so fun, those same unique qualities in my students turned into added stress, and things that I needed to change. It was on those particular days that I had an opportunity to make a choice to find the fun in what we were doing.
Sometimes that choice is as simple as taking a breath and letting go of trying so hard to be in control. A moment of calm, within me, can give way to a new thread of inspired ideas and help me to get back on track as an effective educator, and parent.
Having fun can also mean being light and curious, rather than rushed and serious.   That way, even when we are doing reading comprehension activities, discussing a challenging experience, or cleaning up the room, it is easy to encourage others to join in.  They feel safe, and are attracted to the activity by the fun I am having.
Adding fun to any process changes everything for the better. One of my friends, Sister Tecla, is a nun at Pauline Books and Media in Culver City. She has been a nun for quite a while, and she is always quick to crack a joke.
It seems no matter what we are discussing she brings out the humor in it. I enjoy spending time with people who are both wise and willing to have fun with others.
So, don't hold your tongue when it comes to having fun. The world needs a comedian when things get challenging. Laughter is often the thing that brings out the genius in everyone.
Edward Biagiotti is the Inclusion Specialist for Culver City Unified School District.  He is also co-host of the popular radio show, Funniest Thing! With Darrell and Ed, live each week at 3 p.m. on www.UnityOnlineRadio.org.