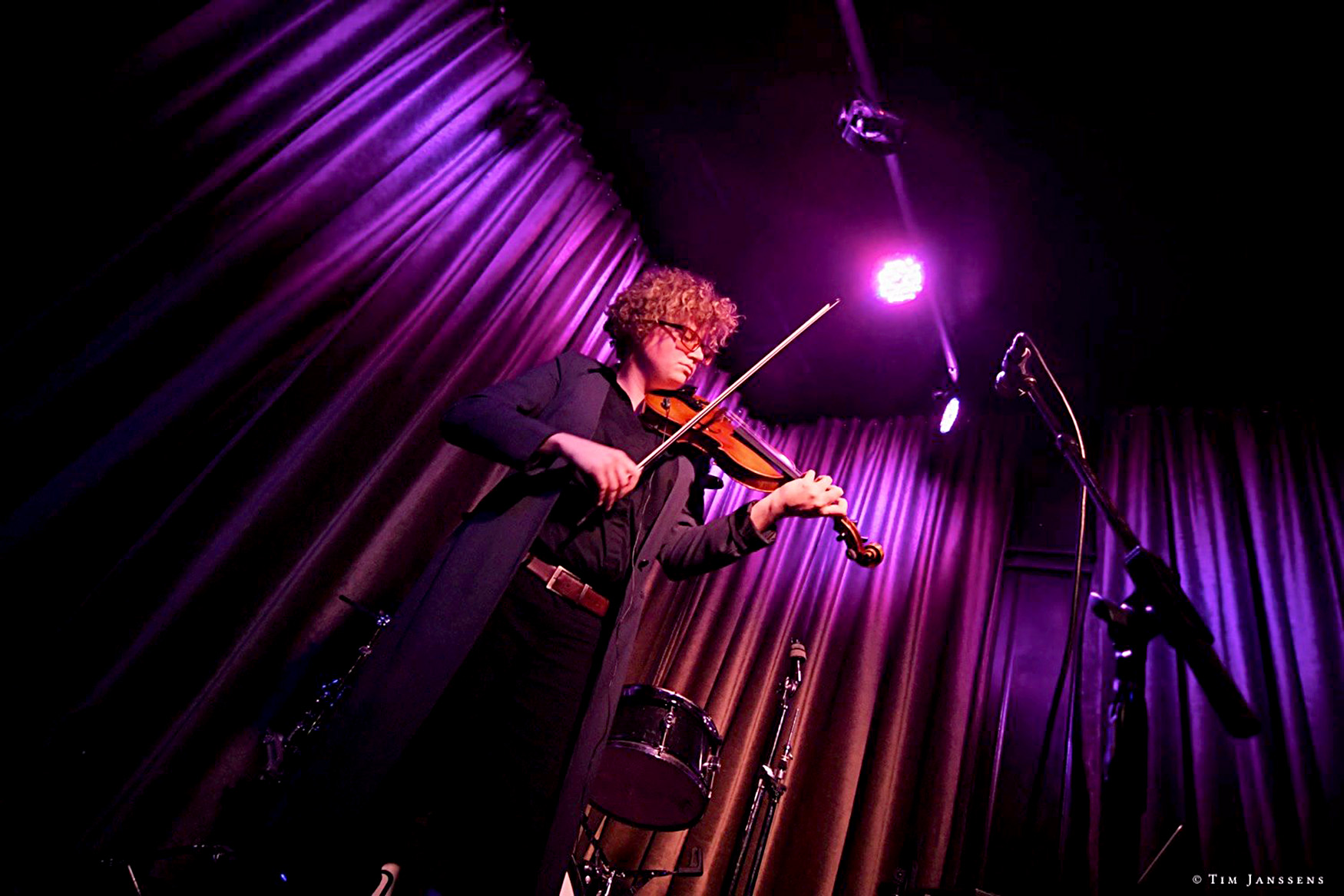 MidDay at GRACE, a free concert series in its second season at Grace Lutheran Church in Culver City, will begin 2020 with an international flourish. Guest artist Emer Kinsella, an Irish violinist with an impressive resume in the concert hall and on film scores, will perform at noon, Thursday, Jan 9.
Kinsella, a classical-trained experimental violinist and, songwriter from Dublin, may be equally known for her film scores on Netflix's "Sense8," working with composer Johnny Klimek, and the film "Jungle," with actor Daniel Radcliffe.
The violinist said she became acquainted with Mary Lou Basaraba, the MidDay concert director, by chance.
"I met Mary through a collaborator of mine, Megan Hayes, while I was organizing an immersive concert experience called Intrinsic Strings last summer which brought live strings, narrative music and virtual reality to the Baldwin Hills Scenic Overlook," Kinsella said. "Mary generously lent us some items for the concert. She invited me to perform shortly after this."
Kinsella, who now resides in Los Angeles, is known for her "textural and minimal introspective string writing, blended with ambient electronics and poignant landscapes," according to the Irish Times.
The artist said her concert at Grace will be fresh and new for listeners.
"As all my music is original and new works, there won't be any familiar tunes, but rather something different from what you would usually expect from a violin performance," Kinsella said.
"My performance will be comprised of my original compositions, which are a mixture of cinematic soundscapes and ambient rhythmic tracks overlaid with live violin and vocals to create a unique and eclectic experience," she explained. "My music is about creating a moody, intimate, tapestry of sound as it explores aspects of internal struggles and human connection. I premiered part of this material… at the Hotel Cafe in Hollywood."
Performing in a concise, lunch-time concert has its challenges and Kinsella embraces the opportunity.
"Playing a 45-minute gig allows me to bring the audience on a journey through multiple songs and pieces with enough variety to share my musical voice and also engage with the crowd," she said. "I think it's a good amount of time to connect with those who come and present a unique concert while creating a shared experience locally in Culver City."
This diverse, eclectic and gifted artist received her music training before she could read.
"I studied violin from the age of 2-1/2 until I was 18, at the Young European Strings School of Music in Dublin," Kinsella said.
Later, at Portmarnock Community School, she took a film analysis class and discovered "one of my all-time favorite films, 'Run Lola Run,' not knowing then that years later I would get to work closely with one of the film's lead composers, Johnny Klimek, on projects such as 'Jungle' and [the Netflix series] 'Sense8.'"
She studied at the Guildhall School of Music and Drama in London, and the University of Music and Performing Arts in Vienna for violin performance. Then she was accepted into the MFA film score program at Columbia College Chicago, with a full scholarship.
Her travels eventually led her to Los Angeles.
"I wanted to be in the epicenter of the film industry," Kinsella said of L.A. "I wanted to live in California – for the sun and palm trees – ever since watching "Beverly Hills 90210" as a kid. I live… close to Universal Studios and Studio City, where a lot of studios are located and it is easily accessible to central Hollywood and other parts of the city.
Joining other Angelinos, she quickly established a regular, robust routine.
"I'm usually busy composing in my studio, performing violin at a concert or going to industry events across the city," Kinsella said. "It's also nice to take time out to go hiking or spend time at Venice beach, which is one of my favorite spots in L.A."
MidDay at Grace concert is meant to be a drop-in experience, according to Basaraba. Listeners can stop on their lunch break, leave at any time, and take a break from the busy day. All ages are invited.
Thursday's concert will be followed by a short, meet-the-artist and dessert reception in the church's Fireside Room. Donations are encouraged to support the charity of the artist's choosing.
Grace Church is at 4427 Overland Ave., Culver City.