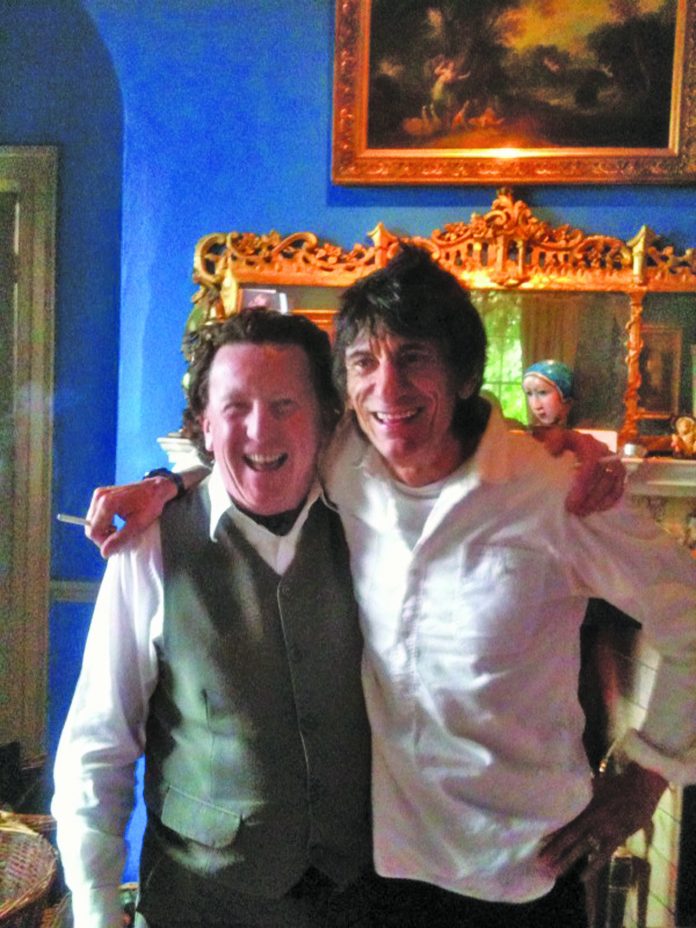 Frankie Gavin is a "superbly uncompromising player, he makes refreshment of the old by picking out and polishing every detail and setting it off in a steady, listenable pace.
"He is exceptional in both fiddle and flute, and in concert, his tune sets are perfectionism that drives and are driven by an audience spontaneity that spurs Gavin to push fiddle from shriek to rasping bass."
Gavin will be making some beautiful music on Saturday at Boulevard Music, from 8 to 10 p.m. at 4316 Sepulveda Blvd., Culver City. Tickets are $20.
His Boulevard Music bio includes some interesting tidbits.
In the early 1970s, Gavin played musical sessions at Galway's Cellar Bar, with Alec Finn (bouzouki, guitar), Mickey Finn (fiddle), Charlie Piggott (banjo), and Johnnie (Ringo) McDonagh (bodhrán). In 1974, from these and further sessions, he founded the group De Dannan with Alec Finn.
When De Dannan split-up in 2003, Gavin founded a new group, Frankie Gavin and The New De Dannan, which led to an acrimonious exchange between Gavin and Finn.
According to Finn, he had registered the 'De Dannan' name.
Gavin has played and recorded with Andy Irvine, The Rolling Stones, Elvis Costello, Stéphane Grappelli, and Frankie Goes to Hollywood, and in 2010 became reputedly the fastest fiddle-player in the world, with an entry in the Guinness Book of Records.
His musical path to the present, however, began at age 4, when he "started playing whistle," he says. By age 10 he moved to the fiddle and started writing his own music in his mid-20s.
His influences are many and diverse.
"Jimmy Morrison the Sligo Fiddle player, Michael Coleman, the Flanagan Bros who we got the song My Irish Molly O from and changed the course of Irish music for us in particular," he says with a smile.
Gavin's music style is a "mixture of Donega Galway, with some Kerry thrown in for good measure," as he tells it.
The Irishman is based in Galway, in the west of Ireland, where the local scene has "not adopted to traditional music just yet but getting there."
Along his musical journey, Gavin says he has a range of stories to tell.
"The best experience was playing with the Stones in Oakland Arena back a few years," he says. "The worst one was for the Mafia in Rhode Island way, way back, and short-changed us by $500 for an already small fee!"
This will be the musician's first appearance at Boulevard Music and he says his audience can expect fireworks: "music and madness will be a consideration."
With a wry sense of humor, Gavin says this about his future: "I can tell you what my future doesn't consist of it if that's any help.".
In closing, Gavin looks forward to his visit to Culver City — with a tinge of melancholy.
"I'm so sorry that my old pal David Shorey who is no longer with us, will not be there, as he lived in Culver City for god knows how long, and I stayed there on occasion.
"So bittersweet memories there…….
"Let's have some fun in Boulevard!"
Gavin's website is https://frankiegavin-dedannan.irish/
Online ticket sales to Gavin's Saturday concert closes at 6 p.m. the night of the show. Any remaining tickets are for sale at Boulevard Music when doors open At 7:30 p.m. unless noted otherwise.  Tickets may also be purchased in person at Boulevard Music or by calling 310-398-2583 using a major credit card.
A $1 service charge per ticket is added to online and phone orders. All ticket sales are final. They are non-refundable and non-exchangeable. For online ticket purchases, you will need to provide the ticket barcode for entry. Please print your ticket or display the barcode on your phone.
All shows start at 8 p.m. and doors open at 7:30 p.m. unless indicated otherwise. People who already have their tickets (purchased them in advance) get in first when doors open at 7:30 p.m., store owner Gary Mandell said. After the people who already have their tickets are admitted any remaining tickets will go on sale."
Taking photos or any other type of recording is prohibited during performances at Boulevard Music.