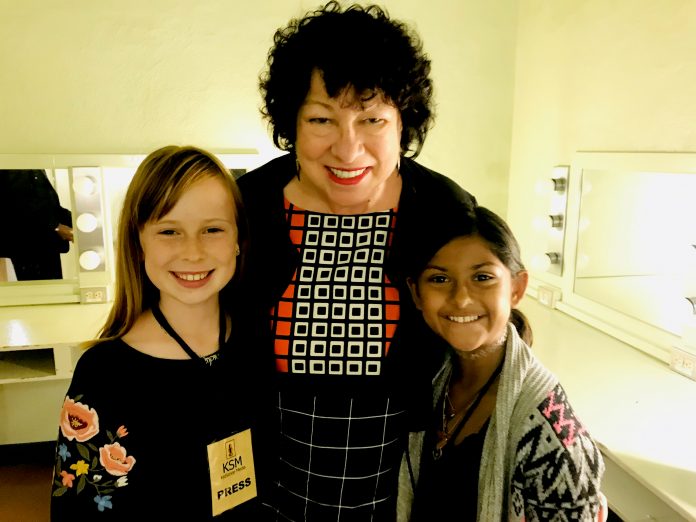 Kid Scoop Media Correspondent
Justice Sonia Sotomayor, the third woman and first Latina Justice of the United States Supreme Court, recently wrote a children's book called Just Ask.
She has been on a promotional book tour and was speaking at Santa Monica High School.  Before her speech, my fellow Kid Scoop Media correspondent Amani and I interviewed her in the green room.
The setting for her book is a beautiful garden that was thoughtfully illustrated by Rafael López. There, we meet 12 kids, each of whom has a different and common medical condition.  In her book, Justice Sotomayor teaches her readers how to appreciate their differences. She does this by writing about how different flowers in a garden are examples of the beauty of diversity.
As a child, Justice Sotomayor was diagnosed with juvenile diabetes. Back then, she was embarrassed by her condition and never told anybody. When she was in her mid-thirties, she hosted a party for some of her closest friends. Suddenly, she had to lay down in her room because she had a sugar low. She soon became unconscious. Once she was able to rouse herself, she went outside and sat on the stoop. One of her friends came out with a piece of cake to talk to her. The Justice didn't say anything but started grabbing handfuls of cake and shoving them in her mouth. That's when her friends knew something was wrong.
Once she was able to talk, the Justice told her friends, "You know I would never fall asleep at a party!" They said that since she works so hard they thought she was so tired that she collapsed. That's when the Justice realized that she could have died in a room full of friends. And from that day forward, she has been open and honest about her condition.
When I asked Justice Sotomayor what she wanted kids to learn from her book, she said, "my hope is that when children read this book, they will feel that it's okay to talk to people who are different, that it's okay to ask questions."
As we talked, I asked Justice Sotomayor what, during her childhood, she had wanted to be when she grew up. She said that she had wanted to be a detective like Nancy Drew but she couldn't because the police department did not allow people with diabetes to be detectives. So, she decided she wanted to be a lawyer instead. Justice Sotomayor was inspired to be a lawyer by Perry Mason, who, at the time, was a fictional lawyer on TV.
The Justice was so kind to Amani and me. It was my first time interviewing someone, and she really made me feel at ease. She signed two books for me: one for my classroom and one for myself.
It was an immense honor to interview Justice Sotomayor. She is such an awe-inspiring figure. If you want to learn more about her, I suggest you read her two other books, Turning Pages and My Beloved World.
After interviewing Justice Sotomayor, I am looking forward to doing more interviews with Kid Scoop Media!