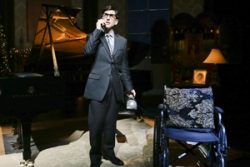 Hershey Felder brings to life the remarkable story of Irving Berlin, long thought of as America's No. 1 composer, a man who enjoyed 232 top-10 hits and 25 number-one songs during his lifetime.
Don't miss your chance to see him embody the spirit of Irving Berlin in his world premiere play "Hershey Felder as Irving Berlin" at the Gil Cates Theater at the Geffen Playhouse, located at 10886 Le Conte Ave. in Los Angeles through Jan. 4, 2015.
From the depths of anti-Semitism in Czarist Russia, to New York's Lower East Side, and ultimately all of the country and the world, Irving Berlin's story epitomizes what it took for him to capture the American dream as well as the hearts of the American people through song.
Jerome Kern said, "Irving Berlin has no place in American music – he is American music." Featuring the composer's most popular and enduring songs from "Alexander's Ragtime Band," "Always," "Blue Skies," "God Bless America," "Puttin' on the Ritz," "There's No Business Like Show Business," to "White Christmas," and the score of "Annie Get Your Gun," Felder's signature creation of character and musical performance makes this evening with Irving Berlin an unforgettable journey.
From the moment Felder invites you into Irving Berlin's living room complete with grand piano, a wheelchair representing his 101-year old self, and a set backdrop on which scenes, photos and movies from the great composer's life are displayed to enhance his tales, you are swept into the life of the great composer thanks to Felder's physical resemblance to Berlin, his obvious great talent at mimicry and superb musicianship. The play runs for almost two hours without an intermission, but it flies by and will leave you begging for more!
Throughout the show, Felder invited the audience to sing along with him, providing the lyrics to an audience who was already very well-versed in Berlin's popular songs. Felder also shared tidbits about each song's creation, including that his "God Bless America" which he gave to Kate Smith to sing and then signed over all royalty rights forever to the Boy Scouts and Girl Scouts of America. It was so popular that some thought it replaced our national anthem.
Director Trevor May, a longtime collaborator with Hershey Felder, has helped him create the elegance and fluidity in the storytelling, transporting each audience member through the 101 years of Berlin's life.
Berlin's songs were always written about love, the good and bad as well as its heartbreak. Felder has devised a type of intimate theater performance that is fueled by his unique gifts as a remarkable portrait artist, compelling story teller and superb concert pianist, performing the great composer's music with deep love and respect. In the past, he has conjured the spirits of Gershwin, Beethoven, Chopin, Liszt, and Leonard Bernstein, and now adds Irving Berlin to his ever-expanding list.
The run will feature more than a dozen pre-show and post-show Signature Series events ranging from the cerebral to the celebratory these include TGIF at the Geffen, Talk Back Tuesdays (Audience Q+A with artists), Lounge Fridays, and Wine Down Sundays.
Ticket prices are currently $49-$84 and are available in-person at the Geffen Playhouse box office, via phone at (310) 208.5454 or online at www.geffenplayhouse.com.