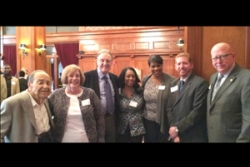 SCORE LA recognized the Culver City Chamber of Commerce at their Annual Awards Luncheon at the Los Angeles Athletic Club on Nov. 19 as the Outstanding Chamber of Commerce in their service area of Los Angeles County.
"The Culver City Chamber's service to SCORE LA has assisted their organization to mentor small businesses with over 150 small business owners during the year at the Chamber offices," Chapter President of SCORE Greater Los Angeles Guy Langvardt said. "The Culver City Chamber's allocation of time and resources to reach out to the small entrepreneurial community is making a difference in creating new opportunities for businesses and the employees they will be hiring."
"The Culver City Chamber's SCORE values its educational guidance to businesses and business professionals on new ways to doing businesses in the ever evolving economy. We are proud of our past, but look towards our future as a true challenge in today's economic environment", stated Steven Rose, Culver City Chamber CEO.
SCORE LA aims to provide professional guidance and information, accessible to all, to max mize the success of America's existing and emerging small businesses. Our parent organization, the national SCORE Association founded in 1964, is a nonprofit organization dedicated to entrepreneur education and the formation, growth and success of small business nationwide. SCORE is a resource partner of the U.S. Small Business Administration.