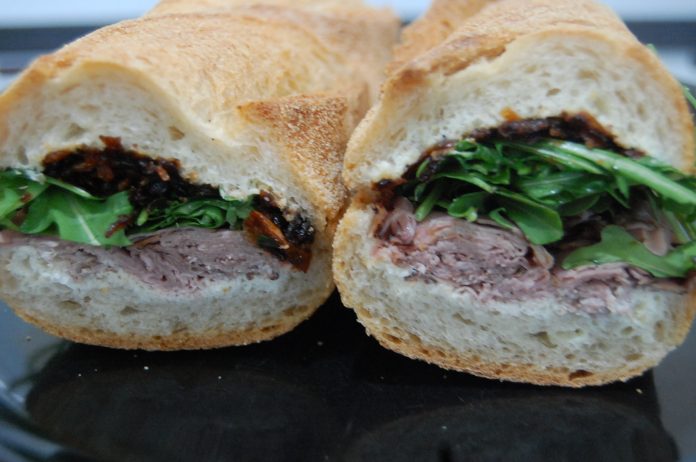 Many people might think that a sandwich place is a sandwich place. It's the most simple of foods to get right. Bread, filling, bread, done! How good, one might ask, can a sandwich place be?
The answer, as it turns out, is very good indeed! There are so many varieties of bread available nowadays, and quality bread at that, that the outer layer of a sandwich alone can offer all sorts of weird and wonderful twists and turns. Monroe Place, on Washington Boulevard, knows this. The owners, Sara Fakhfouri and Alex Maj, sure know this.
"Named after our block of the same name in Brooklyn, NY, Monroe Place is our home away from home dedicated to creating a safe and welcoming space for all to provide laughs, smiles, and some sandos + Bevs," they say online. "Coming to LA from NYC, we've fully embraced the good weather, chill vibes, and AWESOME PEOPLE. Come on in, say hi, tell us how your day is going, get a sando, grab a bev, snag a snack, or get some pantry items! Whatever you want! We're JUST happy to be here!"
That familial, "neighborhood joint" vibe which they've so lovingly transplanted from New York is immediately evident when entering Monroe Place. The menu (painted on the wall) isn't huge, but each item is like a work of art. And those of you with fussy kids have nothing to fear – they'll work with you and build a sandwich.
But those of you with an open mind and a flexible palette are much better off sampling one of the sandwiches that the owners/chefs have carefully constructed. So that's what we did.
The vegan in the family had the Insanity Now from the vegetarian menu, with the feta cheese left out which made it vegan. Spicy serrano-cilantro spread with avocado, cucumber-tomato-red onion salad and focaccia bread – the bread holds the ingredients together beautifully.
We also had the Court Street, thinly sliced roast beef and horseradish creme fraiche with arugula and crispy shallots on a baker's kneaded baguette. This one is decidedly not vegan, but it's so good. The "London broil" meat and horseradish is a classic combination, given a fresh twist here. The sharp flavors are calmed by the bread, soft on the onsite with a magical crunch on the exterior.
Monroe Place also has a great selection of unusual chips, cookies, drinks and other snacks, making it the ideal spot for lunch, complete with a few surprises.
Monroe Place is located at 8541 Washington Blvd., Culver City 90232. Call 424-298-8513 or visit monroeplace.co.