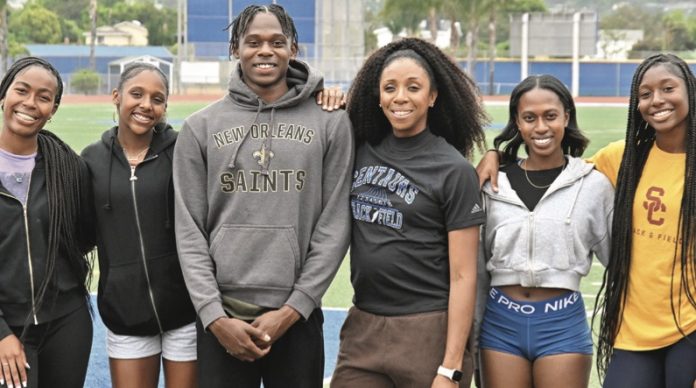 It's time to put the icing on the cake. Two weeks ago, the Lady Centaurs won the CIF Division 2 title by scoring a monstrous 62 points. This weekend they will try to duplicate that accomplishment on the California State level when they compete on Friday and Saturday at Buchanan High School in Clovis.
Friday is the day the runners qualify for the finals on Saturday. There are 3,892 high schools in California, 3,160 public schools and 730 private schools and Culver City will be sending four girls and one boy to this prestigious meet. The four girls are freshman Leena Powell, sophomore Joelle Trepagnier, junior Morgan Maddox and senior Imaan Minwalla. The one boy going to Clovis is senior Kaiden Whitt.
To reach the State Meet the Centaurs had to place high in the Masters Meet held at Moorpark High School last weekend. The Masters combines the best of all four divisions in the CIF Southern Section. In that meet Trepagnier placed third in the 200 meters with a time of 23.55 and she came in second place in the 400 meters with a time of 53.46.

Maddox placed eighth in the 200 meters with a time of 24.14 and fourth in the 400 meters with a time of 54.87. Powell came in seventh place in the 400 meters at 55.69. On the boys' side Whitt placed sixth in the 110-meter high hurdles with a time of 14.59. The girls 4X400 meter relay with the team of Powell, Trepagnier, Minwalla and Morgan ran the fastest time in the State when they clocked 3:41.40 last weekend.
"It feels good to be going back to State," said Morgan last Tuesday on the Culver City High School track. "I am excited that we have the best time in the State in the 4X400 relay. I think we can win State in the relay, and I am hoping all of us place in our individual events. I hope we will all have a good weekend."
Morgan knows there will be a lot of pressure on the Centaurs but feels like she and her teammates are ready for the challenge. "We all put pressure on ourselves to be the best we can be and show other people what we are capable of. It feels great to represent the city and the school. We have had a good season and we hope to continue our success this weekend."