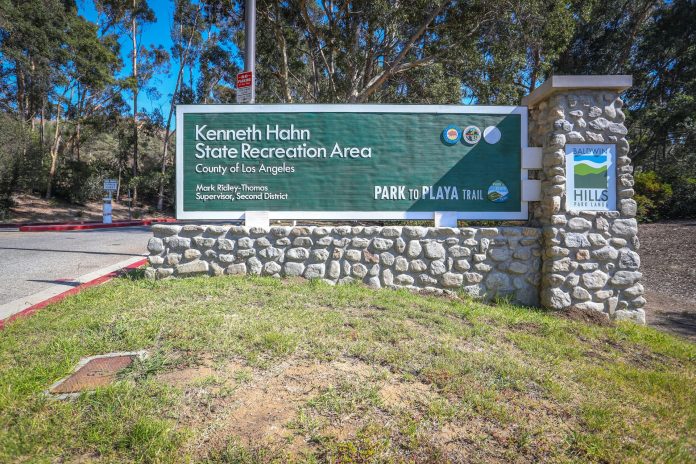 With sweat dripping down his forehead from a long day of work, Shon Caulton places down another marker on the trail. The sky is clear and the sun is shining bright, which is what Caulton is hoping to see when he kicks off his inaugural Grittwood Charity 10K run at Kenneth Hahn State Recreation Area, 4100 S La Cienega Blvd, Los Angeles on Saturday, Jan. 11, starting at 8 a.m. Registration for the run is $30, and there will be a $200 grand prize.
All proceeds from the event will benefit Fostering A Forever Future, a nonprofit organization dedicated to helping mentor and care for the social and mental well-being of foster children. While the organization is not officially launching until August, founder Janelle Matthews has been hard at work since March preparing her nonprofit.
Matthews herself was a foster child from age 12 to 16 in Los Angeles and saw first hand the issues and deficiencies of the system. In particular, Matthews experienced for herself the overworking of caseworkers and the detachment that comes as a result.
"One of the things that I realized was the lack of someone to comfortably talk to outside of my social worker," Matthews recalled. "That was something that was lacking in regards to foster youth."
While Matthews had wanted to put together an organization to help people while she worked for other nonprofits, it wasn't until she was given the platform to tell her story at a conference did the idea of an organization dedicated to helping foster kids in Los Angeles really took form.
"While I was working, I told people my story and what we could do to help foster kids, but I knew that my calling was bigger than this," Matthews told me.
A defining moment for Matthews was when she was asked to share her story for a nationwide competition. She talked about her childhood experiences on the playground as a foster kid and the dynamic that comes with being in the situation.
"I was ashamed to let anyone know I was in foster care because I was afraid they would make fun of me or ask where my mom was," Matthews remembered.
The speech was very well received, and people even came up to Matthews to tell her how inspirational her story was.
"That was so shocking to me," Matthews explained. "I thought I was just living a normal life."
With her cause validated, Matthews looked towards developing an organization to providing mentors to foster youth that can help and support them in ways that the system has not. Things, like setting goals for oneself and having a plan to feel confident coming out of foster care, are invaluable to that person's development into a contributable member to society as an adult, but it is not something provided by the current system.
Despite the differences between Fostering a Forever Future and the state's foster program, the primary obstacle remains the same: money.
"Right now, we are really trying to allocate funds so that we can reach the goals that we set."
Matthews has thrown awareness and fundraising events in Culver City, most recently hosting a mentoring event at BJ's, but there is still much work to be done.
Enter Caulton. A professional trainer at Huff "N" Puff in Inglewood, he met Matthews as a client of his. Caulton was touched by her story as many have before her, and decided to collaborate on this charity run.
"I didn't realize that there are so many foster kids in Los Angeles," Caulton said. "Her cause is a good cause to fight for."
He has been in the world of fitness for a long time now, pursuing a long career as a trainer after a high school football career. He hopes that this run will not only help Matthews bring in some much-needed revenue but also to help bring a more prominent health and fitness culture to the Westside.
Caulton also participates in obstacle course racing (OCR), similar to what you see in the Spartan Race or on American Ninja Warrior. He saw his endeavors in OCR as an eye-opener for him.
"When I started, it was the first time I realized that I wasn't in shape," Caulton explained. "People lift weights and think that they are in shape, and then you go out there and run and find out 'man, I am not that good.'"
It goes beyond just personal gratification for Caulton. As a professional trainer, he has shown a dedication to helping people get fit and get healthy, and this race plays into that mission.
Caulton has been organizing this first run for almost a year, and already plans to have another iteration in July.
"People ask me what I get out of the deal; what I get out of it is just getting people to come out here."
"There are thousands of people that come out to things like the Manhattan Beach 10K, and I want something like that for this city."
This dedication comes from the heart, with his aunt's passing from diabetes playing a big part in this commitment.
"With African Americans, diabetes is real, high blood pressure is real, and I am just tired of it," Caulton emphasized.
The race will start at the bottom of 'Hamburger Hill,' and will go around the park's trails. This will not be like many 10K races, as there will be plenty of inclines along the path. The first three finishers will be given medals, and every participant will go home with a complimentary shirt. It may seem like an odd place for a race of this type, but to those in doubt, Caulton has one message.
"If you walk with me down this trail, you would see why," he declared.
For those that may be daunted by the length of the race or the terrain, Caulton doesn't want people to feel pressured. While it is fun to have a competitive aspect, the number one goal in Caulton's mind is the promotion of a healthier lifestyle.
"Really, it is just starting at your own pace, and just let it build up. There is no pressure."
For more information and to get your spot in the race, visit https://www.eventbrite.com/e/grittwood-charity-10k-trail-runwalk-tickets-79397154025. Race registration begins at 7:30 a.m. For more information on Fostering a Forever Future, visit https://fosteringaforeverfuture.org