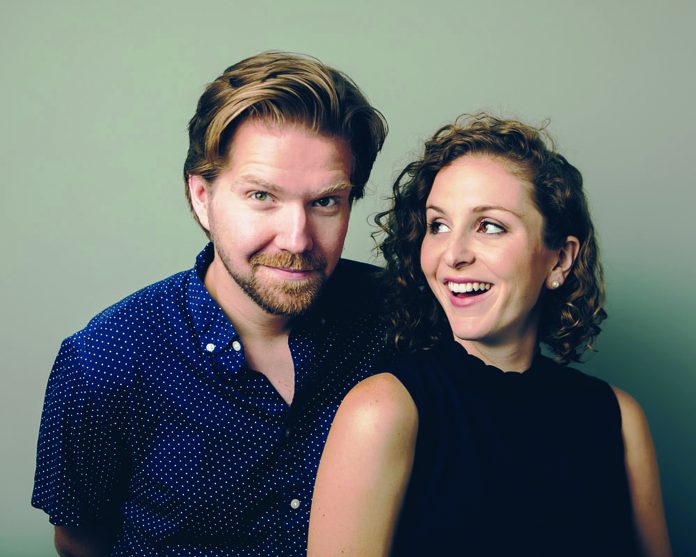 As the pandemic restrictions ease in Los Angeles County, the day Grace Church's can return to in-person concerts might not be too far away. Unfortunately, that day is still to come.
Today, Grace Church's monthly MidDay Concert will feature a video performance by International operatic duo, soprano Emily Dyer Reed and her baritone husband, Johann Schram Reed, said Grace Church music director Mary Lou Basaraba. 
"I'm so excited to present this program recorded in our Grace Church Sanctuary as the first 'sort of live' MidDAY At Grace concert since last April 2020 which featured our two wonderful soloists in excerpts from a concert in Iceland," Basaraba said.
"The program is a delightful mix of eclectic musical theater classics by Rodgers and Hammerstein, Sondheim and Lerner and Loewe including a beautiful medley arranged by Johann from 'My Fair Lady' along with popular Opera highlights by Mozart and Puccini," Basaraba, who also started the  said. "Emily sings one of the most beloved arias in the soprano repertoire, 'O mio babbino caro' and Johann thrills with 'The Impossible Dream' from 'Man of La Mancha.'
The link for today's concert is https://youtu.be/xVQAatp9cO4. Megan Hayes is the videographer.
Emily (Dyer) Reed is among the rising sopranos and has been a part of Lyric Opera OC with performances in "Amahl and the Night Visitors" and "L'enfat Prodigue."
A protégé of Marya Basaraba, Reed has participated in renowned Young Artist Programs, including Aspen Opera Theater Company, OperaWorks, and Songfest.
Her resume notes that she is "passionate about bringing opera and musical theater to children, and has collaborated with the Pacific Symphony in its endeavor to produce child-friendly opera performances."
She has studied locally at Chapman University and at Indiana University, where she was also a former associate instructor.
Her husband Johhann Schram Reed is a noted Icelandic bass-baritone, who was most recently seen as Colline (La Boheme) at the Portland Opera. Previously, he performed in Rossini's II barbiere de Sivigilla for Opera Roanoke, and in Opera Joie de Vivre's concert product of "La Tragedie de Carmen."
During the 2018 season, the successful crossover artist was featured in Utah Festival Opera's 2018 "The Secret Gardena," and in "Amazing Grace."
Reed took part in the Marina Del Rey Symphony's production of "La Bohéme" in the summer of 2019.
Since the concert series was launched in December 2018, along with Three 'Opera at Grace' programs, Basaraba said that the 1,000-plus attendees have raised more than $8,000 for a wide variety of local non-profit organizations.
Donations from today's concert will benefit the Grace Diner Food Ministry (a tax exempt, 501(c) (3), a nonprofit organization EIN# 46-5058093) on the campus of the church as the designated charity to receive donations.
Donations can be made at https://gracediner.org.
"This is an extraordinary ministry that has served more than 35,000 sit-down meals to the homeless and needy for the past 10 years under the direction of Lisa Skelley and a dedicated team of volunteers," Basaraba said by email. "In recent weeks since the Governor's order to shelter in place and stay a distance from each other, Grace Diner has shifted from a weekly sit down dinner to a tri-weekly bagged meal service.
"(As for the concert), you can click in anytime to join us or as it fits your schedule! Such a disappointment to not see you in person," Basaraba said. 
"This promises to be a beautiful program and you will be part of a virtual audience for today's MidDAY concert," she said.
The next MidDAY concert will be on Thursday, May 13 featuring cellist, 
Kevan Torfeh and Friends. It will also be recorded in the Grace Church Sanctuary.
The June MidDAY concert will present brothers, Alex and Wesley Park, the brilliant young classical guitarists who grew up in Culver City and are both graduates of Pepperdine, as protegees of the brilliant guitarist, Christopher Parkening.
More information on future MidDay at Grace concerts to be featured in coming issues of the News.