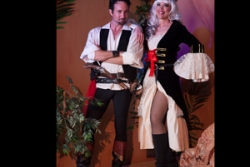 Directed and choreographed by Mar Vista resident Drew Fitzsimmons, The Pirates of Penzance with music by Arthur Sullivan and libretto by W. S. Gilbert is a hopeful and hilarious farce concerning Frederic (Chris Yeschenko), who, having completed his 21st year, is released from his apprenticeship to a band of tender-hearted pirates led by the hot-shot Pirate King (the ultimate pirate Drew Fitzsimmons). Performances continue through December 21 at the San Pedro Theatre Club.  The quality of the production and multi-talented cast make it well worth the drive!
Ruth, the pirates' loyal maid (Cindy Irwin Bullock, perfectly cast in the role), is hopelessly in love with Frederic. But given her advanced age of 47 knows she cannot keep him for herself once he leaves the ship and meets more beautiful, not to mention younger, women.  Upon his first visit to Cornwall, Frederic meets Mabel (Jennifer Sperry, a Westchester resident with the voice of an angel), the captivating daughter of Major-General Stanley (Peter Miller), and the two young people fall instantly in love.
Frederic finds out, however, that he was born on 29 February, and so, technically, he only has a birthday each leap year. His apprenticeship indentures state that he remains apprenticed to the pirates until his 21st birthday, and so he must serve for another 63 years. Bound by his own sense of duty, Frederic's only solace is that Mabel agrees to wait for him faithfully.
Pirates was the fifth Gilbert and Sullivan collaboration and introduced the much-parodied Major-General's Song which was handled with great creativity and much hilarity by Peter Miller. When the Pirate King discovers General Stanley has lied about being an orphan to keep the pirates from stealing all his worldly belongings and carrying off his beautiful bevy of daughters, an "ingenious paradox" is created to make sure all ends right with the world.
The raucous journey to get there includes wonderfully internal rhyming lyrics within each song, all handled beautifully by the entire cast so the meaning of the quick and free-flowing story told completely through song is never lost on the enthralled audience.  This is Gilbert and Sullivan done at its best, up close and personal in the small San Pedro Theatre Club, accompanied by Musical Director Leslie Sharp, who brilliantly conducts seven musicians on eleven instruments, in turn keeping the technically trained cast on its toes from moment to moment.
Complementing the production and lifting it to spectacular heights are costumes provided by Crystal Cruises and the small stage multi-level set designed by James Rodriquez. Kudos also go to lighting designer John Middlecoop, sound designer Victor Prudeaux, and co-choreographer Michael-Anthony Nozzi.
Director/choreographer Drew Fitzsimmons, a well-known and respected actor in many Los Angeles area theaters, is the Artistic Director of the new San Pedro Theatre Club, with James Blackman as Executive Producer.  The group's 2015 season includes the musicals Chicago, Spamalot, Little Shop of Horrors and Joseph and the Amazing Technicolor Dreamcoat.
The Pirates of Penzance runs through December 21 on Friday and Saturday at 8pm, Sunday at 2pm at the San Pedro Theatre Club located at 624 S. Pacific Avenue, San Pedro, CA. Tickets are $25 and may be ordered in advance by calling (310) 773-4964 or online at www.thesanpedrotheatreclub.com.  Season tickets available.