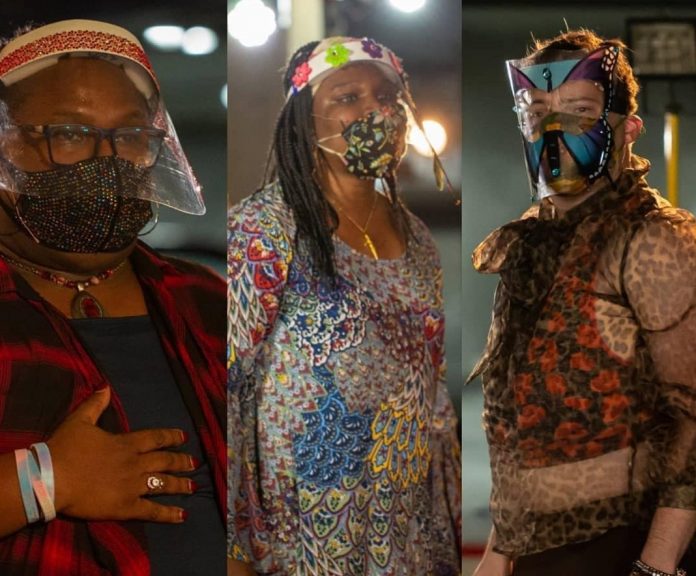 The Los Angeles LGBT Center's Lily Tomlin/Jane Wagner Cultural Arts Center and Playwrights' Arena have safely returned live in-person theater back to Los Angeles with the inaugural production of the Center's innovative new live theatre series, Garage Theatre, with the World Premiere staging of MARCH, conceived and directed by award-winning director and founder of Playwrights' Arena, Jon Lawrence Rivera, in the newly-created, unique, experimental space in an underground parking structure located below the Center's Anita May Rosenstein Campus in Hollywood.
Thanks to Rivera's creative genius, along with dramaturgy Nick Salamone, choreographer Vera Wagman, and producer Jon Imparato, sixteen cars are welcomed to each performance, parked side-by-side around a rectangular-shaped staging area, beautifully lit by Matt Richter with sound design, props and set pieces by Edwin Peraza. During the 40-minute show, all cars remain tuned off in utility mode to allow for the dialogue and original music (by autodealer) to be heard via FM radio within each vehicle. A short list of easy-to-follow participant rules is handed out along with a program when you enter the parking structure.
Creator and director Jon Lawrence Rivera, who conceived the idea for 'March' explains, "This is a devised work highlighting anti-trans sentiment prevalent in our culture today. Through a process of writing exercises with me and Nick Salamone, the actors (MJ Bowen/Miss Barbie-Q, Amir Levi, Coretta Monk, Alex Budin, Chad Christopher, Matthew Clark, Brandon English, MARDOZA and Roland Ruiz) all contributed in the writing of the final piece." And to abide by COVID-19 restrictions "to secure the safety of the actors, all rehearsals and performances required daily temperature readings, minimum six-foot distancing, and wearing face masks and face shields at all times."
But none of that dampened the dramatic impact of 'March,' especially when the actors moved around the cars and spoke directly to the passengers via eye-to-eye contact, begging for support in their personal struggle for equality and acceptance in a world attempting to silence them from celebrating their personal joie de vivre. During the intensity of their pleas for support to take a stand with them against an uncaring band of soldiers sent to round them up, I found myself at odds with my need, but inability, to open my car doors and welcome the three trans characters to safety inside a space where their individuality would be accepted with no questions asked.
In the program notes, Dramaturgy Nick Salamone shares, "What you see before you is happening today in our country, in a far less stylized, far more brutal way. The stories of our three protagonists and the militiamen who hunt them were culled from real life, as 28 of our trans sisters and brothers have been murdered during the first seven months of this year. Our three 'March' protagonists have laid their lives bare to share with you their stories without exaggeration or embellishment."
As their suspenseful, starkly political drama of peril and liberation plays out in front of you, please remember that the future is in our hands and now is the time to VOTE for a better world in which we can all march to the beat of our own drum and live together on equal footing. 
Garage Theatre combines the immediacy of live theater with the security of a drive-in theater, with 'March' performances continuing through Nov. 15 on Saturday and Sunday evenings at 7:30 p.m. and 9 p.m.. Tickets are $20 per car and may be purchased online at www.lalgbtcenter.org/theatre, with net proceeds supporting the full range of free and low-cost programs and services offered by the Los Angeles LGBT Center. The Center's Garage is located at 1118 N. McCadden Pl. (one block east of Highland Avenue, just north of Santa Monica Boulevard), Hollywood, 90038.