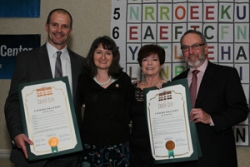 Music, food, auctions and community enthusiasm were all part of this year's Friends of the Sandy Segal Youth Health Center Gala celebration which took place on Feb. 21 at the DoubleTree Hotel in Culver City.
The 25th anniversary celebration of Friends of the Sandy Segal Youth Health Center, formerly the Friends of the Culver City Youth Health Center, was also the group's largest fundraiser of the year.
"The fundraiser started a couple of years after the center started and Sandy Segal, who the center is named after, talked to some of her friends and shared that we have a lot of poor students who might get a prescription for an antibiotic and they cant pay for it," Dr. Sarah Carpenter said. "The entire community has pitched in all these years. You hear about the Friends but we have raised the money from the community itself. Sony has donated money; Kaiser has donated money, Bunnin Chevrolet and U.S. Bank are now our sponsors. Individuals in the community will come and donate so it is really a community effort."
Honored at the event where for their efforts in support of the city's children and families were Culver City Unified School District Superintendent David LaRose and long-time Culver City residents Michael and Judy Bauer.
"The health center and the services that they provide, as far as I am concerned and I believe this strongly, are vital to the students," Michael Bauer said. "It is critical that we have it (SSYHC); if people don't have insurance, this is a place where people can go that is easier to deal with and they have it on campus."
The Bauer family has been dedicated to the Culver City Community for years and include efforts such as Michael's service on many boards and committees, contributing his time and expertise to resolving community issues. Judy's work as a founder of the Culver City Education Foundation is one example of her dedication the city's children and their well-being. The couple's hard work includes years of dedicated support of the Health Center, which has helped to ensure the continuation of services for the hundreds of students.
"We were very involved with the initial opening and it was on a very small scale but we really pushed to have this medical facility on campus for all the kids," Judy Bauer said. "It stared small and now it is grown and it's wonderful. We went there not too long ago and it is wonderful: they have all these different types of services that the kids might need, from middle to high school kids as well. From vaccinations to mental health services; it has just been terrific."
LaRose, who has been a strong advocate of educating the "whole child" by assuring that each student is healthy, safe, engaged, challenged and supported, believes that the SSYHC can continue to expand.
"I think part of the evolution is dependent on a partnership. Sometimes you can identify a program, a partner or a service and that can remain stagnant when the needs and times become different and so long you don't change with those needs, you will have a gap," LaRose said. "The partnership that we have with the Friends, with Venice Family Health, allows us to meet on a regular basis. We have a health advisory committee so we are constantly looking at what are our current needs, what are our current strengths, where are our gaps and do we need new partners to expand services."
The Sandy Segal Youth Health Center serves as the fundraising arm of the Health Center, which provides free mental and physical health care to Culver City students and which located between the middle school and high school. The Health Center is operated by the Venice Family Clinic and provides free, quality health care for Culver City students.