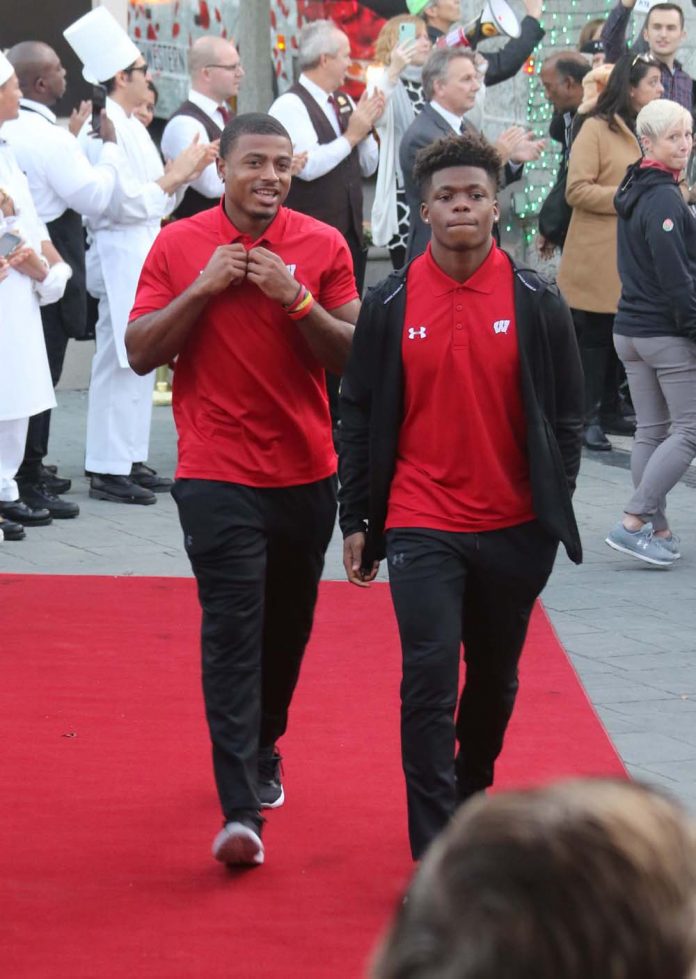 Culver City high school's football program has been successful for many years, and especially in the last few years. The football team has reached three consecutive CIF semifinal games and they won the CIF championship last year. During that time, many great players have played inside the Jerry Chabola Stadium on the Culver City campus. One of those players is Alex Smith.
Last Wednesday, Smith played for the University of Wisconsin in the Rose Bowl. "It feels great," said Smith at the Lawry's Beef Bowl in Beverly Hills last week. The Beef Bowl is a Rose Bowl tradition. "The first football game that I saw was a Rose Bowl game, and now I am playing in it. It's a dream come true and a blessing."
Smith made the transition from warm Southern California to cold Madison, Wisconsin. "Being in Wisconsin, it is real [sic] cold, so being back out here it feels great," said Smith. "One day, it got down to negative 60 degrees."
One of the main reasons Smith can handle the cold weather is because he is at an excellent college and he has good teammates. "I feel like we have a great group on the defensive and offensive side of the ball," said Smith who plays defensive back for the Badgers.  "The team chemistry is high and we all love each other like brothers. We lean on each other."
Smith credits Culver City high school for preparing him for the next level. "Through coach Wright (Jahmal) and all of the Culver City coaches, they prepared me well. Their always working hard mentality really paid off. Culver City prepared me academically and athletically."
Smith played three years on the varsity football team under coach Wright during the 2015-17 seasons. He was a two-year starter at receiver and defensive back. He was also an outstanding punt and kickoff returner.
"Alex is a poster board of what we are trying to do at Culver City," said Wright. "Alex worked himself into being a Division 1 and Big 10 athlete.  It was because of his hard work and dedication that has made him successful.  You mix that with his size and skill level and the ability he had it was a recipe for success."
Wright continued to say. "I tell the players all the time that I vicariously live through them so when they are scoring touchdowns and playing on some of the biggest stages I feel like I am out there too."
Smith had this to say to the players and students that are still at Culver City high school. "No matter where you are right now, just keep working. Whatever your biggest dream is, you can accomplish it by working hard."