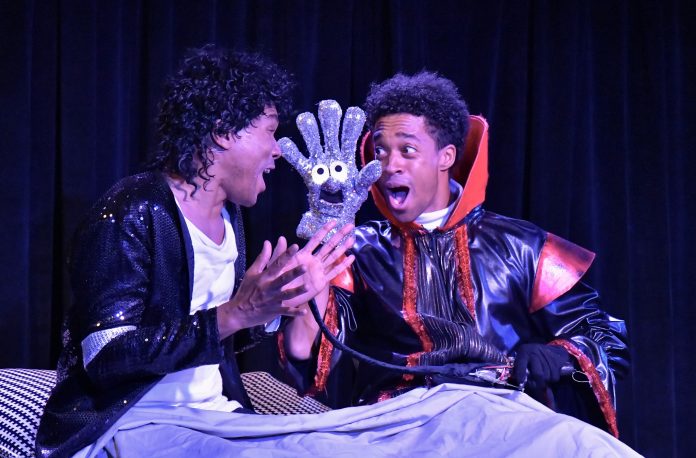 Much has been written about the life of pop superstar Michael Jackson, both factual and conjecture. And thanks to the brilliantly warped mind of writer/director Julien Nitzberg, the very unauthorized musical For The Love Of A Glove shares a politically incorrect and totally hysterical tale based on the music history of Michael's life through the eyes oi his best friend – his sequined Glove! Using a clever mixture of life-sized puppets and real people, the show revisits the thrilling years of Motown, the rise of the Jackson 5 to the creation of Thriller, portraying the myriad of people who influenced Michael along the way, including Berry Gordy, Dick Clark, Brooke Shields, Donny Osmond and Frank Dileo. Sparkling with allusion, For The Love Of A Glove takes an off-kilter approach to telling Michael's life, setting it against the backdrop of cultural appropriation, racism, religious subjugation and sexual repression that shaped his upbringing, with laughs guaranteed from start to finish!
By re-telling true life events through the perspective of a Glove, who is also a musically talented alien trying to take over humanity, portrayed to the hilt of perfection by Patrick Batiste, the show is comical and unflinching, its music infused with the spirit of MJ's career. And magic happens when the Glove appears with his best friend, triple-threat entertainer Eric B. Anthony in a tour-de-force performance as Michael Jackson, both as a child using a life-sized puppet through his young adulthood masterfully prancing and moonwalking about the stage. By taking real life events from Michael's life and placing him in a science fiction subplot of aliens sent to take over the Earth, the show's unique take is both absurd and serious – and always hysterically funny!
Similar to the plot of the biographically inspired musical Gypsy, the story of a girl forced into show business by a fame hungry parent, the first act of For The Love Of A Glove shows a young Michael during his days in the Jackson 5 managed by their overhearing father, and the second act leaps ahead to the year Michael became a mega-star recording Thriller, the most successful record of all time. And in Nitzberg's story, Michael's signature dance move, his controversial crotch grab, becomes his Glove's idea. And it just so happens, his alien Glove is named Thrihl-Lha.
The entire cast is to be commended for their high-energy, multi-role playing and song-belting skills in this outrageously entertaining and culturally relevant/politically incorrect take on not only the King of Pop but our entire media-hungry society: Eric B. Anthony (Michael), Patrick Batiste (The Glove), Pip Lilly (self-centered, opportunist father Joseph Jackson), Suzanne Nichols (extraordinary song-belting mother Katherine Jackson), Austin Laine Walker (in for Andrew Abelson), Daniel Mills, Daniele Gaither, Justin Anthony Long, Terra Strong, Trècey Dory, and Robin Walsh, the production's puppet designer and puppeteer in the show's puppet theater. Special artistic recognition to costume designer Ann Closs-Farley and lead puppet builder Ronald Binion for pushing the boundaries of reality with a solid dose of fantasy!
With a production as provocative and innovative as this, it is bound to be a mainstream success and attract a cult following, with Nitzberg saying his goal is to take For the Love of a Glove to Broadway, London's West End and hopefully on a nationwide tour. Performances are selling out, so suspend your disbelief, check your political correctness at the door, and go see this off-the-wall musical with an open mind while preparing yourself for a comical, culturally warped adventure. Be advised there is a lot of adult language and sexual innuendo in the musical, making it a very adult-themed production. So, leave the kids at home for this one!
For the Love of a Glove, with book and lyrics by Julien Nitzberg who directs the production, with Music Director Christopher Moscatiello, Choreographer Cris Judd, Composer/Arranger Drew Erickson, and Composers Nicole Morier and Max Townsley, is produced by Leigh R. Crawford, Tony Jones, Betsy Zajko and Burk Zanft at the Carl Sagan & Ann Druyan Theater at the Center for Inquiry West, 2535 W. Temple St., L.A. 90026. Continues on Friday and Saturday nights at 8 p.m. through May 27 with possible extension. Runs two hours with one intermission. Tickets at https://fortheloveofaglove.com/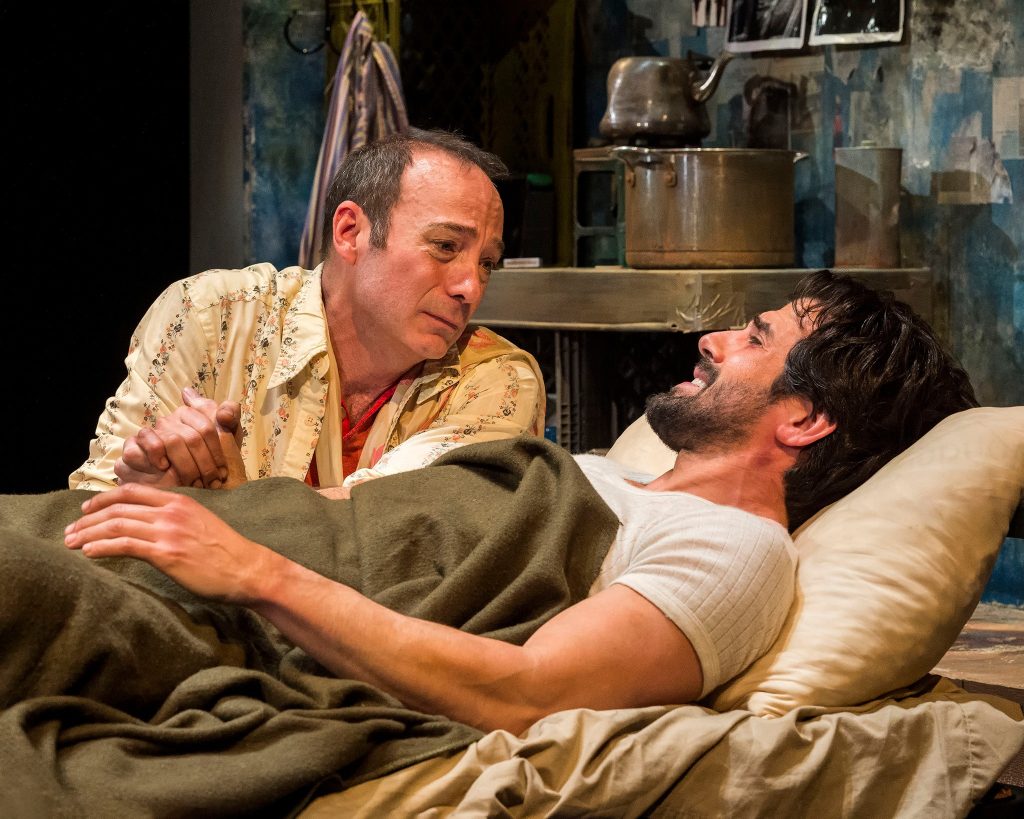 Manuel Puig's modern classic play Kiss of the Spider Womanis set in a South American prison cell in a country under authoritarian rule where two polar opposites discover that love may spring in the most unlikely of places. Poignant, chilling, funny and sensual, this intimate story centers around Valentin (Adrián González), a macho political prisoner whose commitment to the Marxist cause takes precedence over everything else, and queer, movie-loving Molina (Ed F. Martin) who escapes the harsh reality of prison life by retelling a beloved film noir classic while emulating its glamorous leading ladies. Their evolving friendship, forced upon them in such tight quarters, becomes a revelation of acceptance and the importance of friendship, especially when it is revealed one is hiding the real reason the two have been placed in the cell together. 
Brilliantly directed by Michael Michetti on a claustrophobic set designed by Tesshi Nakadawa, lit to reflect the bars which contain them by lighting designer Jared A. Sayeg, Adrián González and Ed F. Martin bring Valentin and Molina fully to life, revealing their suffering and loneliness along with their hearts, souls, secrets and desires as the tension surrounding them mounts. Kudos to intimacy coach Carly DW Bones for keeping their closest interactions both heartfelt and believable, an important component in telling their story in such an intimate setting.
Adapted for the stage by Manuel Puig from his novel "El beso de la mujer araña" and translated from the Spanish by Allan Baker, Kiss of the Spider Womanis presented at A Noise Within, 3352 E Foothill Blvd., Pasadena 91107, through April 23 on Thursday at 7:30 p.m., Fri/Sat at 8 p.m., Saturday / Sunday at 2 p.m. with post-performance conversations with the artists every Friday through the run. Tickets start at $25; Students start at $18, available at www.anoisewithin.org or by calling (626) 356-3100. Discounts available for groups of 10 or more. There will be one student matinee at 10:30 a.m. on Wednesday, April 19. Interested educators should email education@anoisewithin.org. Adult content: recommended for mature audiences ages 18 and up. This is the stage play, not the musical. Run time is 90 minutes without an intermission.