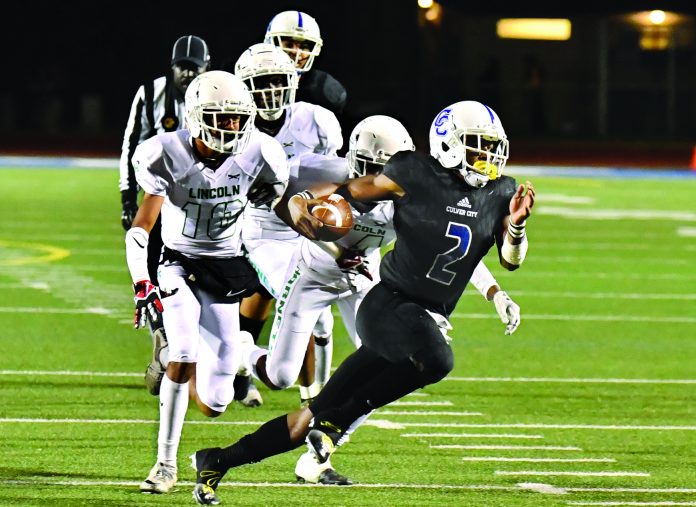 By Steve Finley, George Laase and Greg Dynabursky
Last Friday night Culver City's football team looked in the mirror and it did not like what they saw. The team saw a Lincoln opponent from San Diego that looked just like them. They were fast and very athletic. They made big plays from everywhere on the field in the State Regional game.
In the end, the Centaurs came up short in a 54-42 loss to Lincoln that ended their season one game away from the state championship game.
Although the game was marred by a record number of penalties and penalty yards, you could still see great athletes all over the field.
"I have a lot of respect for Lincoln," said a disappointed Culver City head coach Jahmal Wright after the game.  "They had some good athletes and they showed some fight. It was a battle out there tonight."
The Centaurs can still hold their heads up high because they did something no other Culver City football has done in 40 years. They won a CIF championship. The state championship was icing on the cake.  "We accomplished so much this year. Winning the CIF championship, that's pretty awesome," Wright said.
"I am a little disappointed right now, but I am sure when I sit down and reflect on the 2018 season, I will be super happy about what we accomplished," he said.
The Centaurs finished the season with an outstanding record of 12-3. The three teams they lost to, Palos Verdes, Lawndale, and Lincoln have all played in championship games. Lawndale and Palos Verdes played for the CIF Division 5 Championship. Lawndale won that game and they are now playing for the state title on Dec. 15. Lincoln will play for a state title on the same day.
"My hat goes off to Culver City," said Lincoln head coach David Dunn, who is a former NFL player. "I have nothing but the utmost respect for Culver City, their coaching staff and their players. They came out and played hard and they played tough. They are a very good football team."
Dunn continued to say: "We knew it was going to be a battle tonight. It was like a heavyweight fight. It was blow for blow. It could not have been a better atmosphere for a state playoff game."
Culver City gained a total of 529 yards, 170 rushing and 359 yards passing. Lincoln had 122 yards rushing and 253 passing for a total of 375. Culver City's star offensive player Kevin McGuire ran the ball seven times for 107 yards and two touchdowns and he caught seven passes for 108 yards.
Culver City's Tyler Luckett caught six passes for 62 yards, Chris Miller had four receptions for 76 yards and Jamal Glaspie caught two passes for 76 yards. Centaur quarterback,  Zevi Eckhaus completed 22 of 46 passes for 359 yards and four touchdowns and two interceptions.
Although the Centaurs had a great season, last Friday night they made a lot of mistakes. "We totally did not play our best game," said McGuire after the game. "We weren't focused from the beginning of the game and they came to play and they outplayed us. It's a bad feeling but everything has to come to an end."