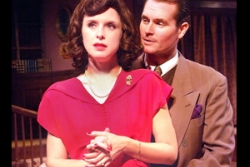 "Flare Path" by Sir Terence Rattigan was first produced in 1942, when the circumstances of the story must have had a stunning immediacy. Set in 1940, during World War II, near an airfield where daring and dangerous raids were launched against the Axis foe where Allied aviators and their spouses boarded at a small hotel, near an airfield from which daring and dangerous raids are launched against the Axis foe.
It's Los Angeles premiere performances continue through Dec. 15. on Thursdays, Fridays, Saturdays and Mondays at 8 p.m., Sundays at 2 p.m. Also on Sundays at 7 p.m. on Dec. 7 and 14 at Theatre 40, in the Reuben Cordova Theatre on the campus of Beverly Hills High School at 241 S. Moreno Drive in Beverly Hills.
This was a time when radio communication kept you informed on what was going on once the aircraft flew out of sight. And what a thrill it was to watch the airfield lights, its "flare path," come on signaling the arrival or take-off of an allied team. But we are also reminded that there was no way to communicate with anyone when your plane was shot down, requiring loved ones to wait for long days and nights for word on their missing airman.
Among those staying in the comfy Falcon Hotel on the English East Coast as they await instructions on their next mission are British Flight Lieutenant Teddy Graham (Christian Pedersen) and his visiting recent bride, American expatriate actress Patricia Warren (the always luminous Christine Joëlle). Caring to their needs as best she can during the wartime blackouts and food rationing is sassy and put-upon innkeeper Mrs. Oakes (Ann Ryerson) along with her young butler Percy (John Salandra), always at the ready whenever drinks are required.
Several of the airmen, in fact, have their spouses in attendance at the hotel. Polish "Count" and gunner Johnny Skriczevinsky (Karl Czerwonka) and his "Countess" wife Doris (Alison Blanchard) plan to make the most of every moment they have together. Blanchard revels in Doris' new royal position having come from much more humble beginnings, but is terribly worried her younger husband will desert her after the war. Dusty (Caleb Slavens) and his mousy wife Maudie (Annalee Scott) seem overwhelmed by the entire experience, reminding us how regular people were forced to deal with challenges far beyond their everyday lives. Commander Swanson, lovingly called Gloria by his band of brothers, is played with just the right combination of blowhard self importance and true compassion for others by Antony Ferguson.
The hotel also has a new, non-military guest, fading movie star Peter Kyle, played by handsome Shawn Savage looking as if he really did just step off the silver screen with a sexy stare that no woman could possibly resist. Unbeknownst to Teddy, Peter and Patricia were lovers who had lived together for a year. Peter is on a raid of sorts of his own, as he intends to take Patricia, the great love of his life, back to America with him. But it's wartime and although Peter was the great true passion of her life, can Patricia bring herself to abandon her new, loving husband when he needs her the most? Given the real-life couple heat generated onstage between Joëlle and Savage, her decision between love and duty is certainly not an easy one.
Time appropriate technical credits go to set designer Jeff G. Rack, costume designer Michèle Young, lighting designer Ric Zimmerman, and sound designer Joseph "Sloe" Slawinski. Directed by Bruce Gray with lots of life-or-death danger and a pervasive aura of romance, "Flare Path" is the ideal show to enjoy with your spouse, sweetheart or any history buff.
Ample free parking is available in the lot adjacent to the theatre. Tickets are $26. Students with I.D. and members of performing arts unions can purchase tickets for $13 on a stand-by basis. Reservations by calling (310) 364-0535 or online at www. Theatre40.org.