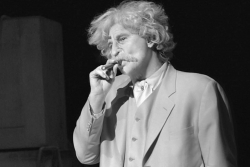 Director Baz Luhrmann's
vision for F. Scott Fitzgerald's masterpiece,
"The Great Gatsby" is a
work of art that brings the bawdy,
gaudy roaring '20s to life on the silver
screen.
The sets and costumes are
amazing and oh the jewels–fabulous
diamond necklaces, pins and
pearls, oh my.
The music is basically period
with thrilling music by Gershwin
and other composers of the era
throughout with some modern
musical touches skillfully blended
in.
Luhrmann's presentation is like
a cinematic opera with sweeping
music, romantic love and betrayal
ending in tragedy. This is not
surprising, however, since the
director gave us an exquisite modernized
version of Puccini's "La
Boehme" on stage and a musical
dramatization of "Moulin Rouge"
on film.
Now the screen explodes once
again with "The Great Gatsby"
starring Leonardo DiCaprio in the
title role as Jay Gatsby, with Tobey
Maguire as Nick Carraway along
with Joel Edgerton and Carey Mulligan
as Tom and Daisy Buchanan.
As the film begins, writer Nick
Carraway has come from the Midwest
to the glittering world of New
York City in the spring of 1922. It
is an era of glittering jazz, bootleg
kingpins and loosening morals.
As Nick tries to go after his
own American dream he winds
up living next door to a mysterious,
party-giving millionaire, Jay
Gatsby. He also lives across the
bay from his cousin, Daisy and her
philandering blue-blooded husband,
Tom Buchanan.
Soon Nick is drawn into the
world of the super-rich, a world
filled with extravagant parties, love
affairs and deceit and like a good
opera, the story ends in ultimate
tragedy.
As Nick watches the romance
between his married cousin and
Gatsby unfold, he is also aware of
her husband's affairs.
In the end, he finds himself
drawn more to Gatsby, an optimistic
dreamer with boundless hope
who believes in undying love.
The additional DVD features
are amazing, informative and very
entertaining as director Luhrmann
talks about "The Greatness of Gatsby" and his wife narrates "Razzle
Dazzle: The Fashion of the '20s.
Other bonus features include
"Fitzgerald's Visual Poetry," "The
Jazz Age" and more.
One of the highlights is seeing
how the lavish party sequences
were created with the use of green
screen and computer generated
imagery.
Baz Luhrmann's lavish presentation
of F. Scott Fitzgerald's
masterpiece, "The Great Gatsby,"
arrives onto Blu-ray 3D Combo
Pack, Blu-ray Combo Pack and
2-disc DVD Special Edition and
Digital Download on Aug.27.
From Warner Bros., rated
PG-13 for some violent images,
sexual content, smoking, partying
and brief language.
*******
Actor Val Kilmer brought Jim
Morrison to life on screen in "The
Doors," played Doc Holiday in
"Tombstone" and now portrays
the great American writer Mark
Twain in his one-man show "Citizen
Twain."
In the show Kilmer will explore
the famed author's wry humor on
subjects ranging from politics to
death, love to money as well as racism,
cats and many other topics,
including watermelon.
The production, written by
Kilmer, illuminates the depth of
Mark Twain's fiction and regards
it as a striving for divine truth.
Kilmer also mines the hilarious,
raucous side of Twain, considered
to be America's greatest storyteller
and first stand-up comedian.
Twain was a raconteur and Kilmer
presents his show in the style of a
conversation.
"Citizen Twain" will run Aug.
21-30 at the Pasadena Playhouse.
Tickets are available online at
www.PasadenaPlayhouse.org or
call 626-356-7529.