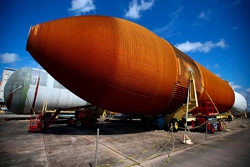 In this next exciting phase of "Mission 26: ET Comes Home," ET-94 arrived in Marina del Rey May 18. The space shuttle fuel tank, ET-94, has already had a long and eventful journey on the way to the California Science Center, traveling over 4,400 nautical miles by barge.
After leaving the Michoud Assembly Facility in New Orleans, it rode out a storm in the Cayman Islands, passed through the Panama Canal, and made its way up the Pacific Coast. ET-94 came to the rescue when the crew of the Shannon Dann, the tug boat pulling the external tank, picked up four stranded people after their charter fishing boat, the Maximus, took on water and sank off the coast of Mexico.
At 6 a.m. on May 18, ET-94 cleared the breakwater of the marina and slowly came to dock next to Fisherman's Village. The external tank was driven off the barge in a delicate offloading procedure, and was welcomed at a news conference by Los Angeles Mayor Eric Garcetti and California Science Center President Jeffrey Rudolph, among other civic leaders and elected officials.
"Mission 26: ET Comes Home" still has more than 16 miles left on its journey once it reaches land, through the streets of Los Angeles and Inglewood. ET-94 will be placed on dollies and pulled by a truck to its final destination near the California Science Center's Samuel Oschin Pavilion in a 13 to 18 hour journey on May 21, 2016.
ET-94 is the last remaining external tank, built for flight but never used, and donated to the Science Center by NASA. Its acquisition completes the California Science Center's Shuttle Launch Vehicle – enabling us to preserve and display the only existing full stack of real Solid Rocket Boosters, Orbiter, and External Tank.
Larger and longer than Endeavour, the ET was the Orbiter's massive "gas tank" and contained the propellants used by the Space Shuttle Main Engines (though ET-94 is empty).
The tank, the only major, non-reusable part of the space shuttle, is neither as wide as Endeavour (32 feet versus 78 feet) nor as high (35 feet versus 56 feet). Because of this, fewer utilities will be impacted and no trees will be removed along ET's route from the coast to Exposition Park, though some light trimming may be necessary. The path it will take through the streets was planned with input from city officials, utilities and community groups.
The Saturday route is as follows –
• Marina Del Rey parking lot to Fiji Way
• Fiji Way to Lincoln (PCH)
• Lincoln to Mindanao Way
• Mindanao Way to CA-90
• CA-90 to Culver Blvd
• Culver Blvd. to Lincoln via transition ramp
• Lincoln to Loyola Blvd
Loyola Blvd. to Westchester Pkwy
• Westchester Parkway turns into Arbor Vitae St. at Airport Blvd; Arbor Vitae St. to La Brea Ave
• La Brea Ave. to Manchester Blvd
• Manchester Blvd. to Vermont Ave
• Vermont Ave. to Martin Luther King Blvd.
• Martin Luther King Blvd. to Exposition Park.
The journey through the streets to the Science Center is expected to take 13 to18 hours. Here are approximate timeframes when ET-94 may be passing by specific locations. All projected times are subject to change at any point on May 21, the day of the transport.
• Leave the marina – Approximately 12:01 am
• Arbor Vitae between Inglewood Ave. and Rosewood Ave. – Approximately 8:00 to 9:30 am
• Forum – Approximately Noon to 2 p.m.
• Manchester and Vermont – Approximately 2:30 to 4 p.m.
• Vermont and MLK – Approximately 6:30 to 8 p.m.
• Expo Park – Approximately 7:30 to 9 p.m.
"With the transfer of ET-94 from NASA, we will have the ability to preserve and display an entire stack of flight hardware, making the Samuel Oschin Air and Space Center an even more compelling educational experience. With the same outpouring of community support we saw with the arrival of Endeavour, we look forward to celebrating this gift from NASA as it journeys from the coast through city streets to the California Science Center," notes California Science Center President Jeffrey N. Rudolph.
"ET-94 is much more than 66,000 pounds of hardware; it is a symbol of America's incredible history of discovery," said Mayor Eric Garcetti. "As the external tank heads to the California Science Center, its journey on the streets of Los Angeles will inspire Angelenos to continue daring to reach for their own dreams. We are honored to be the permanent home of this remarkable emblem of exploration and innovation."
Inglewood Mayor James T. Butts notes that "Inglewood is pleased to share another historic moment with the California Science Center in the transport of ET-94. Nearly 1.5 million people came out to cheer Endeavour years ago bringing joy to everyone, young and old. The event celebrated our sense of wonderment and community pride. Inglewood once again welcomes the ET to its home at the Science Center."
Mrs. Lynda Oschin, Chairperson and Secretary of the Mr. and Mrs. Oschin Family Foundation, adds "I'm so excited about this new addition to the Samuel Oschin Air and Space Center and look forward to joining the enthusiastic crowds as it makes it's way to the California Science Center."
The donation of this never-used artifact from NASA is significant, and allows the Science Center to fulfill its vision of building a full stack for Space Shuttle Endeavour's final display in the launch position in the future Samuel Oschin Air and Space Center. This will mark the only time an ET has traveled through urban streets and will evoke memories of when Endeavour traveled 12-miles from the Los Angeles International Airport to the Science Center and was cheered on by a crowd of 1.5 million in 2012.
Ways the Public Can Support Mission 26: ET Comes Home
To follow ET-94's journey from the Michoud Assembly Facility to the California Science Center, use the hashtags #ETComesHome and #SpotTheTank.
The California Science Center Foundation welcomes the public's support to help create the Samuel Oschin Air and Space Center. During ET-94's transport we are launching a "text to donate" option to make it easier for everyone to join the mission and support the EndeavourLA Campaign. Text ET94 to the number 41444 and make a gift of any amount from your mobile device.
Additional opportunities to support include sponsoring one of Endeavour's thermal tiles with a gift of $1,000 or more and monthly payment options are available. For information or to make a donation online, please visit EndeavourLA.org.
About the California Science Center
California Science Center is located at 700 Exposition Park Drive, Los Angeles. Open daily from 10 a.m. to 5 p.m., except Thanksgiving, Christmas and New Year's Day. Admission to the exhibits is free. Timed tickets are required for the Space Shuttle Endeavour exhibition and may be obtained online for $2. IMAX Theater tickets range from $5 to $8.25. Both the Science Center and IMAX Theater are wheelchair accessible. Visitors can enter the parking lot at 39th/Exposition Park Drive and Figueroa Street. Parking is $12/car. For general information, phone 323- SCIENCE or visit www.californiasciencecenter.org