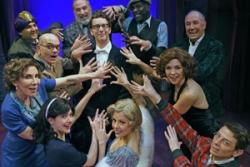 Carl Reiner is well known by generations of Americans as a stand-up comedian, actor, director, producer, writer, and singer. He is a 12-time Emmy award winning actor and director known for costarring on "Your Show of Shows" as well as creating a co-starring on "The Dick Van Dyke Show."  Besides his many film roles, Reiner also teamed up with Mel Brooks on the Grammy-winning comedy album "2000-Year-Old-Man."
Based on his own life experiences, "Enter Laughing" was the first novel Reiner wrote, which was adapted into a two-act play and then a musical by Joseph Stein who fortunately asked Stan Daniels to compose the music and its witty and incredibly funny lyrics. Los Angeles audiences are in for a real treat as the Wallis Annenberg Center for the Performing Arts in Beverly Hills is currently presenting "Enter Laughing-The Musical" in its intimate Lovelace Studio Theater, located at 9390 N. Santa Monica Blvd. in Beverly Hills. Until March 1, regular performances are scheduled for Tuesday, Wednesday, Thursday, Friday evenings at 8:30 p.m., Saturdays at 3:30 p.m. and 8:30 p.m., and Sundays at 2:30 p.m. and 7:30 p.m. No performance scheduled on Sunday, Feb. 22 so the actors can also enjoy watching the Oscars.
This is a perfect location for this vaudeville-type revue filled with slapstick humor, lots of Yiddish phrases and shtick galore. No doubt you will be laughing loudly from start to finish as the madcap characters take a look at what it takes to make it as an actor in New York in the mid 1930s.
According to Reiner, "Much of the success of the show's style and buoyancy falls on the shoulders (director) Stuart Ross whose original ideas and fresh approach to the show has infused it with much of its current heart and hilarity."
"Enter Laughing-The Musical," tells the story of David Kolowitz (the perfectly cast Noah Weisberg), a stage-struck errand boy from the Bronx who wants to be a big time Broadway star (is that so much to ask?).  Unfortunately, oy vey, his parents (Robert Picardo and Annie DeSalvo) don't approve; they want him to become a pharmacist so they can brag to their neighbors about what a success their son has become. But they aren't the only thing standing in the way of his Broadway dreams as he also has a despondent girlfriend Wanda (Sara Niemietz), dismissive boss (Joel Brooks), distracted best friend Marvin (Jeff Skowron), sexy customer Miss B. (Janet Dacal), as well as his disgusted acting coach Harrison Marlowe (Nick Ullett) and his leading lady daughter Angela (Amy Pietz).
The story begins when David walks into an empty theater to make a delivery.  Stepping onto the empty stage, he begins to dream of his life as "An Actor" and is then surrounded by others who have the same dream.  Each of the characters are featured in beautifully written and incredibly funny songs, from Angela's "The Man I Can Love" delivered by Pietz atop a piano with the all the sex appeal and humor any man would find hard to resist.  But it is the show-stopping "Hot Cha Cha" performed by David's boss and father (Joel Brooks and Robert Picardo) with true Vaudevillian glee and dance steps that had the audience roaring with laughter.
Nick Ullett's ongoing need for a drink to cope with David's lousy acting and the pressures of running an acting school infuses the play with increasingly funny bits about hidden booze in the most unusual places that seem to appear just when needed the most, assisted by stage manager Mr. Pike (Gerry McIntyre).
What makes the musical numbers shine is the brilliant Musical Direction by Gerald Sternbach, who accompanies on piano, along with a drummer Albie Berk and bass player Adrian Ross. Seated on stage left in full view of the audience, the band becomes a real part of the show often reacting with the actors onstage – including providing an unexpected hiding place for Ullett's most needed drink.
Don't wait, as tickets will no doubt go fast given how popular this show is sure to become.    Tickets range from $30-$50 and are available at www.thewallis.org or by calling (310) 746-4000 or in person at The Wallis Ticket Services located at 9390 N. Santa Monica Blvd. in Beverly Hills.