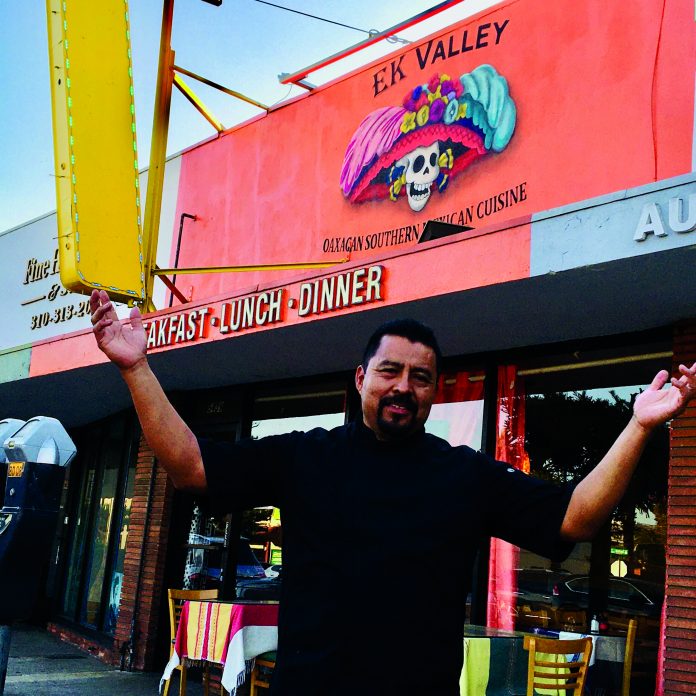 By Paul Green
With the May 22nd grand opening of its second Culver City location the EK Valley Restaurant has been serving up its' unique Mexican dining experience for the past 5 months.  Owner Eppy Garcia's vision was to present a truly unique and authentic Mexican cuisine like the one he grew up with as a kid.
This southern Oaxacan style restaurant has a distinct flavor that is a nice variation from other restaurants of that genre.
For starters, I was presented with a plate of fish and salmon tacos that were both beautiful and flavorful.  As an appetizer, the tacos were fully loaded with a nice combination of seafood—one shrimp and the other salmon, vegetables topped with a sauce which gave it a nice blend that created layers of flavors with each bite.
The appetizers were followed by a dish called Black Mole, which was visually appealing and tastefully revealing of the Oaxacan tradition that included grilled zucchini and peppers, black beans and a chicken leg and thigh smothered in a toasted chili ancho mole sauce; there was also a scoop of Spanish Rice on the side.  Next up was the Chili Rellenos, which despite the fact that I was full at this point, I still had to try it simply based on how it looked. The phrase "presentation is everything" definitely applied to this dish which had a colorful assortment of sauces, vegetables, rice, and black beans.
The first bite confirmed that it was as good as it looked but I couldn't finish it to which my son gladly and willingly assisted.
Because Garcia wants everything to be made fresh, he personally goes to the market every day to search for, choose, and purchase the meats, fruits, and vegetables that he serves.
This is to assure his customers are served the best and highest quality. He specifically takes pride in the seasoning and marinating of the meats for all of his dishes that are made from scratch. To prove this, he took me to the kitchen to show me his freezer, which was unplugged and used for storage because there was no need to house any frozen foods.
Though he is the owner, Garcia is hands-on when it comes to the day-to-day operation of running the two restaurants. Just as he grew up working with his parent's fruit and tortas stands, his restaurants are a family run business with his wife, and his daughter and cousins also working with him.
His years of work in the food industry are now his passion that often includes 14 to 16 hour days.  His projected plans are to one day serve breakfast and alcohol and incorporate the food delivery services such as Uber Eats, Post Mates and Grub Hub in the near future. But for now, the Sepulveda location, with its brightly colored walls and Oaxacan decor and art, seats 55 patrons with two additional tables out front.
The business hours are 11 a.m. to 9 p.m. Monday through Saturday, serving lunch and dinner and hosting special events upon request. Located at 5439 S. Sepulveda Blvd, the eatery is often the only business on the block open after 7 p.m. Once in the door, Garcia's warm welcome is only the beginning to a true dining venture.