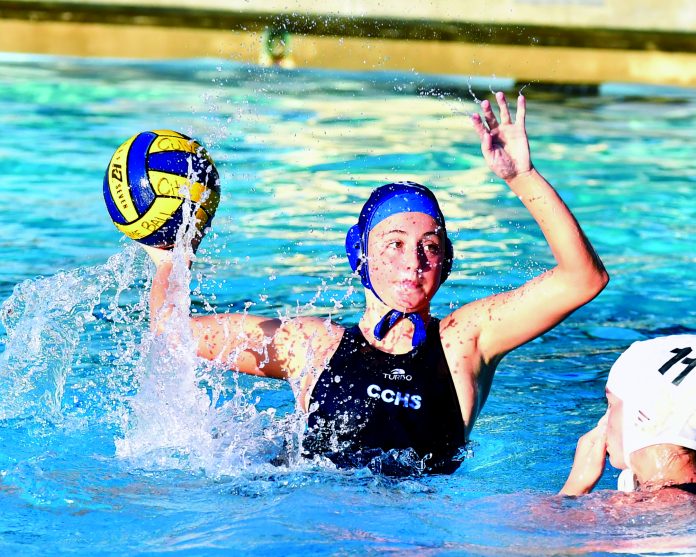 When someone mentions Culver City high school water polo or swimming, the Dordoni family is a name that inevitably comes up. That name has been synonymous with water sports at Culver City high school for the past 35 years and this season is just like the previous 35, a Dordoni is the head coach of the boys and girls water polo teams.
Nestor Dondoni Sr. started the tradition, and now Nestor Jr. continues to give the teams at Culver City excellent coaching and wisdom. The girls' water polo team is currently 6-4 after losing a hard-fought game last week at the Vets Park pool.
"We are a young team," Nestor Jr. said. after the game last week. "The girls' season is always tough because you have so many days off because of vacation days, so we just try our best. The girls are working hard. It's just we haven't played a lot of water polo."
Not having a pool on campus and having to play at the local park is not the ideal situation but the Dordoni's make it work. "We need more practice time," Nestor Jr. mentioned. "The girls are not recognizing things quickly and that's why we need to play more games because it takes time to develop. We just have to get in the water and play."
Because of his father, who is now one of his assistant coaches, Nestor Jr. has been in and out of the water (he also played high school basketball) his whole life as a Culver City student-athlete. He still enjoys coaching at his alma mater. "I love it. It's a lot of fun. When I don't love it anymore I will move on. I still enjoy it. The kids are amazing."
Right now, Nestor Jr. wants his young team to stay above the .500 mark. "I don't care if we are one game above .500," Nestor Jr said. "If we stay at that level that we give us a shot to make the CIF playoffs. Our goal is to make CIF then you never know what can happen as we know from the year we won the CIF championship." The girls' team won the championship in 2018.
During the contest last week, one of the Centaurs played an outstanding game, senior Carol Quintanilha. She scored five goals, and she was still full of energy after the game. "I started playing my sophomore year and because I played year-round, I started to get the fundamentals of water polo."
Having fun is a priority for Quintanilha this season "Last season, I took it very seriously and I struggled with getting through the season, so this year, I am just having fun with the girls on my team and we are getting more wins because we are having fun while we are playing. Our team is very close this year but we are having fun while we are doing it. We have a chance to make it to CIF this year."
With good senior leadership and a strong coaching staff the Centaurs appear to be peaking at the right time "We need to keep improving," said Nestor Jr. "This group is really doing a great job and I am really proud of them. Our coaches are doing a great job and we have alumni coming to help and my dad is helping out. It's a team effort, not just me."