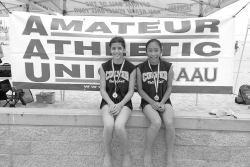 Defeating teams from Texas,
Ohio, Florida and North Carolina
to reach the Gold Division,
the Amateur Athletic Union
tandem of Culver City Middle
School students Alyssa Hernandez
and Victoria Corpuz, lost to
Hawaii to take 12th place.
Hernandez served 21 straight
points in a shutout win over a
North Carolina during pool play
as pasrt of the young duo's rigorous
12-match schedule during
the Junior Olympics for beach
volleyball in Hermosa Beach.
The Culver Volleyball Club
duo qualified for the Junior
Olympics by winning the Huntington
Beach Open in the 12
and under division.