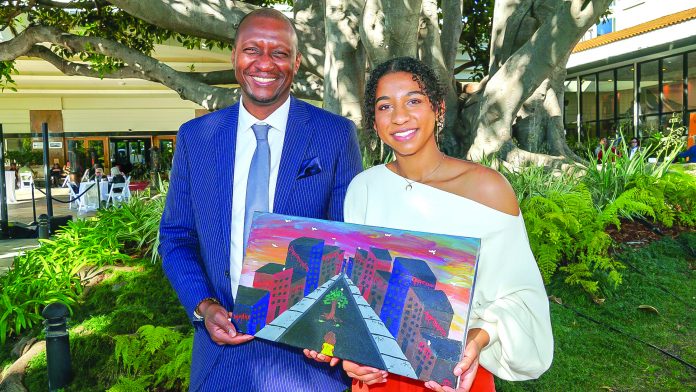 By Christian May-Suzuki
Culver City High School student Chase Metoyer, 17 was awarded the 2019 Saul Morrison Award for an artistic interpretation of Dr. Martin Luther King Jr.'s "Six Principles of Nonviolence" that King described in his first book, "Stride Towards Freedom".
The award was presented to the CCHS artist at Santa Monica's 34th Annual Celebration of Dr. Martin Luther King Jr., in January, where several different awards are presented to students based on their interpretation of King's principles.
For this year, it went to Metoyer's artistic representation that garnered the Saul Morrison Award — named in the memory of social activist Saul Morrison, who lived his life trying to secure equal opportunities for all — which recognizes "a passion for bridge-building, community, and leadership."
While the award is normally presented to an essay as it was last year, Metoyer's artistic vision seemed to embody the principles the Saul Morrison award represents.
"Winning the Saul Morrison Award means a lot to me because I honestly didn't expect to win," Metoyer said. "You know, you expect your parents or relatives to say positive things about what you want to pursue in life, but with the public you never know what is going to be said or who is going to appreciate your work."
Metoyer, who lives in Mid City, has been an aspiring artist for much of her life. She has been drawing since she was just four years old, and has dreams of pursuing a career in fine arts.
"Winning this award gives me that determination to continue to pursue my love for art," she remarked.
She has been most inspired by Vincent Van Gogh, and says her favorite pieces from the artist are "Sun Flowers" and the iconic "A Starry Night." This inspiration is seen in her award-winning piece with its unique color contrasts.
"In my piece, I was trying to emphasize that even though we live in a world full of hatred and oppression, there is still this belief that faith and justice will surpass violence and eventually grow through," Metoyer explains.
Besides art, Metoyer has the hobbies you would expect from a high schooler. She likes to sing, enjoys dabbling in fashion, and loves to spend time with her friends. While she doesn't know exactly what career path lies in front of her, she knows that she wants to pursue a career in the field she knows best: art. Metoyer's plans are to apply herself to inspiring and educating future artists.
Whatever the case may be, she knows her friends and family will be with her every step of the way.
"I have the most supportive mother, father, family members, and friends that I could have ever asked for," Metoyer told me. "They all push me to become my best self and help me strive for greatness."
On top of the painting, Metoyer also does sculpture and other forms of studio art. She is also currently the middle blocker for the CCHS girls' varsity volleyball team, which has won three consecutive Ocean League Championships and is the assistant sports trainer for the boys' volleyball team and the girls' water polo team. She is currently studying sports medicine in school.