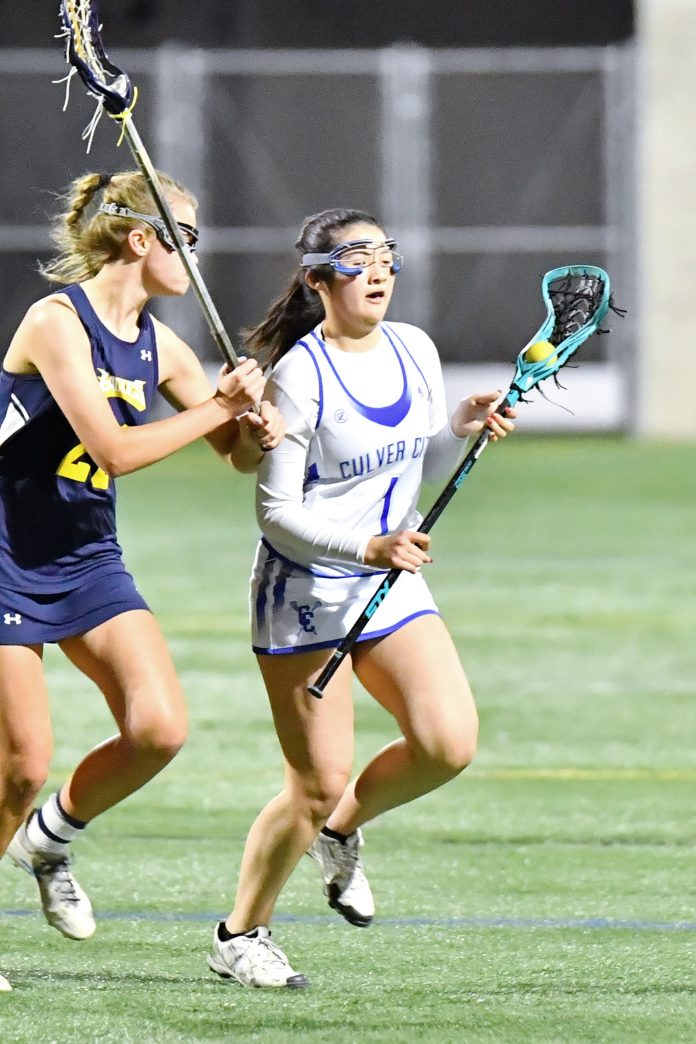 Spring high school sports were derailed all over the nation because of the pandemic and at Culver City high school it took down another promising season in girls' lacrosse. The score board reads Coronavirus 1, Spring Sports 0.
The lacrosse team was 6-1 overall and 4-0 in league play when the season ended on March 11 with a 9-5 win over Downey. "Our team was really rolling, so I think there was a lot of hope about how we were going to do by the end of the season," said head coach Emily Rogers in a telephone interview this week.  "We were doing really well. We dropped only one game against El Segundo in the Rose Bowl Tournament by one goal." The final score was 3-2.
Rogers was excited about the direction of the team. The last game of the season was the first time in school history that they were able to beat Downey. "We were excited about beating Downey, but we knew we were facing a challenging second half of the season against teams like Palos Verdes, Mira Costa, Redondo and Westlake. We would have been tested by some very good teams. It would have been exciting to see what we could do against solid teams."
Having two really good senior players leading the way gave Rogers confidence in the team. "We had two outstanding seniors in Siena Szeto and Sierra Chabola, and it would have been exciting to see them finish their season."
Szeto was a hard worker according to Rogers. "She was an incredibly involved athlete. She held positions in student government and she was strong academically. She is going to Tulane University. She had a younger sister on the team and she was a great role model for her and the rest of the players."
The other senior was Sierra Chabola. Chabola played three sports for four years, and she was named Female Athlete of the Year. "Sierra was an outstanding athlete," said Rogers. "She had the ability that every time she steps out of the field she can completely change the momentum of the game in our favor."
Rogers continued to talk about Chabola. "When she has the ball in her stick, you know something good is going to happen. At the end of the day, we have so much confidence in her ability to make the right play. Her speed is unmatched; she can really fake out her opponents, and she reads the field really well. She is the total package. We will miss her."
Rogers has been the varsity head coach for two years. She started coaching at Culver City three years ago as an assistant. She played high school lacrosse in New Hampshire and she played college lacrosse at Springfield College in Massachusetts.
After college, she was the head coach for a varsity team at a high school in New Hampshire where she was also a teacher. "Like any cold New Englander I decided to pack up my car and move to California."
Once she arrived in California, she started coaching club lacrosse. "I was looking to get involved in a high school program. Culver City had the practice times that worked with my schedule and once I showed up at Culver City I knew it was the right fit for me. It's a great school. They stress academics and athletics and the girls were great teammates."
When the virus stopped the season, Rogers had this to say to her team. "I told them that it was important to stay together as a team and to be there for each other. Every conversation since then has led with safety for your family and employer. I tell them to see the big picture and continue to work hard and do not be complacent and allow frustration over the season ending to take over."
She wants her team to know it's important for them to continue to work hard on and off the field, and to know how much effort they put in since January. "We wanted to put ourselves in the shoes of the seniors whose careers were cut short and we want to continue to work hard to honor them."
Rogers knows that the success of her program is also a reflection on her assistant coach Jeff Andrick, team mother Nancy Shin, Athletic Director Tom Slater and Athletic Administrator and assistant principal Dr. Dubois McMillan.
"We had a great senior banquet and Tom (Salter) and Dubois (Millan) do a great job of keeping everyone connected and informed" said Rogers. "Tom always checks to see how I am doing and he meets you at a personal level."
Rogers had this to say about her team. "We are trying to keep hope alive and our team word this year was family.  It's important that we stay connected and look forward to next year."