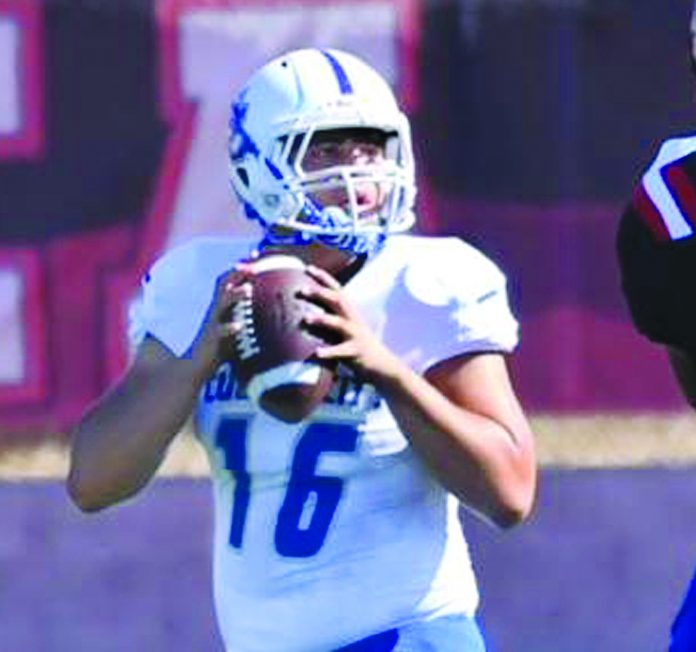 After absorbing their first loss of the season 37-36 in their first away game at Palos Verdes, the Cents return home to face another strong and powerful winless team in the Dorsey Dons. The reason why the Dons are winless is that they have faced highly ranked competition in their first 4 games.  They opened up the season with one of the top-ranked teams in California, Long Beach Poly, and were on the wrong end of a 37-8 thrashing.  In game two, they played another Division 1 powerhouse in Alemany and lost 35-6.  Their third game was against a strong LA City program, San Fernando, and they succumbed 34-20.  They followed this up with a fourth consecutive loss last week to one of San Diego's best teams, the Lincoln Hornets, 55-26.
This is the third meeting between the two schools. Dorsey has a new coach in Douglas Bledsoe.
Culver defensive coordinator Tom Crump said that Dorsey has been two different teams offensively. One team goes with double tight ends and one wide receiver and runs the ball right down your throat, in a style somewhat similar to Palos Verdes, and the other team shows four wide receivers and runs out of spread formations and throws the ball all over the field.  The Centaurs this week will prepare for both, but will not know until tonight which Dorsey offense will show up.
The Dons have had several changes at the quarterback position this season with three different players taking the helm, and this may indicate that they are unsettled at that position.
Last week your undefeated and No. 2 ranked (in division 7) Centaurs traveled to Palos Verdes to play a 3 o'clock day game.  Palos Verdes was winless but had also played three extremely tough and highly ranked teams.  The Cents were without No. 1 signal caller Zevi Eckhaus, who was shelved by a sore elbow.  Coach Wright inserted junior quarterback Nick Lucero, who had a fine game against a top quality opponent in his first varsity start.  Culver was down at the half 17-14, and the game was marred by some very questionable officiating.
The Cents came roaring back in the second half and went up 36-24 with 9:50 left in the fourth quarter but PV, who has won 6 Bay League titles in a row, refused to fold.  They continued to batter the Centaur defense with low and hard-charging running backs who seemed to knock our players back on many plays.  The game turned around quickly for the Sea Kings when they scored two touchdowns, the first coming with 5:12 left to make it 36-31, and after they held the Cents on a three and out, they took over with 3:54 remaining at the Culver City 39 yard line.  PV then had runs for 7, 10 and then 23 yards around right end for a touchdown to make the score 37-36 with 3:11 remaining.  Their quarterback was sacked attempting a two-point conversion.
Allen Smith took a deep kickoff back to the Culver 28-yard line.  On first down, Lucero was sacked for an 8-yard loss.  After three straight incompletions, PV took over on downs and ran out the clock.