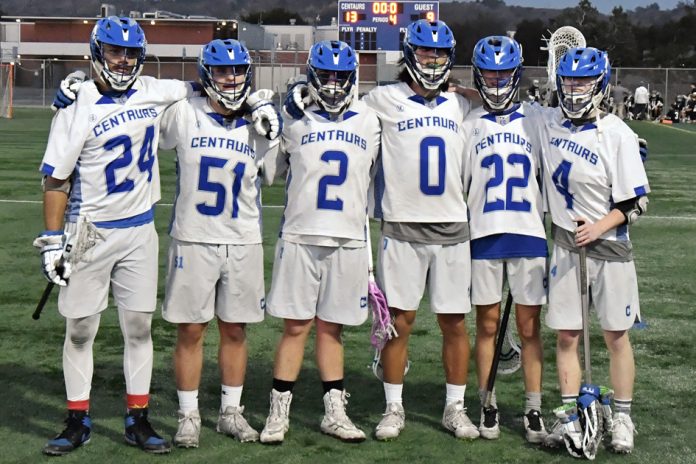 By Steve Finley and Christian May-Suzuki
When someone says you are the best, that puts a lot of pressure on that team. Just ask the Lakers and Dodgers. The Culver City boys' lacrosse team hopes to prove everyone right when they start the CIF playoffs at home Friday at 6 p.m. against El Dorado from Placentia. The Centaurs are the No. 2 seeded team in Division 2. They are 16-2 overall and 8-0 in the Ocean League. They outscored their league opponents 127-6.
"This is the best team in Culver City history. We knew how good this years team was going to be last year when we did not have any seniors on the team and we were 5-2 before the season was cut short because of the pandemic," said head coach Casey Chabola during a telephone interview this week. "Coming into this year we had a pretty good idea how good we were going to be."
This belief doesn't just come from the coach. Many of the players have that same belief, keeping their focus on winning.
"I went to Six Pack Gym, that was my main source of fitness and my way of staying active to get ready to play with my boys," Senior Quinten Brunson explained.
"For the most part, you have to be self-disciplined to be able to do it, and I think everyone on the team was good at that," senior Gabe Marotti said.
"We all want something in common."
This belief in each other is deeply rooted, as Coach Chabola explained. 
"These are all of the kids that have grown up in our program and they have played together and won a championship at Culver City middle school and they have stayed together through high school," Chabola said. "When they were in seventh and eighth grade, they were undefeated and won their league. It was the first time a public school had ever won a league championship."
Now Chabola and his coaching staff are hoping to win a CIF championship with this group of talented and seasoned players. "It's our balance between offense and defense that makes us good. We put it all together. It's a group of kids and families that have been together since the third and fourth grade that came up in our youth program." 
The players, some of which weren't even sure there were going to be playoffs a few short months ago, were chomping at the bit to get into action. 
"We have all played in tournaments together and we have all been in that type of playoff atmosphere, but this is different," senior Justin Beighy said. "This is really one where you have to stick together and grind it all the way out, and I think we have the group to do that."
Senior leadership is important at every school and at every level and this Centaur team is fortunate to have an excellent group of seniors. "The seniors have been amazing," said Chabola. "They grew up in the program and they have really taken on the leadership role as seniors."
The seniors and the rest of the team has also been instrumental in bringing awareness to problems outside of the Culver City campus. "The big issue nationwide has been about social justice," said Chabola. 
"We had shirts this year that said Enough is Enough. We had it translated into all the different languages that are spoken on our team and this was the players idea. They wanted to take a stand making sure we are inclusive of all the different nationalities and races when it comes to the social justice issues that are happening around us."
With a large group of seniors departing after the season, many of them moving on to play lacrosse at various college levels, Joey Chabola will inherit the helm as a senior leader on next season's team. 
"All of the seniors are a close knit friend group, so it has shown us how to be close with our teammates and show the younger guys," the younger Chabola said.
Of course, the group hopes to make one more run at the gold this season before their time playing lacrosse together ends.
"We have all grown up together, and we kind of know this is our year to get it done. The seniors are really important pieces on our team," Chabola said.