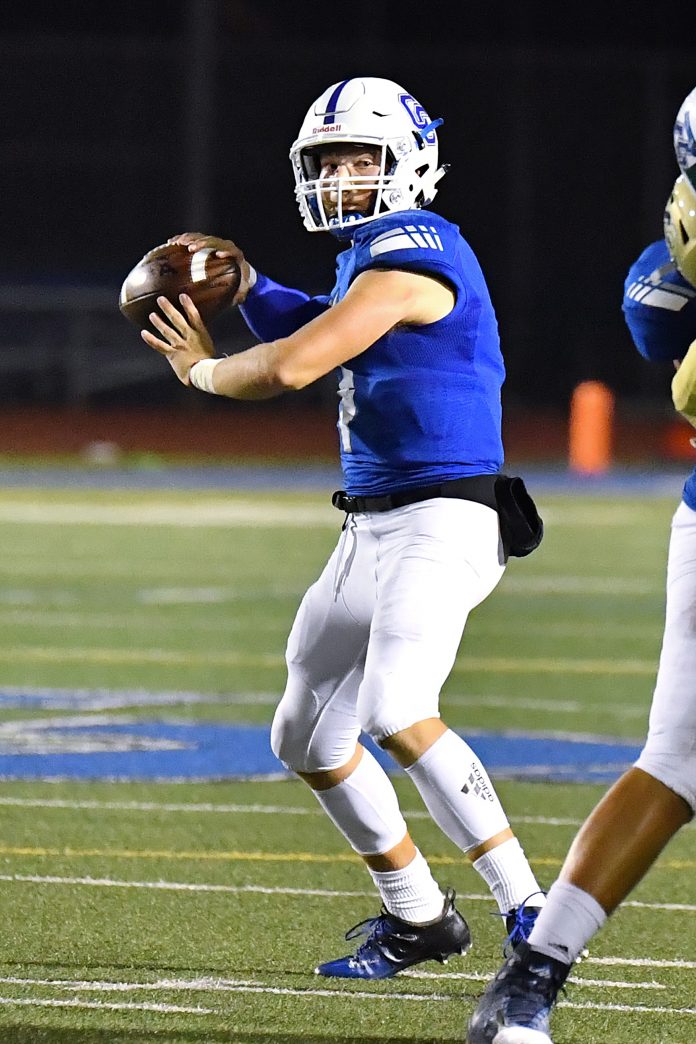 On Saturday, May 18, Culver City traveled to Glendale High School for the La Crescenta Valley passing tournament. Coach Jahmal Wright received a late call from the head coach at Crescenta Valley to invite the Centaurs into the tournament because they were looking for more teams. Since Culver City had played the Crescenta Valley freshman team in the last few years, they have a very cordial relationship, so Coach Wright decided to enter the tournament and tell the team immediately.
The Centaurs had done quite well previously when they went to the Serra 7 on 7 on Wednesday, May 8 and May 15. Since Culver City is generally a very competitive team, Coach Wright wanted to get an early look at this year's team against Division 1 competition.
"We were able to go out and get some good work in for our first tournament," Coach Wright stated. "From a coaching standpoint, it was good to evaluate our team against the competition. We are pleased with the progress of our team, but we have a long way to go."
There were only 12 teams entered in the 16-team tournament, but among them were several good teams for the Cents to test their abilities against. Culver City went 3-0 in pool play, and because they were ranked no. 1 coming out of their pool, they got a bye in the championship round.
The first game was against the host school Crescenta Valley, and although the game was close early, Culver City showed its superiority late and rolled to an easy victory. In the semi-finals, Culver blew out the competition to set up the final contest against the Arroyo Knights.
Arroyo is a traditional lower divisional power in the San Fernando Valley and plays in the Mission Valley League. Typically they are the dominant team in their League and have won numerous conference championships. They are well coached, have a lot of players, are usually very quick, but don't have a lot of size in their offensive and defensive lines. They typically have an outstanding passing attack and are one of the best passing teams in the San Gabriel Valley.
In the past, the Centaurs have faced them in several other passing tournaments, and these games have been competitive, well played and close. But this year, with Culver City's superior size and numerous Division 1 prospects, they easily beat up on the Knights to win their first tournament of the year.
Culver will play in three tournaments in June. They will travel to Orange County to play in the Western High School passing tournament on Saturday, June 8, and they will then travel to San Gabriel Valley for the El Rancho passing tournament on Saturday, June 15. Both of these tournaments will begin at 9 a.m. for those fans interested in attending. The Cents won both of these tournaments in 2018.
On Friday, June 28, Culver will travel to one of the biggest and most prestigious of the summer events, the Bonita High Air Assault passing tournament. This tournament will start at 3 p.m. with pool play running until 8 p.m. Friday night with only one break. This is one of the biggest and most hotly contested tournaments in Southern California and one of the hardest to win because you have to win so many games. A team has to have both talent and depth to have a shot to get to the finals.
Culver City got all the way to the finals last year and lost on the last play of the game to Upland. Tournament play begins on Saturday.
The really exciting news is that for the first time ever Culver High will be hosting its own passing tournament beginning on July 13. Unfortunately, Mission Viejo is also hosting a tournament that weekend but Culver was able to secure several highly ranked teams including Division 1 power Notre Dame, Division 5 finalist Palos Verdes, Crespi, perennial league and CIF contenders Los Altos and Crescenta Valley, and strong local programs such as rival Santa Monica, Palisades, South Torrance, and other outstanding schools, proving Culver's ability to put together a great tournament.