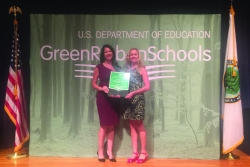 Culver City Unified School District was one of just nine districts in the United States to earn Green School honors at a ceremony in Washington D.C. on Wednesday last week. CCUSD was nominated by the California Department of Education due to its efforts in teaching environmental sustainability and making the district more sustainable.
Making the presentation at the ceremony was National Oceanic and Atmospheric Administration Education Director Louisa Koch, Director of the Campaign for Environmental Literacy James L. Elder, Director of the Center for Green Schools at the US Green Building Council Anisa Heming, and Assistant Secretary of Education Holly Ham.
According to a press release, the recognition rewards schools and districts that demonstrate exemplary achievement in three "pillars." Pillar I: reduce environmental impact and costs; Pillar II: improve the health and wellness of schools, students, and staff; and Pillar III: provide effective environmental education that teaches many disciplines and is especially good at effectively incorporating science, technology, engineering, and mathematics (STEM) education, civic skills, and green career pathways.
"CCUSD is working hard to foster a culture of sustainability," said Board of Education member Kelly Kent. "When people come to CCUSD's campuses and see our solar PV arrays, award-winning custom designed sorting stations, Green5 banners and posters, they know the District embraces the responsibility to create a more sustainable world. CCUSD students and staff have cultivated a habit of practicing the Five Rs, and an understanding of what kind of positive impact they are making as a collective community. And, as they go out into the world, they are carrying this knowledge with them."
45 schools and nine districts were honored for their efforts to reduce environmental impact and costs, promote better health, and ensure effective environmental education at the event. Nine colleges and universities were honored with the Postsecondary Sustainability Award. Representatives from honored schools, districts, and postsecondary institutions received sustainably-crafted plaques.
Leslie J. Lockhart, interim superintendent with Culver City Unified School District, told us that, "It is an incredible honor for CCUSD to receive the U.S. Department of Education Green Ribbon School Award. This award is an affirmation of all of the hard work, commitment and dedication of our Environmental Sustainability Committee, our students, staff and community to reducing our environmental impact thereby protecting our earth. This is a proud global moment for us."