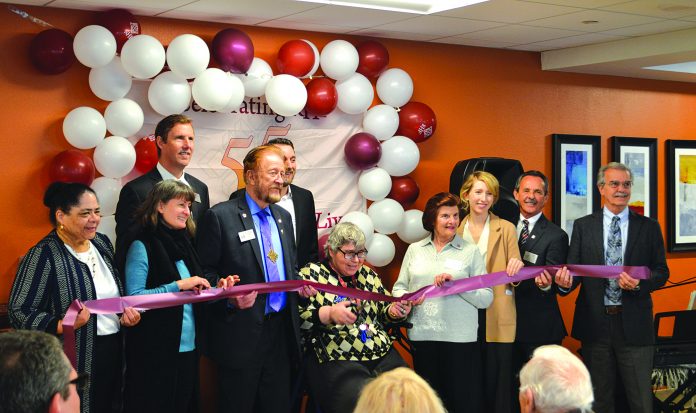 By: Christian May-Suzuki
The Culver City Rotary Plaza was rededicated in a celebration held by the Retirement Housing Foundation (RHF) and the Culver City Rotary Club Community on Thursday, March 21. The Rotary Plaza is located at 5100 Overland Ave., Culver City, and is an affordable housing complex for senior residents (62+) and those who are mobility impaired.
The rededication comes on the heels of a $10.3 million renovation to the facility that was completed in September. This included a complex remodel of the apartments, being outfitted with new cabinets, countertops, appliances, AC/heater units, lighting, flooring, painting, fixtures, windows, and patio doors.
Additionally, the community spaces, offices, and courtyard were all renovated as part of a commitment to maintain affordability within the plaza.
The ceremony took place on the courtyard and an adjacent room and was graced with live music as well as a catered lunch. Various speakers representing the Rotary Club, Rotary Plaza, and RHF all spoke to an audience of residents and other members of the various organization involved in the renovations and management of the plaza, as well as the organization and funding of the event itself.
These speakers gave remarks on the success of the renovation project and how the improvements to the plaza not only enable the plaza to fully serve its residents but also to represent the RHF. The RHF has many similar affordable residency complexes spanning from Puerto Rico to the Virgin Islands.
While Mayor Thomas Small was originally scheduled to be present alongside Vice Mayor Meghan Sahli-Wells, only Wells was able to attend the event and give her remarks. However, she came with a surprise—proclamations from three local political figures in State Senator Holly Mitchell, State Senator Sydney Kamlager-Dove, and Rep. Kamala Harris (D-CA).
After about an hour of remarks, a ceremonial ribbon cutting was held, and the honor of cutting the ribbon itself was given to longtime Rotary Plaza resident Pam Kawuka. Afterward, lunch was served on the newly renovated courtyard that was adorned with banners and balloons to celebrate the event.