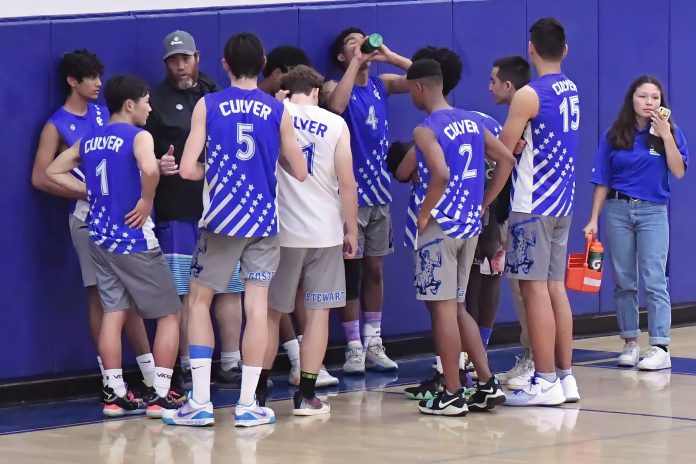 Just when the Culver City boys volleyball team started to improve, COVID-19 spiked the ball and blocked their road to a successful season. The team, according to head coach Joe Manzo, was primed and ready to make a positive move.
 "We were young, but we got better from last year," said Manzo in a telephone interview last Monday. "We definitely improved from last year. We had good chemistry. I think we had a chance to win a CIF championship if we were placed in the right division."
Manzo was excited about this season because the young players had stepped up. "Last year, I had a bunch of seniors who graduated. This year, the sophomores and juniors really improved," said Manzo. "Those players came into the season with a hard work attitude."
Combine the younger players with the three seniors on the roster and Manzo had the right combination to win matches. The three seniors that provided leadership were Kaleab Yakob, Faizal Kagzi and Zaliyah Quant. All three seniors had varsity experience.
"Faiizal was a great utility player," said Manzo. "I could put him at any position. He could play any position I needed him to play at any time and his attitude was where ever you need me coach I will do it."
 "He was definitely a good senior to have."
"Kaleab really showed that he had improved over the summer and he made a definite impact on our team. I was really excited for him because he had improved so much."
"Zaliyah was a big kid at 6'4 who was really learning his body," said Manzo." He was really learning how to play the game. If the season had continued he would have been really good."
Another big disappointment for the volleyball program was not being able to host their annual Culver City Volleyball Invitational that was always the highlight of the season. It was a very well organized all day tournament that included 20 teams from all over the Southern California. "This year, we had the talent to win the tournament," said Manzo.
After nine years of coaching boys' volleyball at Culver City, Manzo is still excited about being at a school that has so much athletic success. He also coached the girls' volleyball team a few years ago.
"It's a great feeling to have," said Manzo. "The coaches here support each other as far as the direction of our programs and what it takes to be a winner. Over the last nine years the coaching has gotten tremendously better."
Manzo is staying busy trying to keep in touch with his players by sending them work out plans and texting them to make sure they are doing well and tell them how sorry he is about what happened this season. 
He also made personalized banners for the three seniors to hang in the gym during home games. Unfortunately the coronavirus ended the season before he could hang them up.  "I did make sure they got those banners. I wanted them to have something to remember."