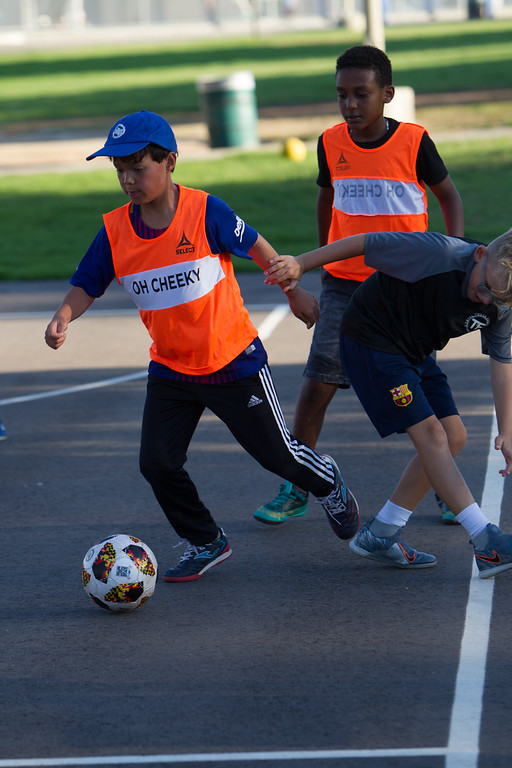 Oh Cheeky, a Culver City-based soccer apparel company, is doing its part to support local sports by hosting weekly youth soccer pickup games at the Westchester Park basketball court Wednesdays from 5 p.m. to 7 p.m.
The games are free to participants who range in age from 7 to 12 years old.
So far, the after-school soccer games have attracted around 20 kids brought by parents who are thankful that such a physical activity exists for their kids.
When kids arrive, they are usually greeted with the sight of the entire basketball court transformed into a soccer field, complete with pop-up goals placed under each hoop and a digital clock placed at the centerline.
Kids engage in a soccer play style known as "King of the Court," in which the clock is used to time four-minute games where the first team to two goals, or the only team to score, stays on the court. In the event of a tie, "Rock, Paper, Scissors" determines who continues to play.
Beginning life as a fan apparel company in 2015, Oh Cheeky shifted their focus to not only clothing people but taking care of them.
With every purchase made from Oh Cheeky, the company creates a care package on behalf of the purchaser that is then distributed as part of their outreach ministry to L.A.'s homeless population. Each package contains essential items such as socks, antibacterial cleanser, SPF lotion, hygiene products, and feminine care products. Purchasers are given the option of writing an inspiring message that will be included in their care package to be passed along to the care package's recipient.
"Our outreach initiatives open dialogues, question norms and inspire change," according to the social impact statement on their website. "They ask us to think about our brothers and sisters who struggle in the streets and take inspired action for the good. We believe in the human family, and in creating a community despite our differences. When we come together for the purpose of uniting, we create a new reality of respect. That is our mission in the streets. To ignite change and stand together."
For more information on Oh Cheeky, please visit their website at www.ohcheeky.com.