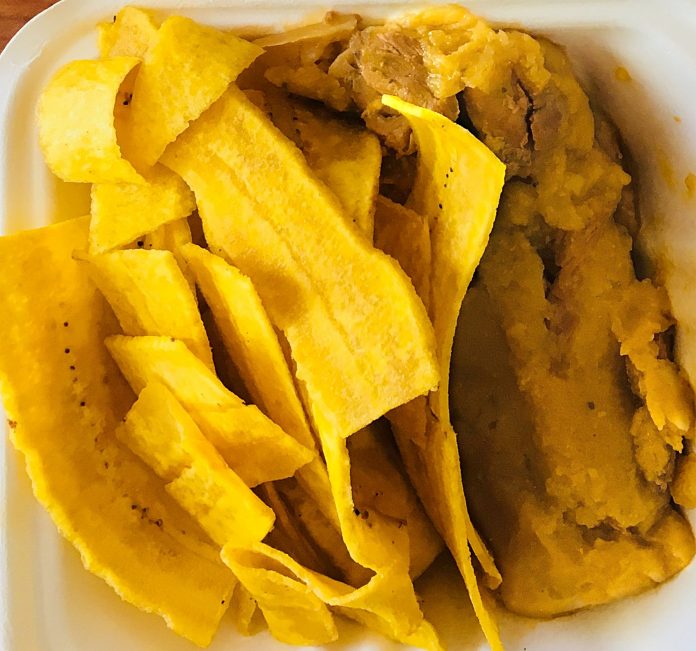 El Rincon Criollo is one of only a handful of Cuban eateries in the Culver City area and has been for many decades. The menu describes it as both Cuban and Spanish cuisine. The sit-down restaurant is family owned and has been a fixture on Sepulveda Boulevard since 1969.
Creole corner is the Spanish translation of the restaurant name and the colorful canvas oil paintings depicting the Cuban heritage add charm to the atmosphere. The friendly staff stated that the artwork has been either imported from Cuba or painted by artists of Cuban descent, and many are for sale.
We ordered the chicken tamale, which comes with banana chips, and asked for the garlic sauce to keep it interesting. As simply an appetizer, the chicken tamale was very hearty and rich in flavor although it appeared dark in color and had a heavy texture, perhaps due to a bit more oil being added than the Mexican tamales I have eaten.
The banana chips were plentiful, and although fried, were actually light and crispy and tasted freshly made. I could easily have eaten more. Garlic permeated the sauce and it seemed to have a citrus flavor too, making it a perfect accompaniment for the banana chips. This appetizer could easily suffice as a meal all by itself.
The vast selection of foods is understated on the petite menu. For example, there are at least 11 different types of seafood dishes offered. Entrées include chicken with yellow rice, shredded beef, beef tongue, grilled pork chops, fried pork, sautéed oxtail and more.
Several soups and hot-pressed sandwiches are among the offerings as well. If the meal you order is not already enough, side orders of green and sweet plantain slices, yellow rice, black beans or Moros can be added for an additional charge. Moros is a seasoned brown rice cooked with black beans popular in Cuba.
Tropical-looking fresh coconut served with a straw is one of the beverages El Rincon Criollo serves. Homemade Sangria and imported sodas are available in addition to a variety of tropical juices consisting of papayas, mangoes, guavas and a mango-sized fruit called Mamey sapote. A Forbes article dated July 14, 2015, calls Mamey "a fruit that should become mainstream" and compares the taste to a fruit-sweetened baked sweet potato. Cuban Mojito's, domestic and imported beer, and a limited wine selection are on the menu.
Rich desserts such as flan, Cuban cake, or rice pudding, would not be a bad way to end your meal if you aren't already full.