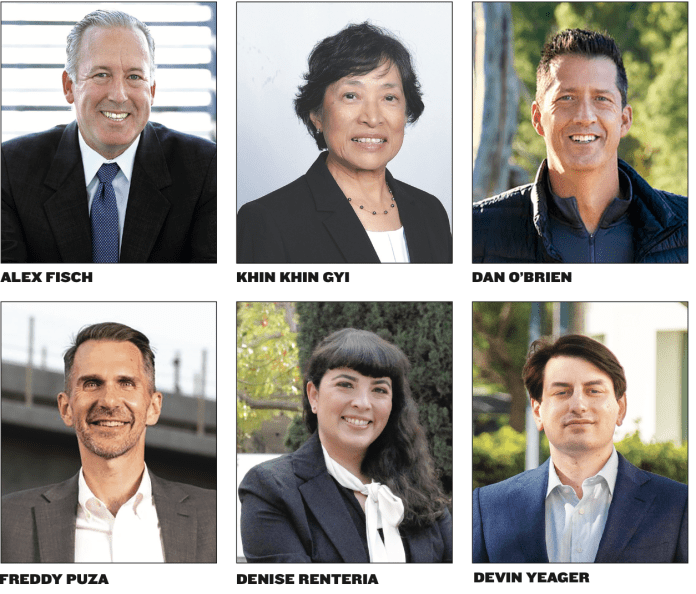 We're just a couple of weeks away from the General Municipal Election, and there is much to be intrigued about as we look over the six candidates. Council Member Alex Fisch is the sole incumbent, while Freddy Puza is hoping to at least retain the number of progressives currently with a seat.
Over the past couple of months, the CCN has spoken to all of the candidates, and this is a handy roundup to read and consider before voting. Back in July, Denise Renteria became the first candidate to submit her nomination papers.
"As a lifelong resident of Culver City who has always been civically engaged, I have seen all the growth and change our town has undergone," she told the CCN in October. "The city has had some growing pains, and needs practical, thoughtful, and decisive leadership that will step up and put plans into action. I am ready to serve and I am committed. I have seen the morale of public discourse in Culver City decline lately, as our council has become less responsive to constituents' concerns. We need to create an environment where everyone can thrive in a place they are proud to call home."
Back in an August interview, candidate Devin Yaeger said that he was fed up with the lack of progress on homelessness with the current council.
""It is time for change," he said. "And the current leadership has failed to demonstrate they are able or willing to make the changes necessary for my constituents (principally the marginalized communities along Tilden, Huron, Bentley, Globe, etc) to live safe, peaceful lives… In order of priority and what I think is achievable in my capacity as a Councilperson: Eliminating homelessness in Culver City by giving police/fire/other services a clear directive on ENDING HOMELESSNESS NOW. We will do this by creating a dedicated joint-task force composed of police, sanitation, and fire to tackle homelessness and provide taxpayers easy access to services like cleaning up unsanitary conditions created by this urban tragedy."
Candidate Khin Khin Gyi has similar feelings about the issue of homelessness in Culver City.
"I am running on a platform of providing solutions to the homelessness debacle, improving mobility downtown and public safety, along with continuing to address climate change in an environmental and economically sustainable way," she said. "The current majority on the Council has shown that it is unwilling to listen to its constituents by opening the Jackson Gate against the will of the residents who live adjacent to it. In another instance, it has also built a traffic island at the intersection of Overland Avenue, Ranch and Kelmore streets, also against the objections of the majority of the residents of Culver Crest. It is time to change the makeup of the council to a more sympathetic, empathetic one that listens to its constituents and works in cooperation and in community with them."
The CCN spoke to Dan O'Brien in September and he said that he wants to prioritize public safety and mobility.
"I believe we need to continue working on long-term solutions to make our public transportation network in Culver City more nimble and robust," he said. "We need to create safe spaces for pedestrians and cyclists. We need to collaborate with our local employers to intentionally hire local, so there is less of a need to travel in our cars. In the meantime, we need to eliminate the bus-only lane through downtown, work tirelessly to coordinate the streetlights better, create multiple drop zones for customers and delivery services to legally stop, and I believe there is room to keep protected bike lanes."
Freddy Puza is running on a platform of Sustainability, Diversity and Community Well-Being.
""Sustainability: Closing the Inglewood Oil Field, electrification of all new construction and transit, and improving energy efficiency in all city operations," he said. "Supporting the expansion of the Sustainable Business Certification Program. Making alternative mobility improvements and assuring greater connectivity. As we address climate change we can be a leader in protecting the health of all community members. Diversity, Equity, and Inclusion Values: Ensure voices heard least often are represented and prioritized in all policy-making. Assure that budget decisions reflect our commitment to equity. Acknowledge and make amends for historical wrongs, and re-create our community as a place where everyone can thrive. Community Well-Being: Housing, Mobility, and Public Safety; meeting our Regional Housing Needs Assessment goals by making it legal and feasible to build a sufficient supply of housing, including affordable housing, providing protections for renters, and housing our unhoused neighbors. Embrace Vision Zero fully. Allocate resources in our budget so that we're able to support all members of our community to thrive and provide public safety that actually makes everyone safer."
And finally, incumbent (and former Mayor) Alex Fisch is still working towards ending the homelessness crisis.
"I hope to (1) expand housing options, especially affordable housing and housing for middle class people, and reduce homelessness with dedicated outreach and safe shelter," he said. "(2) ensure public safety for all by investing in unarmed crisis intervention and outreach teams, creating a vibrant and welcoming public realm, and using public health approaches to solve public health problems; and (3) use local power and regional cooperation to improve our local environment (including finishing the job of shutting down oil drilling in Culver City), reduce greenhouse gas emissions and air pollution, and expand our transportation options."
Cast your vote!
Go to www.culvercity.org/City-Hall/Election-Information for all of the information regarding the forthcoming election.
7 school board candidates lock horns for three seats
There are seven candidates on the ballot for School Board, from which each voter can pick three. Here are your options…
Triston Ezidore
Ezidore is running on a platform that he says is more than a vision. "It's a promise to the students, families, and staff of Culver City Unified School District — a commitment to address our hardest challenges. We can deliver on these commitments when every day people come together in the collective realization that all our actions, no matter how small or large, are powerful, worthwhile, and capable of lasting change."
Find out more at tristonezidore.com.
Brian Guerrero
Guerrero, and his wife, are both teachers and have lived in Culver City for 12 years. "Exemplary education means offering high-quality, rigorous, and well-supported academic curricula and instruction that reflect the diversity of our students and community, that are culturally relevant and applicable to the wider world students live in, and that foster critical thinking skills that enable students to grow into thoughtful, engaged members of our community."
Find out more at guerrero4ccusb2022.com.
Stephanie Loredo
Loredo believes in a culture of care that empowers students, teachers, staff, and families to thrive in schools. "A culture of care embraces the fullness of our community members' humanity and ability to learn and grow in healthy ways. When people are in a nurturing school climate with resources to be the best version of themselves, they generate positive energy and good will that is channeled to others within Culver City Unified School District and beyond."
Find out more at stephanieloredo.com.
Summer McBride
Incumbent McBride is a parent of five CCUSD students, including one recent graduate. "When I joined the board six years ago, I was committed to increasing access and equity in the district. I helped establish a district-wide Equity Advisory Council and was instrumental in creating the district's first-ever board-approved strategic equity plan. I voted to fund more counselors and successfully pushed for all elementary schools to have full time assistant principals. I spoke in favor of and voted for a plan to expand art and arts integration for all students."
Find out more at summermcbride.com.
Marci Baun
Baun says that she has "lived in Culver City since 1999 and have voted in nearly every single election since my eighteenth birthday." Safety, she says, is a basic need. "If a person is not safe, they will struggle to focus on anything else. Ensuring that, when the students, the teachers, the staff, and the administration come to our campuses are secure in their person, must be our highest priority."
Find out more at baunforculvercity.com.
Darrel Menthe
Menthe is an attorney of 25 years who lives and works in downtown Culver City, with two kids attending CCUSD schools. "Culver City schools should have as their mission excellence in education for all students of every background without exception. We should celebrate our diverse community of students. Our goal should be to strive to make Culver City schools the best public schools in all of Los Angeles County."
Find out more at mentheforculvercity.com
Howard Adelman
Adelman has described the actions of the current School Board as "race baiting" and "virtue signaling." His website reads: "Howard has been an educator for 26 years, a majority of which have been spent in classrooms with students from an incredibly wide variety of backgrounds. Since 2014, he's worked as a Foster Youth Services Counselor for the LA County Office of Education, representing the educational rights of 30,000 students in foster care across the 80 school districts of LA County."
Find out more at adelman2022.com.